Thank you to our supporters
Donations help us support those working in tropical medicine and global health to save lives, and empower the next generation of leaders in our field to tackle current and future global health challenges.
This support helps us to deliver and achieve more and we are extremely grateful to everyone who assists and champions our work.
Thank you to all RSTMH members and those who go the extra mile and give donations, big and small, to the Society. It really does make a difference.
Thank you to the Friends of RSTMH
Friends of RSTMH is an initiative started in 2020 by RSTMH Past President, Professor David Mabey, to raise money for the Society and highlight the incredible generosity and support from a group of dedicated donors and peers.
Their donations will greatly help the Society to increase the scope of our work, deliver on our priority areas and strive towards achieving our mission to be at the heart of the tropical medicine and global health community, providing the knowledge and networks, across all disciplines, that drive impact.
We'd like to thank the founding Friends of RSTMH:
Simon Bush, RSTMH Trustee
Dr Joseph Cook, RSTMH Lifetime Fellow
Dr William Cutting, RSTMH Lifetime Fellow
Professor David Dance, RSTMH Lifetime Fellow
Professor Gail Davey, RSTMH President
Dr Adrian Longstaffe, RSTMH Lifetime Fellow
Professor David Mabey CBE, RSTMH Past President
Professor Sir Eldryd Parry, RSTMH Honorary Fellow
Dr Mike Rowland, RSTMH Lifetime Fellow
Professor Bridget Wills, RSTMH Trustee
Dr Graham MacBride-Stewart, RSTMH Fellow
Professor Diana Lockwood, RSTMH Trustee
Auditorium appeal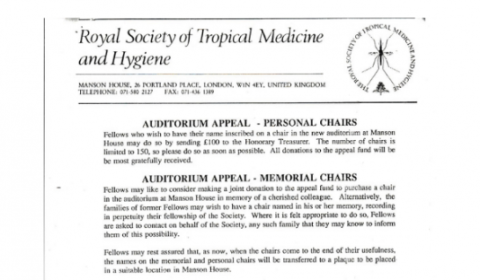 We recently learned about the Auditorium appeal launched by RSTMH in 1994, to purchase or inscribe a chair for our former building, Manson House.
Despite our best efforts we have been unable to locate the chairs or the plaque which is referred to in the appeal. This is challenging as the Society has moved premises a number of times since 1994.
Thank you to the Auditorium appeal supporters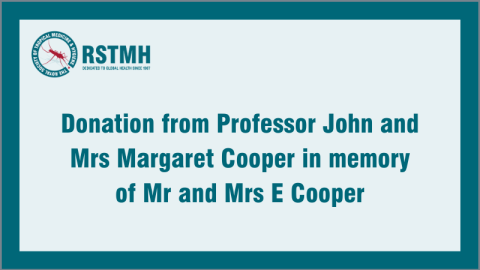 To express our gratitude, we would like to recognise supporters of this historic appeal.
Please tamar [dot] ghosh [at] rstmh [dot] org (contact us), if you donated towards the appeal, or if you have any news about where the chairs may be.