Sir Rickard Christophers Medal
The Sir Rickard Christophers Medal is to recognise outstanding work in tropical medicine and hygiene, and evidence of practical and field applications.
The Medal is for senior experts in their field.
Eligibility and nominations
Nominations next open in 2024.
Nominations are every three years
Nominations are open to anyone working in tropical medicine
Nominations must provide evidence of outstanding work in tropical medicine and hygiene, and evidence of practical and field applications
Nominations are invited from RSTMH members and Fellows ONLY
Nominees should be RSTMH members or Fellows ONLY
History and prize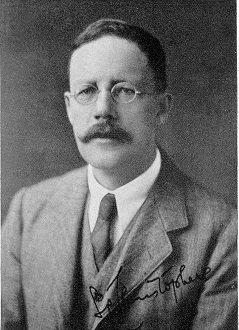 Sir Rickard Christophers was President of the Society between 1939 and 1943.
From 1898, when he was appointed member of the Malaria Commission of the Royal Society, to 30 years working in India and another three decades of work in London and Cambridge, Sir Rickard's contribution to many branches of medical and other sciences was immense.
The impact of his studies on malariology and entomology was deep and lasting; his fundamental investigations of the pathology, immunology, epidemiology and control of insect-borne diseases made him a true "compleat scientist" of our age.
Sir Rickard died in 1978, aged 104, after a lifetime spent in the relentless and inspired pursuit of knowledge.
The Royal Society of Tropical Medicine and Hygiene decided to commemorate the life and achievements of Sir Rickard by endowing a medal.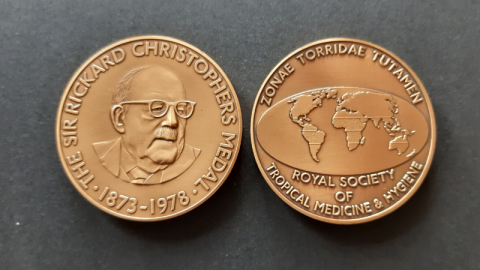 The Sir Rickard Christophers Medal is awarded for work in tropical medicine and hygiene in its broadest sense and in particular for practical and field applications.
The medal, which is in bronze, bears the likeness of Sir Rickard on the obverse and on the reverse bears a geographical representation of the tropics with the Society's motto Zonae torridae tutamen.
2021 Sir Rickard Christophers Medal recipient: Professor Liz Corbett
Professor Liz Corbett is a Wellcome Trust Senior Fellow and a Clinical Epidemiologist with the London School of Hygiene & Tropical Medicine.
Her main research interests concern HIV and TB in HIV prevalent populations from the public health perspective, with a focus on primary care and community level diagnostic interventions. She works closely with the World Health Organization, with previous membership of the Strategic and Technical Advisory Group for the TB Programme.
Her research has highlighted the public health importance of undiagnosed infectious TB and community-level interventions providing access to TB and HIV diagnosis. She has ongoing research in self-testing for HIV, TB diagnostic impact evaluations, and spatial epidemiology of TB.
It has been my real pleasure to work with fantastic colleagues and students in vibrant research institutes in South Africa (Aurum Institute), Zimbabwe (Biomedical Research and Training Institute and Centre for Sexual Health and HIV/AIDS) and Malawi (Malawi-Liverpool-Wellcome Clinical Research programme and College of Medicine) as well as with Ministries of Health and WHO, while seeing our collective efforts impact global policy and practice.

Professor Liz Corbett
Professor Corbett went on to say:
"My early research defined some key epidemiological features of TB, including a huge burden of undiagnosed TB and HIV in African cities and workforces, leading to my subsequent focus on diagnostic interventions.
"To give two examples – in Zimbabwe we showed that active case-finding for TB could rapidly reduce undiagnosed TB in urban communities, results that triggered WHO policy change and interventions around the globe. In Malawi we showed that self-testing for HIV was safe, accurate, seen as empowering by both men and women, and cost-effective due to increase uptake of antiretroviral therapy. This led to rapid WHO policy change and large-scale investment by Unitaid that has taken HIV self-testing from negligible numbers in 2015 to over 8 million tests in 41 countries in 2020."