Transactions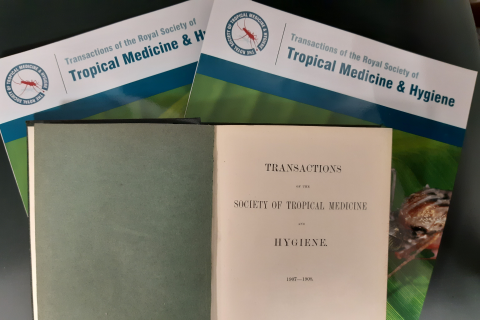 Transactions of the Royal Society of Tropical Medicine & Hygiene publishes authoritative and impactful original, peer-reviewed articles and reviews on all aspects of tropical medicine.
This monthly journal offers a respected voice for clinicians, health-related scientists, development organisations and students.
Topics covered include clinical tropical medicine, infectious disease, parasitology and entomology, microbiology and virology, epidemiology, chemotherapy, immunology and public health.
Transactions is proud to have a current acceptance to online publication speed of less than six weeks and a strong five-year Impact Factor of 2.782.
Lessons from the Field
Transactions is proud to have launched our new article type Lessons from the Field in 2019, to help those on the frontlines share their valuable experiences.
Supplements and Special Issues
Transactions welcomes proposals for special issues and supplements, which should be journals [at] rstmh [dot] org (subject: Transactions%20Special%20Issue%20%2F%20Supplement%20enquiry) (submitted to the Managing Editor).
Why publish with us?
We publish high quality articles with the aim of supporting the wider tropical medicine and global health community and future generations of academics, clinicians and scientists.
We work hard to support our authors who trust us with their work.
Here are just some of the benefits we offer:
Strong impact factors
Average online publication speeds of under seven weeks
Author Feedback on both titles score us as 4.4/5 and better across speed/quality/communications/service
Authors from more than 31 countries (in 2019) in both journals
Regular Special Issues and expert editorials on key issues.
History of Transactions
First published in 1908, the journal has featured the work of some of the most prominent scientists in the field of tropical medicine, including Sir Patrick Manson, Sir Ronald Ross, Sir David Bruce and Cyril Garnham, among many others. In over a century of publication,
Transactions
has also printed many highly influential papers, including: