RSTMH journals see impact factors increase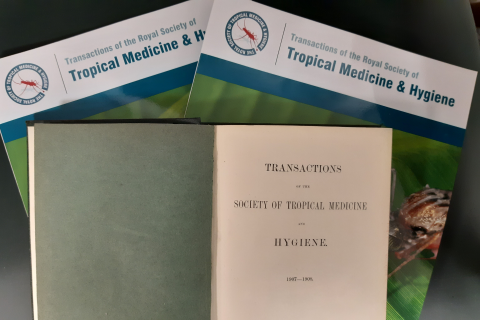 RSTMH is delighted to announce increases to the impact factors for both of our journals.
Transactions of the Royal Society of Tropical Medicine & Hygiene has increased from 2.184 to 2.455. International Health has increased more significantly, from 2.473 to 3.131.
This announcement covers the period between 2019 and 2020.
Since this time we have said goodbye to two of our Editors-in-Chief, Professor Sir Brian Greenwood and Professor David Molyneux, and welcomed Dr Stefanie Meredith and Professor Nick Day into the roles earlier this year.
Today we also announce that we increasing the discount on open access fees available for RSTMH members and Fellows from 5% to 10% for both our journals.
Tamar Ghosh, RSTMH Chief Executive, said: "We are delighted to see the impact factors of both our journals increase. We are particularly excited that the impact factor for International Health has now gone above 3, as it was only launched 13 years ago.
"We are very grateful to our past and present Editors-in-Chief and our dedicated community of authors, reviewers and editors for all their efforts and support of the journals."
"Our impact factor increases reflect their hard work and dedication, and signpost our intention to continue to publish new, exciting work from both members and our broader community."
"We hope our journals are considered for important and interesting science across our field of work, especially as they provide an opportunity to share learnings across the many areas of work we are interested in. With the increased discount for publishing charges for our members and Fellows we hope to see many more of them submitting their important work to one of our journals."
International Health
The journal's new impact factor is 3.131 (with a five-year impact factor of 3.115).
Articles that were highly cited included diabetes mellitus among adults in Ghana, zoonotic risk factors among rural communities in southern China, and the involvement of male partners in antenatal care.
Dr Stefanie Meredith, Editor-in-Chief of International Health, said: "The 2021 impact factor shows that International Health is expanding its reach and attracting more authors from an increasing number of countries. I am delighted that the journal provides such a valuable channel for stimulating scientific and policy debate at a time when the world needs more dedicated discussion and critical analysis across all areas of global health."
We are pleased to note that International Health has also risen significantly in terms of its position in the ranking tables for the relevant reporting categories, in relation to this new score.

Transactions
Transactions of the Royal Society of Tropical Medicine & Hygiene's new impact factor is 2.455 (with a five-year impact factor of 2.782).
Highly cited articles were on a variety of subjects, including dengue diagnostics and implications, human fascioliasis and insights into hookworm prevalence in Asia.
Professor Nick Day, Editor-in-Chief of Transactions of the Royal Society of Tropical Medicine & Hygiene, said: "I am delighted to see that the newly released impact factors for this year bring excellent news for both of the Society's journals. Transactions will continue to serve as a forum the RSTMH and its members as it has done for over a century, in addition to publishing high quality papers from the worldwide tropical medicine research community.
"I would be very grateful for any suggestions from the membership on what they would like to see in or covered by the journal in the future."
Transactions Journals International Health