George Macdonald Medal
George Macdonald Medal 2023 Winners: Professor Arjen Dondorp and Professor Christine Stabell Benn
The George Macdonald Medal is a joint award between the London School of Hygiene & Tropical Medicine (LSHTM) and RSTMH. It recognizes outstanding contributions of individuals who have conducted research leading to significant improvements in health in the tropics.
This year's George Macdonald Medal has two winners. Professor Arjen Dondorp wins the award, nominated by Professor Olugbenga Mokuolu, as does Professor Christine Stabell Benn, nominated by Professor Sir Alimuddin Zumla.
I am very honoured to receive the RSTMH George MacDonald Medal 2023. This honour should be shared with many of my wonderful colleagues all over the globe. I hope my work will continue to contribute to reducing human suffering from malaria and critical illness in resource limited settings."

Professor Arjen Dondorp
"I am very happy and honoured to be awarded the George Macdonald Medal. There are many assumptions about which interventions work in low- and middle-income countries and many assumptions about how the interventions work. My group has made it a top priority to challenge these assumptions in global health, by assessing the overall health effects of interventions in real life settings. The medal is a great encouragement to continue this line of curiosity-driven research."

Christine Stabell Benn
This Medal is now closed to submissions. Nominations next open in 2026.
The George Macdonald Medal is to recognise contributions to health in the tropics.
The Medal is for those in their mid career or senior leaders in their field.
Eligibility and nominations
Nominations are every three years and next open in 2026.
Nominees should have completed outstanding research leading to improvement of health in the tropics
The Medal is a joint award between RSTMH and the London School of Hygiene & Tropical Medicine (LSHTM)
LSHTM Council and the RSTMH Trustees propose the names of candidates and a committee composed of the Dean of LSHTM, two members of LSHTM Council and two  RSTMH Trustees (who are not employees of LSHTM) nominate from these proposals a candidate for the award. LSHTM Council and RSTMH Trustees then ratify this nomination.
History and prize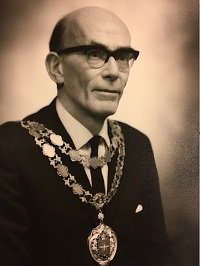 The George Macdonald Medal was first awarded in 1972 in honour of Dr George Macdonald, Professor of Tropical Hygiene at the London School of Hygiene & Tropical Medicine and Director of the Ross Institute, who died on 10 December 1967.
A dominant figure in the field of tropical public health and one of the world's great authorities of malariology, George Macdonald distinguished himself by his work on quantitative analysis of the transmission and eradication of vector-borne tropical diseases.
His personality combined great intellectual power, fearless integrity, tremendous energy and an understanding of human problems.
In October 1968, the Dean of the London School of Hygiene & Tropical Medicine, launched an appeal for an endowment of a permanent memorial to Professor Macdonald in the form of a medal to be awarded in recognition of outstanding contributions to tropical hygiene. Many of Professor Macdonald's friends and colleagues all over the world responded generously to this appeal.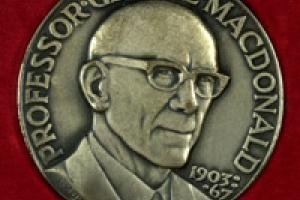 The medal bears on its obverse a likeness of Professor Macdonald with the inscription "Professor George Macdonald 1903-67" and on the reverse the words "For services to tropical hygiene".
2020 George Macdonald Medal recipients: Professor Alex Ezeh & Professor Sarah Cleaveland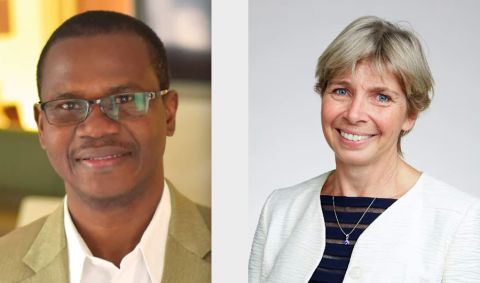 In 2020, the George Macdonald Medal was awarded to Professor Alex Ezeh and Professor Sarah Cleaveland.
Alex Ezeh is Dornsife Professor of Global Health at Drexel University and was distinguished visiting fellow at the Center for Global Development. He was the founding executive director of the African Population and Health Research Centre and he initiated and directed the Consortium for Advanced Research Training in Africa, a programme that seeks to strengthen doctoral training, research, and faculty retention at African universities.
Professor Ezeh's work focuses on urban and slum health, population dynamics in sub-Saharan Africa, and models to strengthen knowledge-based institutions in Africa. He has a PhD in Demography from the University of Pennsylvania and was the recipient of the 2018 TWAS Prize for the Social Sciences. He is Honorary Professor of Public Health at the University of the Witwatersrand and holds Honorary Doctor of Science degrees from the University of Ibadan (Nigeria) and KCA University (Kenya).
"I am extremely delighted to receive the George MacDonald Medal. The Medal is an incredible honour and receiving it in 2020 makes it all the more special. The global pandemic and social movements of 2020 remind us of the continuing need for science and social action in improving the lives of the less fortunate in society. That was Professor Macdonald's legacy and one I am delighted to be associated with. I thank all my colleagues at Drexel University and at the African Population and Health Research Center whose support made this recognition possible."

Professor Alex Ezeh
Professor Sarah Cleaveland graduated as a zoologist and veterinarian and, in 1996, completed her PhD at the London School of Hygiene & Tropical Medicine on the epidemiology of rabies in the Serengeti ecosystem, Tanzania and continues to work towards the global elimination of canine rabies.
She is currently based at the University of Glasgow leading a programme of One Health research with partners in East Africa. This research addresses a range of disease problems affecting human, animal and ecosystem health, providing insights into disease burden, epidemiology, and the design of interventions for disease control and elimination.
Professor Cleaveland has been involved in several graduate training and capacity-strengthening initiatives with African partner institutions, including the Afrique One-ASPIRE consortium and the Zoonoses and Emerging Livestock Systems initiative.
She has also been a member of the WHO Strategic and Technical Advisory Group on Neglected Tropical Diseases and is now a member of the International Commission for the Certification of Dracunculiasis Eradication.
"I am thrilled and honoured to have been awarded the George Macdonald Medal from the Royal Society of Tropical Medicine and Hygiene and the London School of Hygiene and Tropical Medicine and to share this with Professor Alex Ezeh. Through my work in One Health, it has been such a privilege to have learned from wonderful and talented colleagues across many different disciplines. This award is a reflection of their contributions and commitment, and recognition of the importance of partnerships in tackling challenging disease problems"

Professor Sarah Cleaveland