RSTMH Medals and Awards Winners 2023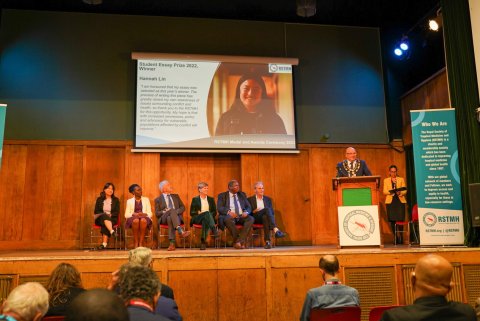 RSTMH has today announced the winners of the 2023 Medals and Awards programme at the RSTMH Annual Meeting which was held in London on 28 – 29 September 2023.
This year, nominations were open for four individual awards. Every year RSTMH gives out a number of medals and awards in recognition of excellence. These Medals and Awards recognise success in a variety of global health areas and for a range of career stages.
We at RSTMH are really excited to announce the winners of the 2023 RSTMH Medals and Awards. Our programme of Medals and Awards offers us, and our partners, a chance to recognise and celebrate individuals who have made a significant impact within global health and tropical medicine. This year's winners show the immense contribution being made within global health and we are excited to celebrate their achievements."

Tamar Ghosh, RSTMH CEO

Hemingway Award
The winner of this year's Hemingway Award is Professor Mark Taylor, who was nominated by Professor Steve Ward. The award is a joint award between the Liverpool School of Tropical Medicine and RSTMH. It is given out once every two years to recognize outstanding contributions to the field of tropical medicine and hygiene by RSTMH Members and fellows and students, alumni, staff members of the Liverpool School of Tropical Medicine.
Professor Mark Taylor is Director of the A-WOL consortium and Director of the Centre for Neglected Tropical Diseases at LSTM. He is a former Head of the Tropical Disease Biology Department and a former President of the British Society for Parasitology, from which he was awarded the BSP Wright Medal in 2012.
I am honoured to be awarded the prestigious Hemingway Award from the RSTMH and LSTM. Translational research is important and a key focus of LSTM's research portfolio and my success has been enabled through the vision of Professor Janet Hemingway, the Bill & Melinda Gates Foundation, G-HIT and MRC with mentorship from Professor Steve Ward. I take great pride in exploiting the discovery of the essential bacterial symbiont, Wolbachia, in partnership with a the A-WOL consortium of academics and pharma industry, as a target for safe curative therapy for both onchocerciasis and lymphatic filariasis."

Professor Mark Taylor

Nominating him, Professor Steve Ward said: "The Hemingway Award tries to recognise three qualities in a scientist. One – obviously is the excellence of the science itself, but I think in terms of this award, the ability to translate that science into impact in terms of global health outcomes is a key criteria. And also, the individual needs to demonstrate the leadership and vision to deliver that translation agenda. It is against those criteria that I recommended Professor Mark Taylor for this prestigious award."

George Macdonald Medal
The George Macdonald Medal is a joint award between the London School of Hygiene & Tropical Medicine (LSHTM) and RSTMH. It recognizes outstanding contributions of individuals who have conducted research leading to significant improvements in health in the tropics.
This year's George Macdonald Medal has two winners. Professor Arjen Dondorp wins the award, nominated by Professor Olugbenga Mokuolu, as does Professor Christine Stabell Benn, nominated by Professor Sir Alimuddin Zumla.
Professor Arjen Dondorp trained as an infectious diseases and intensive care physician in Amsterdam in The Netherlands. Since 2000 he has been based in Bangkok, Thailand, as the deputy director of the Mahidol-Oxford Tropical Medicine Research Unit. He is a Professor of Tropical Medicine at the University of Oxford and a Visiting Professor of Tropical Medicine at Mahidol University in Bangkok and is a Fellow of the Academy of Medical Sciences in the U.K.
"I am very honoured to receive the RSTMH George MacDonald Medal 2023. This honour should be shared with many of my wonderful colleagues all over the globe. I hope my work will continue to contribute to reducing human suffering from malaria and critical illness in resource limited settings."

Professor Arjen Dondorp
Professor Olugbenga Mokuolu said: "I have collaborated and related closely with Prof Dondorp for over 17 years. Over these years I have come to appreciate that he is an astute clinician and excellent researcher. He thinks through practically every line in a process and hardly does he skip any details in his scientific elucidation of facts.
"From the pathophysiology of malaria to through malaria chemotherapy to artemisinin resistance, Prof Dondorp has been phenomenal leading studies that has shaped our understanding and treatment of malaria globally. I therefore could not think of another person to nominate for the George Macdonald Medal award when the opportunity came up. Receiving the news of his selection for the award was a career high point. I am proud to have been associated with his award."
Christine Stabell Benn, MD, PhD, DMSc, MAE, has worked at the Bandim Health Project in Guinea-Bissau since 1993. Dr. Benn holds a position as a Professor of Global Health at University of Southern Denmark. She is also a Chair at the Danish Institute for Advanced Study.
"I am very happy and honoured to be awarded the George Macdonald Medal. There are many assumptions about which interventions work in low- and middle-income countries and many assumptions about how the interventions work. My group has made it a top priority to challenge these assumptions in global health, by assessing the overall health effects of interventions in real life settings. The medal is a great encouragement to continue this line of curiosity-driven research."

Christine Stabell Benn
Professor Sir Alimuddin Zumla said: "Christine serves as an exemplary role model of a passionate clinician scientist. She is very deserving of the society's George Macdonald Medal."
The judging panel were hugely impressed by two of the nominations and could not decide between them.

"Professor Benn's work on evaluating vaccines and the effect of vitamin A supplementation has directly impacted health policy and led to improved health for many disadvantaged populations.

"Professor Dondorp is a clinician scientist and a global leader in the treatment of severe malaria. His influential work has helped substantially reduce deaths, particularly among children, from this continuing threat to human health."

Professor Liam Smeeth, Director of LSHTM
Emerging Leaders Award
The winner of this year's Emerging Leader Award is Dr Bipin Adhikari, who was nominated by Dr Lorenz von Seidlein. The award recognises significant contributions in leadership, mentoring and capacity building in those who are early in their careers.
Dr Bipin Adhikari Bipin is a researcher, from Nepal who joined Mahidol-Oxford Tropical Medicine Research Unit (MORU), Bangkok in 2015. After completing DPhil at University of Oxford in 2019, in which he concentrated his research around community engagement for targeted malaria elimination in Laos, he has worked with global researchers to broaden the scholarship around community engagement in global health research. He is currently working at the malaria department of MORU based at field sites in Cambodia.
I am very humbled to receive the Emerging Leaders Award by RSTMH for the year 2023. This recognition holds great significance for me, as it motivates me to continue the work in the field of Tropical Medicine and Global Health and it serves as an inspiration to actively share my knowledge and skills to the newcomers in the field."

Dr Bipin Adhikari Bipin
Dr Lorenz von Seidlein said: "We need young leaders like Bipin in an age where just about everyone with a smart phone feels they can do their own research and that their opinion is just as valid as established scientific fact."
Chalmers Medal
The winner of this year's Chalmers Medal is Professor Faith Hope Among'in Osier, who was nominated by Professor Kevin Marsh.
The Chalmers Medal recognises researchers in tropical medicine or global health who demonstrate evidence of mentoring and professional development of junior investigators, and other forms of capacity building.
Professor Osier trained as a paediatrician in Kenya, specialized in immunology in Liverpool, and obtained a PhD from the Open University. She is Chair of Malaria Immunology and Vaccinology in the Faculty of Natural Sciences at Imperial College London where she also serves as the Co-Director of the Institute of Infection.
I am thoroughly delighted to receive this award and acknowledge the support of all my colleagues, research funders and host institutions, without whom this would not have been possible. This award raises the profile of female African scientists in global health and will inspire others to be the change we want to see."

Professor Faith Hope Among'in Osier

Professor Kevin Marsh said: "I am absolutely delighted that Faith will be awarded the Chalmers medal. I nominated her because she is an outstanding researcher who, as well as having made major contributions to our understanding of immunity to malaria, has also played very major international leadership roles and has a passionate commitment to the development of science in Africa and especially to the support of female researchers. She is rightly seen as a role model for many young researchers across the continent."
Also receiving a certificate at the RSTMH Medals and Awards Ceremony was Hannah Lin, the winner of the 2022 Student Essay Prize for her Hannah Lin for her essay 'The Collateral of Conflict: The Effects of War on Health At Home and Away'.
The Medals and Awards were announced at the RSTMH Annual Meeting 2023. Find more information here.
Medals and awards