RSTMH Annual Meeting 2023
28 - 29 September 2023, 8:30am-5pm (BST)
Conway Hall, 25 Red Lion Square, London, WC1R 4RL, UK
Tropical Medicine and Global Health: Priorities for the next 5 years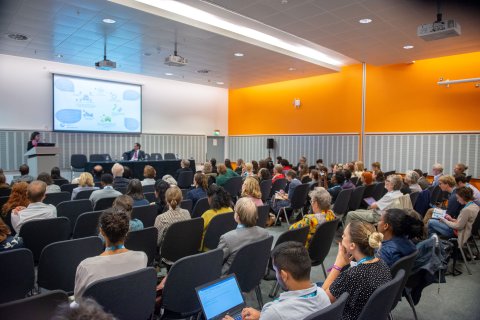 We are excited to announce the theme of this year's Annual Meeting, which is 'Tropical Medicine and Global Health: Priorities for the next five years'.
Our 2023 Annual Meeting will bring together members, Fellows and supporters from around the world to share knowledge, hear about the latest research and ideas, and encourage new collaborations. The event will be held as an in-person event on Thursday 28 September and Friday 29 September at Conway Hall in London, UK, and will be recorded to be shared with those unable to attend.
The event combines keynote talks and panel discussions, with two tracks running in parallel. During the two days we will learn about and discuss the priorities for the next 5 years for topics which include malaria, NTDs, outbreaks and AMR, humanitarian health and refugees, climate change and AI. There will be a chance to network through regular breaks and also at our reception on the 28th September. For early career researchers there will be sessions especially provided for guidance and networking.
Tickets are now on sale. This event is worth 10 CPD points.
This event is in-person only, however we are hoping to record parts of the event and will be looking to make that available after the meeting for a fee.
We are delighted to announce that one-day tickets for our Annual Meeting are now available. Please note that the cost for Day One Tickets will be slightly higher than Day Two as this includes the reception.
Register Now for a Two-Day Ticket
Register Now for a Day One Ticket Only (28 September)
Annual Meeting 2023 Programme
Speakers
We are delighted to announce our first speakers for this year's Annual Meeting:
Mr Abu Conteh - Senior Researcher, Sierra Leone Urban Research Centre
Dr Adam Roberts - Reader, Antimicrobial Chemotherapy and Resistance, Liverpool School of Tropical Medicine (LSTM)
Professor Ahmed Fahal - Professor of Surgery, University of Khartoum and Founding Director, Mycetoma Research Center
Dr Alan Dangour - Director of Climate and Health, Wellcome
Professor Sir Andy Haines - Professor of Environmental Change and Public Health, Centre on Climate Change and Planetary Health, London School of Hygiene and Tropical Medicine (LSHTM)
Professor Anthony Costello - Founder and Chair of the International Lancet Countdown for Climate Action and Health
Arjun Panesar - Founding CEO and Head of AI & Ethics, DDM Health
Aparna Barua Adams - Project Manager, International Coalition for Trachoma Control (ICTC)
Dr Aula Abbara - Honorary Clinical Senior Lecturer, Imperial College London
Dr Benjamin Black - Specialist Advisor
Dr Bern-Thomas Nyang'wa - Medical Director, Amsterdam Operational Centre of Médecins Sans Frontières (MSF)
Dr Bernadette Abela - Team Leader for Neglected Zoonotic Diseases, World Health Organization (WHO)
Dr Bhargavi Rao - Associate Professor of Humanitarian Public Health, LSHTM
Dr Camilla Ducker - Senior Advisor, Global NTD Programme, WHO HQ
Dr Catrin Moore - Senior Lecturer, St George's University of London
Dr Charles Mowbray - Discovery Directory – Drugs for Neglected Tropical Diseases Initiative (DNDi)
Professor Charlotte Watts - Chief Scientific Adviser and Director for Research and Evidence, UK Foreign Commonwealth and Development Office (FCDO)
Professor Sir Chris Whitty - Chief Medical Officer and Chief Scientific Advisor, Department of Health and Social Care, England
Dr Craig Tipple - Medical Director, Drugs for Neglected Diseases Initiative (DNDi)
Dr David Wilson - Program Director, World Bank
Mr Fidel Strub - Director, Elysium Noma Survivors Association
Mr Gareth Maher-Edwards - Scientific Director, Global Health Medicines R&D, GSK
Dr Ghada Zoubiane - Head of Partnerships and Stakeholder Engagement, International Centre for Antimicrobial Resistance Solutions (ICARS)
Dr Gita Khalili Moghaddam - UKRI Innovation Scholar, University of Cambridge
Professor Henry Mwandumba - Director, Malawi Liverpool Wellcome Programme
Dr Ibrahima Socé Fall - Director of the Department of Control of Neglected Tropical Diseases, WHO
Professor Jimmy Whitworth - Professor of International Public Health, LSHTM
Dr John Amuasi - Executive Director, African Research Network for Neglected Tropical Diseases (ARNTD)
Professor John Crump - Professor of Medicine, Pathology, and Global Health, and Co-Director for the Centre for International Health, University of Otago
Dr Julia Kemp - Head of Major International Programmes, Wellcome
Dr Kebede Deribe Kassaye - Director for Neglected Tropical Diseases Africa, Children's Investment Fund Foundation (CIFF)
Professor Laura Hammond - Pro-Director of Research and Knowledge Exchange, SOAS University of London
Professor Liam Smeeth - Director, LSHTM
Dr Luis Pizarro - Executive Director, DNDi
Professor Margaret Gyapong - Director of the Institute of Health Research and Coordinator of the Centre for Health Policy and Implementation Research, University of Health and Allied Sciences (UHAS)
Dr Mark Booth - Senior Lecturer, Newcastle University
Dr Meenakshi Gautham - Assistant Professor of Health Systems and Health Policy, LSHTM
Michael Corley - Head of Policy and Public Affairs, British Society for Antimicrobial Chemotherapy (BSAC)
Dr Michael Makanga - Executive Director, European and Developing Countries Clinical Trials Partnership (EDCTP)
Professor Philippe Guérin – Director, Infectious Diseases Data Observatory (IDDO)
Rachael Cummings - Global Head of Humanitarian Health, Save the Children
Rohit Malpani – Consultant, formerly with INITAID, Oxfam and the WHO
Dr Sakib Burza - Medical Director of the international Planetary Health NGO, Health in Harmony.
Dr Val Snewin - Head of Global Health Research Partnerships, Science, Research and Evidence Directorate, Department of Health and Social Care
Dr Wendy Harrison - Chief Executive, Unlimit Health
Venue Information, Travel and Accommodation
Information on the venue, including how to travel to the venue and accomodation nearby, can be found here.
Visa information
The UK government website is the most up to date location for visa information, so please double check their page before finalising your travel arrangements.
Please be aware it is your own responsibility to apply for a visa. RSTMH is delighted to write supporting visa letters for members and Fellows who have registered for the Annual meeting attending. Letters will only be sent when full payment is received. Please contact Eva Mclean (eva [dot] mclean [at] rstmh [dot] org).
Register Now for a Two-Day Ticket
Register Now for a Day One Ticket Only (28 September)