Call for Papers: Addressing the snakebite challenge - progress towards the 2030 roadmap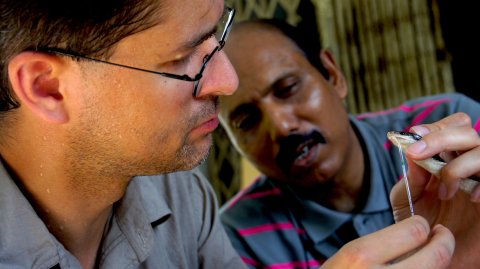 We are seeking submissions for a Special Issue, to be published in Transactions of the Royal Society of Tropical Medicine and Hygiene (TRSTMH), which aims to bring together research on improving the understanding of snakebites and snakebite envenoming.
We share the world with about 4,000 snake species, of which about 375 are venomous and 278 are considered medically important. Worldwide, 6·85 billion people live within the range of areas inhabited by snakes, and for 146·70 million of them, access to quality healthcare is challenging. The cost of snakebite envenoming is also huge in most countries, as those affected belong to poor communities in low- and middle-income countries that face further societal challenges.
A broad and cross-cutting approach to understanding of snakebites and snakebite envenoming is essential in understanding the pathophysiology of snakebite envenoming and to identifying modifiable risk factors for prevention of snakebites, both of which are key to preventing and managing snakebite deaths and disability. Such an approach would offer the best chance of achieving the World Health Organisation's target of halving the deaths and disability from snakebite by the year 2030.
Through this Special Issue, we hope to collect submissions from across the world, especially from regions with the highest burden of snakebite, to improve our understanding and identify novel solutions to reduce the burden of snakebite.
In keeping with the 2030 strategic aims, we are particularly interested in:
1. Original articles/Reviews on snakebite epidemiology (including research on spatial epidemiology, health economics, etc)
2. Original articles/Reviews on manifestations and clinical outcomes of snakebite envenoming
3. Original articles/reviews on sociological aspects of snakebite and snakebite envenoming including community engagement and empowerment.
4. Reviews/lessons from the field on the impact of COVID-19 on snakebites and snakebite research
5. Reviews/lessons from the field on health system strengthening and system level interventions
6. Review/lessons from the field on partnership and intersectoral collaborations for improved research and management of snakebite
7. Review/lessons from the field on future horizons for snakebite research
Authors should follow the Instructions for Authors regarding the manuscript format requested by TRSTMH, as described on the journal website at https://academic.oup.com/trstmh. Prospective authors should submit an electronic copy of their manuscript through the Editorial Manager submission website https://www.editorialmanager.com/trstmh.
All submitted articles are subject to the peer-review process as usual, and only articles that pass peer-review will be accepted for publication. We particularly welcome papers authored by contributors from low-and middle-income settings and those from individuals typically underrepresented in tropical medicine/global health.
Guest Editors: Dr Maya Gopalakrishnan (All India Institute of Medical Sciences) and Dr Frank Tianyi (Liverpool School of Tropical Medicine)
The deadline for submissions is the 31 March 2024, with the expected publication date to be September 2024. Informal enquiries can be sent to the Guest Editors, Dr Maya Gopalakrishnan (maya [dot] gopalakrishnan [at] gmail [dot] com) and Dr Frank Tianyi (frank [dot] tianyi [at] lstmed [dot] ac [dot] uk), and queries relating to the online submission system should be sent to RSTMH Managing Editor, Tom Pinfield (thomas [dot] pinfield [at] rstmh [dot] org).