Lessons from the Field: the importance of learning and keeping 'ahead of the times'
The Royal Society of Tropical Medicine and Hygiene founded our first journal, called Transactions of the Royal Society of Tropical Medicine and Hygiene, in 1908. The first published issue included an inaugural address from founding President, Sir Patrick Manson, to the then young Society.
'How important it is for the subject itself, as well as for those who are engaged in its study, that the latter should have opportunities such as this Society is calculated to afford, of placing themselves abreast of the times, will be readily understood when we think of the rapid progress that tropical medicine has made within the last few years.
This progress has been as remarkable as it has been great; indeed, it is hard to keep pace with it. No sooner have we settled down to digest some new and important discovery than a fresh and perhaps more startling one is offered us.'[1]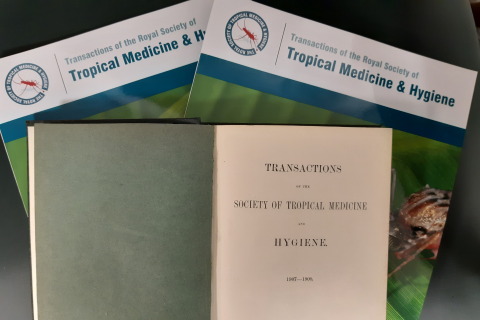 Almost 120 years later, the journal continues to serve our community by publishing important scientific research in a variety of formats. We want to keep our global network of community health workers, nurses, doctors and clinicians 'ahead of the times' so that they can learn, use and share new knowledge and improved techniques to better treat their many patients worldwide.
Nine months ago, Transactions launched a new article type called Lessons from the Field.
These editorial-style articles are intended to share experience between the global health community and people working on the front-line of tropical medicine, particularly those implementing projects or working in communities with patients. Lessons could cover a broad variety of situations, diseases and countries and have a particular remit of engaging with those who might not work on or submit an original research article but have valuable practical information to share with the scientific community. Although all articles benefit from our usual swift publication speeds, Lessons can be fast tracked (especially if relevant to the current COVID-19 pandemic) and so are especially suitable for situations when time is of the essence. Our partners, including many NGOs have told us that this would help them ensure activities across regions can benefit from shared wisdom.
We believe that publishing a wide variety of Lessons will help to drive positive change through raising awareness and funding where they are most needed and informing research and policy work. Through this new article type, RSTMH and the journal's editorial team offer a new way to help support important members of our community and all those working hard on health delivery programmes in the field.
What are we looking for?
Submissions directly discussing the experiences and lessons learned from working on the front-line of disease outbreaks
Submissions that talk about front-line experience in combination with other external factors such as conflict.
Points to note:
Submissions should be between 1,000 and 1,500 words
Submissions can have up to five references and one figure or table
Submissions should include a short abstract
All submissions will be peer reviewed.
Submit your Lessons from the Field article
[1] Patrick Manson, K.C.M.G., F.R.S., Inaugural address, Transactions of The Royal Society of Tropical Medicine and Hygiene, Volume 1, Issue Supplement_C, 1908, Pages 1–12, https://doi.org/10.1016/S0035-9203(07)90004-8
Transactions