How COVID-19 entered Africa and the Middle East
First reported case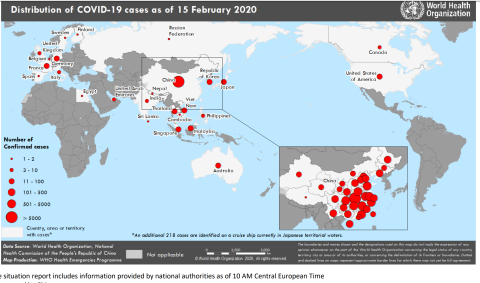 The 15 February 2020 WHO COVID-19 dashboard shows the earliest documented case in Egypt that we reported in our Transactions paper.
The Egyptian Ministry of Health had a very pragmatic and functional response to the pandemic threat and helped us document the first cases.
Other nations feared economic repercussions from loss of business and tourism, or political blame from government authorities and were less forthcoming.
Global transmission dynamics
Historians will determine whether our reports were the first known SARS-CoV-2 cases to emerge in Egypt, Africa, or the Middle East and North Africa (MENA) region outside of Iran.
The Egypt case study illuminates global transmission dynamics and suggests how quickly infection can spread, even between countries that have few non-stop flights between them.
Timeline of early SARS-CoV-2 transmission
A healthy 27-year-old Egyptian woman, Ms. "A", worked as a translator for two Chinese managers of a Japan-based designer brand whose manufacturing capacity is in China. The first manager was a 54-year-old female, Ms. "B", with business duties in multiple African countries. The second manager was a 36-year-old male, Mr. "C", with responsibility for the Egyptian market.
Both managers and Ms. "A" travelled on business to China from 5 to 18 January 2020. Travellers "A" and "B" were in Guangzhou while traveller "C" went to Wuhan. The three travellers reunited on 18 January 2020 in Guangzhou for their return trip to Egypt.
On 19 January, Mr. "C" went to his workplace in Cairo with severe influenza-like symptoms including fever and cough. Despite his obvious illness, "C" worked in the office the whole day, sharing a workspace with three employees, Ms. "A", and a Chinese manager Mr. "D", aged 37 years.
On 20 January, Mr. "C" was still ill with respiratory symptoms and fever and he isolated himself, given his history of recent travel to Wuhan. Ms. "B" shared the same dwelling as Mr. "C" and Mr. "D", but all three occupied different rooms.
How business travel transmits viral pathogens
On 24 January, Ms. "B" developed a fever, cough, and a sore throat, suggesting a respiratory illness, subsequently testing positive for COVID-19. Mr. "D" subsequently tested PCR positive and was asymptomatic at the time. (He then fell ill with respiratory disease on an unspecified later date, but this was likely not COVID-19-related, given the timetable. Ms. "A" has remained asymptomatic and PCR negative.
These cases illustrated the global dynamics of the coronavirus pandemic, and how modern business and air travel can transmit viral pathogens to far-distant venues.
Ms. "B" did not travel to Wuhan, but was presumably infected by Mr. "C" who did travel there (Mr. "C" was a presumptive case, but unconfirmed).
Mr. "D" was exposed and infected in the shared dwelling or workplace. Heterogeneity of risk is highlighted by Ms. "A" who was exposed for prolonged times to Mr. "C" and Ms. "B" during travel and at the workplace but was never infected.
Global community not prepared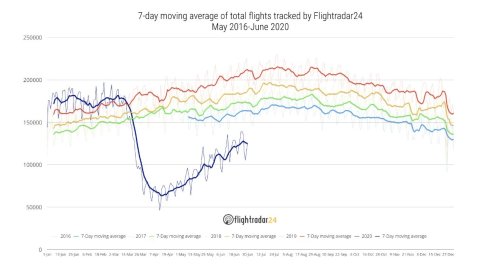 The COVID-19 pandemic worldwide challenges led to cutting off most international flights between countries with commercial flights declining by nearly 40% in June of 2020, compared to 2019.
Still, countries like Egypt, Algeria, and South Africa all attribute early cases to importation from China. Egypt closed all China flights in late March 2020 through early July, also applying a night time curfew to curb group gatherings.
Still, over 131,000 cases and over 7,350 deaths are reported from Egypt as of 26 December, fuelled by festive and social gatherings.
The global community is not at all prepared for pandemic respiratory disease threats of the magnitude of COVID-19 or novel influenza strains, especially the low- and middle-income nations.
The vaccine will roll out and we can hope for the best, but millions more can die before that promise is fulfilled.
COVID-19 Transactions