Flying during the COVID-19 pandemic

This blog is written by:
Anthony David Harries (left), Senior Advisor, International Union Against Tuberculosis and Lung Disease, Paris, France Honorary Professor, London School of Hygiene and Tropical Medicine, London, UK
Leonardo Martinez (middle), Assistant Professor, Boston University, School of Public Health, Department of Epidemiology, Boston, Massachusetts, United States
Jeremiah Muhwa Chakaya (right), Honorary Faculty, Department of Medicine, Therapeutics, Dermatology and Psychiatry, Kenyatta University, Nairobi, Kenya Professor of Global Health, Liverpool School of Tropical Medicine, Liverpool, UK
How is COVID-19 transmitted?
Severe acute respiratory syndrome coronavirus 2 (SARS-CoV-2), the novel coronavirus that causes COVID-19, is transmitted primarily through respiratory droplets which are expelled a short distance from one person to another during talking, coughing or sneezing. The closer the contact, the more likely the risk of transmission.
In addition, it seems possible that the virus can be spread through aerosol particles which can remain suspended in the air and travel further. People can also be infected if these respiratory droplets or aerosol particles reach their mouth, nose and eyes either directly or indirectly via their hands that have touched surfaces contaminated with the virus.
How can we reduce the risk of being infected?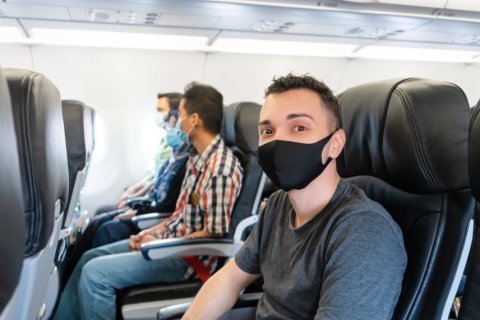 The key measures to reduce the risk of COVID-19 infection are physical distancing, face masks, eye protection and good hand hygiene.
A Lancet review of observational studies in June 2020 showed the effect of three of these measures in reducing the chances of viral infection.
Intervention

Chance of viral infection or transmission

Comment

Comparison Group

Intervention Group

Physical distancing

12.8%

2.6%

Comparing < 1 metre distance with 1 metre or more distance. For every 1 metre further away in distance, the protective effect may double

Face masks

17.4%

3.1%

Comparing no face masks with face mask. N95 respirator masks are more effective than other types of face mask

Eye protection

16.0%

5.5%

Comparing no eye protection with eye protection using face-shield or goggles

Adapted from Chu et al, Lancet 2020; 385: 1973-87.
Physical distancing and face masks have the greatest protective effect, but it is the inability to keep physically distant in an aircraft that makes it a potentially high-risk environment.
How clean is the air in a passenger aircraft?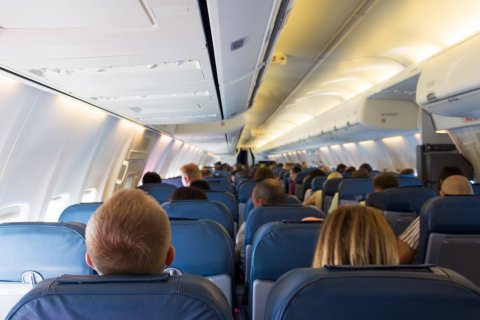 Aircraft air is intrinsically clean. The airflow in current jet aircrafts is much faster than in normal indoor buildings. The air is collected from outside of the aircraft, normally through the engine, and mixed in a ratio of 1:1 with air that is recycled through HEPA (high-efficiency particulate air) filters of the same type used in operating theatres.
This clean air enters the passenger cabin from overhead inlets and flows downwards towards floor-level outlets. This airflow is vertical from above a passenger's head to below his/her feet with little airflow forward or backwards between rows.
Seat backs also provide a partial physical barrier between rows. This design limits the spread of infectious particles in the air and minimises the risk of infection.
However, the flow of air can be disrupted by passengers leaving their seats to check overhead bins or to visit the lavatory or by aircrew moving up and down the plane serving drinks and meals and attending to passenger requests.
What is the risk of getting infected with COVID-19 on an aircraft?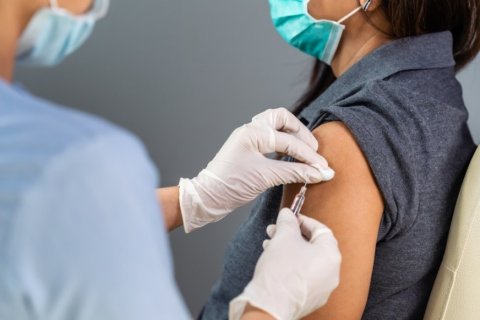 This is difficult to answer with precision. The number of confirmed cases of in-flight COVID-19 transmission between passengers around the world appears small. However, there is no doubt that in-flight transmission does occur and studies have supported this with genetic evidence.
In-flight transmission has been reported with other respiratory infections spread predominately by droplets, such as tuberculosis, SARS-CoV and influenza, and this has allowed risk factors that pertain to COVID-19 to be identified:
The longer the flight the higher the risk, and therefore long-haul flights are riskier than short-haul flights
Persons sitting in aisle seats have more individual contacts with other passengers and crew compared with those sitting in window seats and therefore are more at risk of infection
Passengers seated within two rows of an infectious person are more likely to be infected (approximately 6% risk) compared with those seated beyond two rows from the infectious person (approximately 2% risk).
How can a passenger reduce the risk of infection on an aircraft?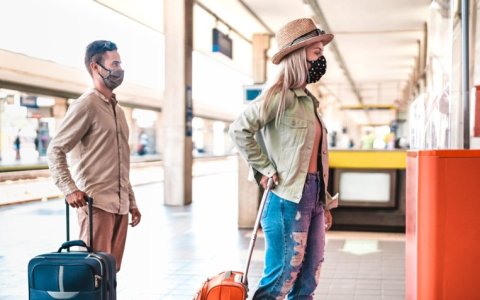 The International Civil Aviation Organization (ICAO) has released helpful guidance on air travel during the COVID-19 pandemic and passengers would do well to download and read this prior to flying ().
In our recent paper in the Transactions of the Royal Society of Tropical Medicine & Hygiene, we recommended a number of actions that individual passengers can take to reduce risk of transmission and we summarise them here along with some additions:
wear a well-fitting mask throughout the flight and a face shield or eyeglasses (e.g., sunglasses)
if there is an overhead air nozzle, adjust it to point straight at your head and keep it on full
take alcohol-based sanitisers to wipe nearby surfaces and regularly clean hands
avoid the temptation to touch the face
try and keep seated throughout the flight and avoid congregating at specific areas such as queuing for washrooms
if a passenger in adjacent rows is coughing or appears unwell, report this to the cabin crew and ask to change seats
choose a window seat rather than an aisle seat
if feasible, try to not eat or drink during flight as this means not wearing a face mask, and aircraft utensils and cups may be infected through fomites.
Since writing our paper, effective vaccines against COVID-19 have become available. If possible, passengers should try and be vaccinated according to the manufacturer's schedule (one or two doses) and have this completed at least one week before actually flying.
Are there any other considerations?
Yes. Flying involves not only sitting on an aeroplane.
Passengers have to spend time in transit to and from the airport, maybe on public transport
At the departure airport, passengers have to queue for check-in, baggage processing, emigration and security
At the arrival airport in another country passengers have to queue for possible health checks, immigration, luggage collection and customs
All of these bring people into close contact with one another and with contact surfaces that may be riskier than the inside cabin of the aircraft. Continued use of face masks, eye shields, alcohol-based sanitisers and physical distancing will therefore be required.
Before leaving home, travellers will need to consider other issues such as:
the amount of COVID-19 transmission at their destination
the need for a negative COVID-19 test and 10-14 days quarantine at their destination and when they return home
whether there has been any contact in the two weeks before flying with a person known to have COVID-19
whether they feel any illness shortly before or on the day of travel
Finally, the risk of infection and transmission is higher one year into the COVID-19 pandemic because of new circulating variants of SARS-CoV-2 from UK, South Africa and Brazil, all of which are associated with increased transmissibility.
If in doubt about flying, it is best to stay at home.
COVID-19 Transactions