COVID-19 response in Sudan
Country Ambassadors COVID-19 COVID-19 reports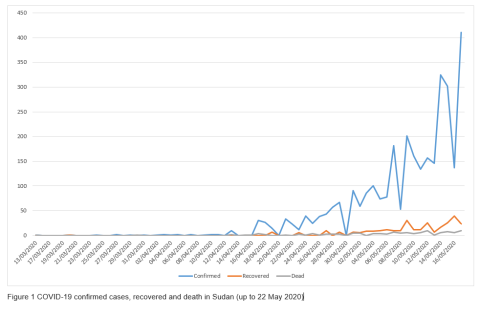 Dr Rania Baleela is a molecular population geneticist interested in the epidemiology and control of neglected tropical diseases (NTDs) especially malaria and visceral leishmaniasis. She is the founder of the first Sudanese academic digital repository; the Head of the Research and Publishing Unit at the University of Khartoum and Assistant Professor of molecular biology and population genetics at the Department of Zoology, University of Khartoum. Dr Baleela is the RSTMH Country Ambassador for Sudan.
Looking at the COVID-19 statistics in Sudan, you will see relatively small numbers compared to other countries. Our data so far shows 2,728 confirmed cases, 286 recovered and 111 dead (Figure 1). But don't let this misguide you!
The rise in confirmed cases is alarming. It doubles almost every week, sometimes every day. The death rate was higher than global death rates. However, this can be attributed to undiagnosed cases out there. And this brings us to testing.
Testing is way below what it should be. No statistics are available on how many tests have been performed to date! Staff on the frontlines are testing positive. Private hospitals are shutting down in fear of being a source of infection. Several hospitals were shut down because a patient died on the stretcher and tested positive and the staff had dealt with them without wearing personal protection equipment (PPE). Lots of the frontline paramedics simply don't wear enough protection. The good news though is the expansion of testing laboratories. 3 laboratories joined the taskforce this week to make the total number of laboratories capable of testing 4. Two of them are in Khartoum, the epicenter of the pandemic, one in Red Sea State and one in Gezira State.
The stigma of being a COVID-19 patient is unbearable. People will stay at their homes feeling unwell and hardly breathing and will call the dedicated call centre just hours before completely collapsing. There is a shortage of everything.
Sadly, we keep hearing that X died and their relatives will hold a funeral despite the nationally imposed curfew. And they will tell you: it's a natural death, NOT COVID-19 and a couple of weeks later a relative who attended that funeral will die and then they will realize it is a contagious disease the hardest possible way!
The Federal Ministry of Health (FMoH) is stretched to its limits. They are creating new regulations, showing people how to stay safe, advising the government to impose curfews and to shut down facilities. They are doing a lot of things at the same time.
On the right path – transparency from the government
In all this, a great plus is that it's the first time in 30 years that an official governmental body (i.e. FMoH) has announced the presence of an epidemic / pandemic in Sudan, and to try their best to be transparent. This is especially positive when you know they are still working in a ministry full of officials who would love to call a cholera pandemic for example "watery diarrhea" and would call COVID-19 nothing but "regular flu"!
Among the main challenges the FMoH is facing is the resistance of the people towards social distancing and the curfew. They will go under a tree to socialize and drink coffee. And if you tell them that this is bad practice, they will tell you there is no pandemic or that 'We believe in Allah and what the Almighty want for us, will happen'! This attitude, however, is changing now.
An enormous challenge is the economic status of the poor families. Lots of people are dayworkers. They provide for their families through small and marginal types of work. They are hit the hardest. This is a tough time for all of us but especially for them. Some NGOs and some governmental organizations are trying to help this section of the community.
An important lesson I personally learned is that social workers, psychologists, anthropologists, and psychiatrists have a great role in guiding the nation to stay safe.
If I worked for the FMoH, I would advise that the expertise of those professionals needs to be made available for the nation immediately. Had they been part of the fabric of public health response before the pandemic started, they could have devised a wellness message for the nation to accept the social distancing and the curfew, that could have saved precious lives.