COVID-19 in Azerbaijan: highlights of anti-epidemic measures and epidemic dynamics
Dr. Aybeniz Dadashova is a physician with extensive research experience in Infectious Diseases Epidemiology and Medical Virology. Aybeniz works as a Senior Researcher at the Center for Control of Particularly Dangerous Infections (Baku, Azerbaijan) and as a Country Coordinator for the CIS Sanitary Council for Control of Particularly Dangerous Infections. Dr Dadashova is the RSTMH Country Ambassador for Azerbaijan.
On 30 January, 2020, the Cabinet of Ministers of the Azerbaijan Republic approved the "Action Plan to prevent the spread of a new coronavirus disease in the Azerbaijan Republic" and the planned measures are being implemented.
In order to prevent the threat of COVID-19 in the territory of Azerbaijan Republic, the Task Force under the Cabinet of Ministers, consisting of heads of relevant government agencies and institutions was established on 27 February, 2020.
A special quarantine regime throughout the country was introduced on 20 March for a month, with a further extension until 31 May, 2020. At the time of the special quarantine regime, all schools, universities, sports and other recreation facilities, retail and service stores (excluding pharmacies and food stores) were closed. During the lockdown period, a restriction of movement was implemented. Only holders of special permits, received via an online governmental platform were allowed to leave their homes. Moreover, as part of anti-epidemic measures taken against COVID-19, ground and air transport to the territory of the Azerbaijan Republic, including entry and exit (except for cargo transportation) and also all local flights, were completely suspended from 5 April, 2020 to 20 April, 2020 with a further extension until 31 May, 2020.
As part of an information campaign, the official web resource was created in order to provide the population with information about the epidemic situation and also with all necessary rules regarding protection from infection. Information about COVID-19 may also be obtained by calling the special hotline, operating 24 hours a day, 7 days a week. Actual epidemic data and all official decisions are available at the official website of the Cabinet of Ministers.
The first confirmed COVID-19 case in Azerbaijan was registered on 28 February, 2020. The patient was a citizen of the Russian Federation. Upon entering Azerbaijan from the Islamic Republic of Iran, he had clinical symptoms of the disease and after examinations and tests, COVID-19 was confirmed.
Before 24 May, 2020, 4,122 COVID-19 cases and 49 deaths were registered. On 24 May 140 new cases were registered and 101 patients recovered and returned home from hospital. In specialized hospitals, currently 1,466 patients are under supervision and treatment, 105 of them have severe or moderate-severe symptoms of the disease. Fortunately, most of hospitalized infected people – 1,361 – have mild symptoms or even no symptoms at all and need observation only.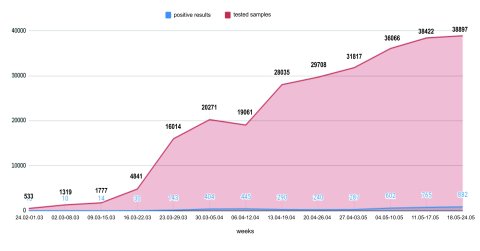 Examination for detection of SARS-CoV-2 by real time qPCR is being performed in all country laboratories. Currently 25 labs around the country are officially involved in COVID-19 testing. 18 labs are located on the bases of State Hospitals and 7 in private clinics. All testing is funded in full by the Government.
To date 270,000 tests in total have been completed. More than half of them were performed at the labs of the Center for Control of Particularly Dangerous Infections in Baku or its regional divisions.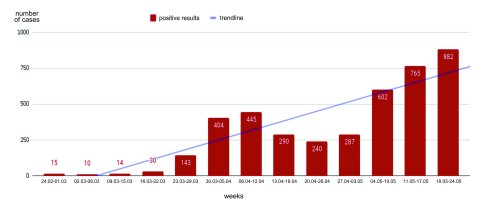 The current epidemiological situation is under control and is strictly regulated by State entities and the relevant institutions. Lockdown restrictions are expected to be lifted gradually and international flights are to re-open in the first part of June.
COVID-19 Country Ambassadors COVID-19 reports