Volunteer Week: Thank you to all our volunteers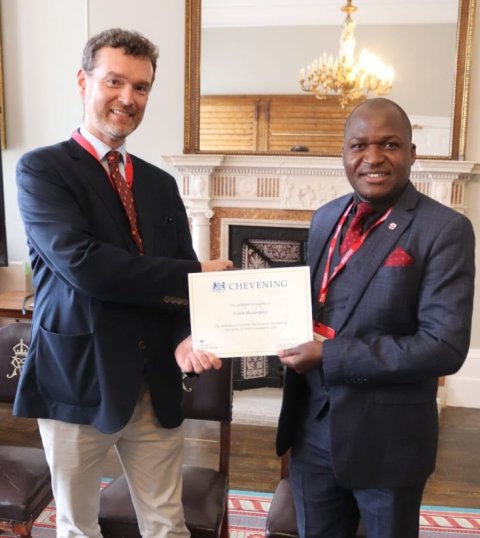 RSTMH has a long history of being supported by volunteers. In the early days of the Society, voluntary roles helped coordinate the office and formed the Council, who were responsible for governing the Society.
The President, Vice-President and Honorary Treasurer oversaw this process with support from the Secretary. Together they supported the vision and direction of the organisation and ensured it met its objectives.
For many years, the Society had the role of Local Secretary, with these ambassadors being based across all tropical regions of the world.
Trustees and governance
Fast forwarding to now, we still rely heavily on volunteers to help us carry out our work. As a team of six in the RSTMH office in London, there are many things that we wouldn't be able to do without help and support for others.
From a governance perspective, we rely on the time of our Trustees to help ensure we deliver the bold ambitions and objectives of the Society in an efficient and effective manner.
They provide their time throughout the year to hear about all areas of our strategy and impact and provide guidance and direction. There are currently two spaces for new Trustees, if you would like to be a part of influencing the future direction of the Society to maximise its value to members, Fellows and to the wider health goals.
Committees and strategy
We now have six committees meeting four times a year, supporting the strategy of our key areas of work. They meet quarterly and ensure our focus and direction in these areas. We are so grateful to them for giving up their time to help us perform better.
Global Assessors are based in all regions of the world and are specialists in one or more areas of tropical medicine or global health. Their role is diverse. The main piece of work for most Global Assessors is to assess the small grant applications that we receive from early career researchers around the start of each year.
These applications are relatively short, but the assessment process is quite complex, with them reviewing the eligibility and quality of the applications. This year we received 674 applications, of which 521 needed assessing.
Global Assessors and abstracts
We ensure each application is reviewed by at least two independent, highly knowledgeable, assessors which means they are currently working to deliver 1,042 assessments. We simply couldn't deliver our small grants programme, providing seed funding to early ideas and researchers, without their tireless efforts.
Global Assessors also review the abstracts we receive for our scientific meetings. These include but are not limited to our Annual Meeting and our Research in Progress meetings which take place in the UK and Tanzania at the moment, though there is a planned roll out this year to a new region.
The abstracts are again short and represent a diverse range sectors, disciplines and career stages. We call upon our Global Assessors throughout the year to help with abstract reviews and also travel scholarships from time to time.
In total, we have just over 45 Global Assessors supporting us. We are always in need of more Global Assessors as we scale up our support for early career researchers and professionals and our events outside of the UK.
Reviewers and journals
Our journals also rely heavily on voluntary support, as for many peer reviewed scientific journals. The process of reviewing the manuscripts and papers relies on peer reviewers, associate editors, Editorial Advisers and Editors-in-Chief to ensure both the day-to-day work of selecting and publishing manuscripts is carried out, as well as providing oversight and direction.
In all, we have more or less 993 volunteers carrying out one or more of these tasks, which bring great independence and robustness to our peer review process. As with many areas of our work we wouldn't be able to maintain the quality and efficiency of our journals without their hard work and dedication to the journals.
We are in the process of recruiting policy advisers to help us, with our members and Fellows, shape our policy and practical positions on our strategic priority areas to ensure we can deliver the biggest impact possible towards saving lives, and improving access and equity.
Country and Student Ambassadors
In a few weeks, we hope to share with you the names of our first Country Ambassador, a new role to ensure we are better connected to relevant countries. These volunteers will disseminate information across their country to ensure researchers and professionals are aware of the ways in which RSTMH can benefit them, as well as advising us of changes we may need to make to our activities and approach.
Our established network of Student Ambassadors is doing a phenomenal job in ensuring students from across the world are aware of how the Society can support their careers, and in providing us with advice and direction on how to better support them.
This group have been an amazing network and seem to have made an incredible impact on the diversity of the small grants, abstracts and awareness.
A network of over 1,000 volunteers
We think there are at more or less a total of 1,111 people who are supporting the Society in their free time, as volunteers around the world. We are immensely grateful to all of them for giving their time and expertise to us to deliver so much more than we could do without them.
When we asked to describe what being a Student Ambassador was like in three words, Enock Musungwini said: "rewarding, fantastic and enriching", whereas Ella Nzeribe said "a learning ground".
The challenges we are trying to solve; to save lives, eradicate diseases and improve equity and access are so vital we need this network to help us move as quickly as we can. During this week, it is a perfect time to thank all of our volunteers for everything they do.
Country Ambassadors Student Ambassadors Trustees Journals