Coronavirus Global Awareness Project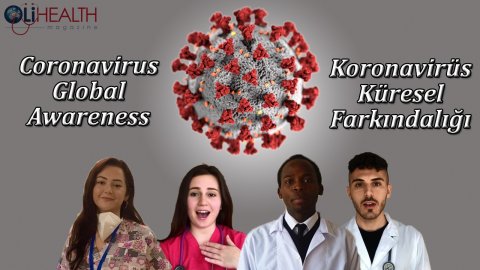 I am Olivier UWISHEMA, an aspiring physician, enthusiastic scientist, a member and proud Student Ambassador of the Royal Society of Tropical Medicine and Hygiene. I am also a passionate founder and chairman behind Oli Health Magazine Organization (OHMO) which is an International Scientific Research Academy and a Non-Profit and Voluntary International Organization, with a mission of engaging young people in professional health education and scientific research.
I grew up in the African country of Rwanda, where the majority of the population did not have good access to health clinics or medical information. Many clinics in my country were understaffed and did not have accurate information on some diseases. This experience made me want to pursue medical studies, so that I could play a role in delivering health care and building strong health systems in my country.
In Rwanda, high school graduates have to take the National Exam. I was able to score among the highest in the country in the subjects of Physics, Chemistry, and Biology. As a result, I got a chance to continue my medical studies in Turkey. Being an African medical student in Turkey pushed me to become part of the solution to the most pressing problems in my community.
When COVID-19 was first discovered, nobody expected it to blow up the way it did. In fact, the virus was not perceived as dangerous at all until it took lives in China and travelled to members of our country and community. The seemingly unpreventable spread of the coronavirus can incite fear among individuals, instilling a sense of panic in our entire community. COVID-19 has affected communities both economically and psychologically. During this stress, the ordinary lifestyle of people has been put on pause, which is creating fear regarding finances, and food shortages.. This stressful situation may put a person at a greater risk of poor physical and mental health.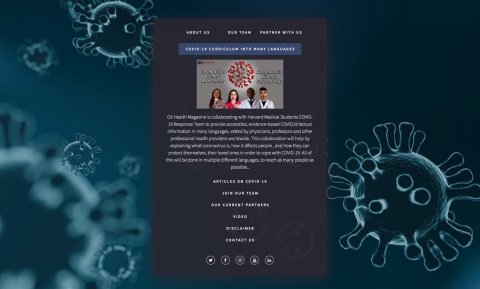 In response to the COVID-19 crisis and in recognition of the need for timely information relevant to primary care, I immediately started The Project of Coronavirus Global Awareness to make sure no one is left on the sidelines of the COVID-19 pandemic. As a passionate medical student and the founder of OHMO, the closure of my university due to COVID-19 at the beginning of March 2020 allowed me to focus my time entirely on this worthy project.
The project quickly gained ground, expanded worldwide and now more than 200 medical students, medical residents, and Doctors have become interested and joined the global initiative.
The OHMO team includes people from all over the world and from many different backgrounds and is now involved in the creation and translation of accessible COVID-19 resources into English, Turkish, French, Kinyarwanda, Swahili and 19 other languages. Furthermore, I have a partnership with Harvard Medical School where OHMO collaborates with the School student organizations to provide accessible, evidence-based COVID-19 information in many languages, vetted by physicians, professors, and other professional health providers worldwide.
At OHMO, we are a like-minded group of individuals from all over the world and we are using our shared understanding of healthcare to help us make our information as accessible as possible. Our team is constantly building knowledge through the addition of contacts provided by students and doctors already involved, which brings advice and support from other global colleagues.
The project's work is shared through the OHMO social media community of over 100,000 readers around the world. (Instagram, Facebook, Twitter, LinkedIn, YouTube, and the website). It has also recently received its first grant award from The Pollination Project, an international nonprofit based in California, United States of America. This will be used to help us encourage young people to prevent the further spread of COVID-19, by creating regular COVID-19 student competitions involving songs, poems, workshop videos, cartoon stories, dance choreography and educational articles related to understanding and coping with COVID-19. The main purpose of the Students Competition is to keep encouraging young people to read and involve themselves in research. We hope this will therefore help them to stay well and make the most of their time away from studies, whilst also being able to cope with the current environment in which we are surrounded.
Olivier Uwishema, OHMO and the Project in the news
Student Ambassadors COVID-19 Emerging diseases Global Health