First Lassa fever conference takes place in Nigeria
Adebisi Yusuff Adebayo, an RSTMH Student Ambassador from University of Ibadan, Nigeria, attended the First International Lassa Fever Conference in Abuja this month.
---
The conference was hosted by the Nigeria Center for Diseases Control (NCDC) and headed by Dr Chikwe Ihekweazu, the NCDC's Chief Executive.
The conference brought together the scientific community to reflect on what is known on the disease, describe gaps in treatment and prioritise the research agenda for the future.
The gathering attracted scientists from more than 15 countries, which allowed for knowledge sharing, collaboration, networking and partnership. It also increases the much-needed global health focus on Lassa fever in West Africa.
The conference
The Lassa fever conference is expected to be held every two years to further discuss progress towards stopping Lassa fever in endemic areas.
This year's meeting attracted over 500 abstracts from which 160 top quality papers were selected and travel scholarships were granted to over 100 researchers from across Nigeria and West Africa.
The disease
Lassa fever, also known as Lassa hemorrhagic fever, is a type of viral hemorrhagic fever caused by the Lassa virus, which belong to the family arenaviridae.
The virus was first isolated 50 years ago in Lassa, a town in Borno State in northeast Nigeria, after which it was named.
I was happy to attend and represent RSTMH at the meeting. Here are some of my conference highlights.
The 2018 Lassa outbreak
Nigeria witnessed its largest Lassa fever outbreak in history in 2018. Since the first case of the virus was identified in a missionary nurse working in the village of Lassa in Borno State in 1969, cases have continued to increase in Nigeria, mostly in the states of Edo, Ondo and Ebonyi.
In 2018, a total of 3,498 suspected cases were reported. Of these, 633 were confirmed positive, 20 probable and 2,853 negative.
And in just the first week of 2019, a total of 57 suspected cases have been reported. Of these, 25 were confirmed positive, 32 negative and 7 deaths have already been confirmed.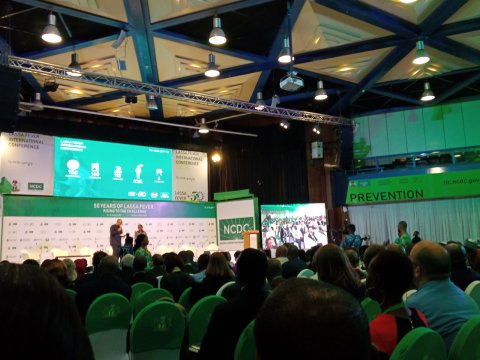 That means that this Lassa fever outbreak is still far from being over. In fact, it is the most exported viral heamorrhagic fever to Europe and ongoing negligence has led to the continued challenge of dealing with the disease.
Current challenges
The challenges identified with Lassa fever were late presentation, poor case identification and lack of availability of the drug Ribavirin, which is an effective treatment, if administered early enough.
I attended a session where it was revealed that some cases are false negative with nucleic acid assay such as PCR due to high degree of genetic diversity among the viruses, especially in West Africa.
Lack of vaccine
There are no vaccines for Lassa virus licensed for use in humans. Many presentations during the conference on vaccines and innovations demonstrated that a lot of work is happening to produce safe and effective vaccines.
For example, ML29 [L RNA segment of Mopeia virus and the S RNA segment of Lassa virus (Josiah strain)], which is found to protect guinea pigs against Lassa fever.
Richard Hatchett, MD, CEO Coalition for Epidemic Preparedness Innovations (CEPI) also spoke of CEPI's role in carrying out clinical trials in Africa. He disclosed that the first ever vaccine for Lassa fever to be tested in human clinical trials is underway.
Transmission of Lassa fever
The major means of Lassa fever transmission is rodent-to-human transmission.
Human-to-human transmission is less common than rodent-to-human transmission and occurs via direct contact with blood, tissue, secretions, or excretions of an infected individual.
Resistance and rats
Even though antiviral resistance to Ribavirin is rare among Lassa fever patients, there is a possibility of developing resistance to the drug by the Lassa virus.
One of the sessions highlighted that Lassa fever is not only transmitted by the multimammate rat (mastomyces natalensis), but also other rat species such as Rattus rattus and Mus musculus.
Prevention
It is noteworthy that Lassa fever is far from being over in endemic areas, such as Nigeria. Prevention was a big part of the conference, with techniques mentioned including:
Avoiding contact with rats and their excreta
Storing foodstuff, including water in rodent-proof containers
Disposing of waste far from homes
Keeping homes clean
Placing rat traps around the home
Disposing of dead rodents and avoiding direct contact with the carcass
Avoiding or limiting rodent meat as a food source
It was great to be at the first such meeting which addressed such an important issue.
I hope to be able to attend more meetings in the future at which I can represent RSTMH.
Student Ambassadors Partner events NTDs