COVID-19: RSTMH signs up to WHO Vaccine Equity Declaration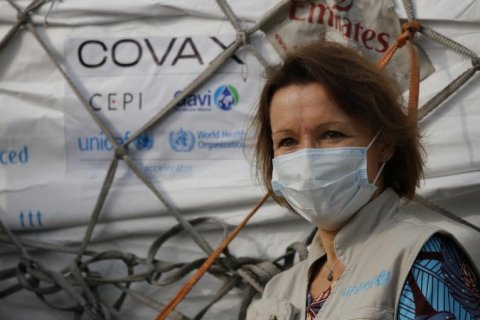 RSTMH is proud to have signed up to the WHO Vaccine Equity Declaration in support of COVAX to equitably distribute COVID-19 vaccines, treatments and diagnostics globally.
Along with close to 7,000 people and hundreds of other organisations, we are calling on governments and manufacturers to speed up regulatory processes, boost manufacturing by sharing know-how and technology, and ensure that doses are shared equitably.
The current COVID-19 vaccine rollout is a huge moment in the fight to end the pandemic and an incredible victory for the healthcare community around the world.
Now is the time for international cooperation
On signing the pledge, Tamar Ghosh, RSTMH's Chief Executive said:
"Never before have we seen the world's population facing the same health crisis at the same time, providing the opportunity for us to demonstrate an equitable solution. Now is the time for international cooperation and investment in health systems that protect us all.

"We encourage governments and manufacturers to use the innovative mechanisms established through COVAX and do all they can to help all countries receive the vaccines they need, as soon as possible."
Catastrophic moral failure
"The world is on the brink of a catastrophic moral failure – and the price of this failure will be paid with lives and livelihoods in the world's poorest countries."
This was the call from Dr Tedros Adhanom Ghebreyesus, WHO Director-General, in January this year.
It was a call to all countries to work together in solidarity – and in each of their best interests – to ensure that within the first 100 days of the year, vaccination of health workers and older people was underway in all countries.
Health and care workers have been at the forefront of the pandemic response: often under protected and over exposed.
COVAX
On 2 March, The Coalition for Epidemic Preparedness Innovations (CEPI), Gavi, the Vaccine Alliance (Gavi) and the WHO, as co-leads of the COVAX initiative, alongside key delivery partner UNICEF, published COVAX's first round of allocations. This round outlines delivery of doses of the AZ/Oxford vaccine – manufactured by AstraZeneca (AZ) and COVISHIELD, licensed to and manufactured by Serum Institute of India (SII/AZ) – to 142 States and territories across all regions of the world.
Deliveries for this round of allocations has already begun, with India, Colombia, Ghana and Cote d'Ivoire receiving doses of the SII/AZ vaccine. Both Ghana and Cote d'Ivoire began vaccination campaigns utilising these doses on Monday.
Further deliveries are underway for this week, with Bosnia, Kenya, Nigeria, Angola, DRC and others already having received doses, and as readiness criteria are fulfilled and doses become available, will continue on a rolling basis over the coming months.
The coronavirus crisis has highlighted stark inequalities in healthcare and has demonstrated what our community already knows – that global healthcare challenges affect all of us and need collective action.
#VaccinEquity
WHO's campaign for #VaccinEquity is also calling on countries and companies to ensure that by the time World Health Day arrives on 7 April, COVID-19 vaccines are being administered in every country, as a symbol of hope for overcoming both the pandemic and the inequalities that lie at the root of so many global health challenges.
Distributing COVID-19 vaccines quickly and equitably is essential to end this pandemic, restart our economies and begin to tackle the other great challenges of our time, like food insecurity, inequality and the climate crisis.
The Declaration
The Vaccine Equity Declaration is calling for:
World leaders to increase contributions to the COVAX facility and to share doses with COVAX in parallel with national vaccine rollout.
Vaccine manufacturers to share know-how and dramatically increase the global supply of vaccines for the coming years.
Regulatory bodies to accelerate approval processes in a safe and deliberate way.
Ministries of Health to work with WHO and others to invest in and prepare their primary health care systems for distribution of COVID-19 vaccines to their health workers.
All governments to ensure that COVID-19 vaccines are distributed free at the point of care and without risk of financial hardship, starting with health workers and those people at greatest risk of COVID-19.
Ghosh concluded:
"RSTMH believes that everyone, everywhere has an equal right to effective health services. We are committed to the WHO's Declaration and will endeavour to continue supporting efforts to fight COVID-19 whether that be through encouraging early career researchers to submit an application for a grant on this topic, publishing research in our journals, or developing discussions and debates on the issue.
"We support our members, who are working tirelessly, directly and indirectly on COVID-19, including those who have been disadvantaged financially and are distanced from family."
News COVID-19 Vaccines