World Health Day: building a fairer, healthier world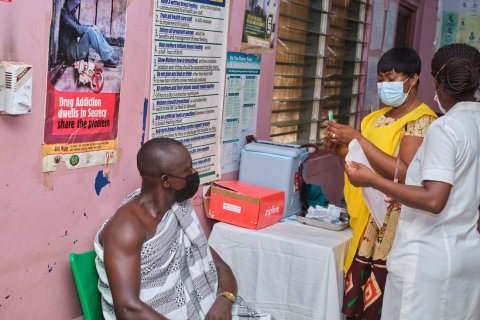 To mark World Health Day (7 April), we are reaffirming our commitment to global vaccine equity through our support of the WHO's declaration, as well as highlighting our recent work condemning discrimination and increasing inclusion.
The theme of this year's World Health Day is "building a fairer, healthier world". This is particularly pertinent as the COVID-19 pandemic has highlighted the inequalities that people face when it comes to living healthy lives and accessing the healthcare and services they need.
Vaccine equity
RSTMH is proud to have signed up to the WHO Vaccine Equity Declaration in support of COVAX to equitably distribute COVID-19 vaccines, treatments and diagnostics globally.
As of last week, COVAX has shipped over 33 million COVID-19 vaccines to 74 participants. Most recently, Vietnam received 811,200 COVID-19 vaccines, with 33,600 doses of AstraZeneca vaccines also arriving in Belize.
"RSTMH supports dose sharing, technology transfer, and waiving of intellectual property rights to achieve global vaccine equity."

Professor Gail Davey, RSTMH President
WHO's campaign for #VaccinEquity is calling on countries and companies to ensure that by the time World Health Day arrives on 7 April, COVID-19 vaccines are being administered in every country, as a symbol of hope for overcoming both the pandemic and the inequalities that lie at the root of so many global health challenges.
Distributing COVID-19 vaccines quickly and equitably is essential to end this pandemic, restart our economies and begin to tackle the other great challenges of our time, like food insecurity, inequality and the climate crisis.
A healthier world
COVID-19 has hit all countries hard, but its impact has been harshest on those communities which were already vulnerable, who are more exposed to the disease, less likely to have access to quality healthcare services and more likely to experience adverse consequences as a result of measures implemented to contain the pandemic.
Tamar Ghosh, RSTMH CEO said:
"Now is the time for the global health community across all sectors to work together, as we are only as strong as our weakest health system. Governments and institutions must share vaccines, resources and technology with others – we now know this is the quickest way to end the pandemic."
"Several countries have ordered far more vaccines than they need and stockpiled vaccines could become unusable. As well as a question of practicality, we cannot avoid the moral issue that vulnerable people around the world, including healthcare workers, should be vaccinated as quickly as possible, and as a priority."
A fairer world
As we know, the pandemic has highlighted inequities in access to healthcare and health outcomes in certain parts of the world and in certain communities. As referred to in the theme of World Health Day, we could should all be fighting for a fairer world.
This is why RSTMH is working – under our current strategy – to improve diversity and inclusion in all our activities and programmes.
We are working to improve the diversity of our Board and we have developed the roles of Regional, Country and Student Ambassador to ensure our work is disseminated by, but also that we are taking onboard advice and opinions, from a network of specialists and those early in their careers from endemic countries.
When this safe again, we will continue to deliver more meetings and events outside of the UK and establish ways to make them more accessible, for example through the expansion of travel scholarship opportunities.
We have changed the model for delivering our scientific journals to create opportunities to develop new editorial board roles with the aim of improving diversity of location, discipline, gender and sector.
We are working to extend our networks and our formal partnerships in all regions affected by the diseases and health challenges of global health that we are trying to address. This includes establishing more mentoring opportunities for early career researchers at our events.
"As an organisation, we are determined to tackle the barriers to equitable healthcare, and protect the right that all of us share to good health. This is an important point in history when the world's population faces the same healthcare challenge and the need for a fast and equitable resolution.

"As vaccines are being developed for COVID-19, we have a chance to demonstrate that we can make equitable access work and support the most vulnerable in societies across the world."

Tamar Ghosh, RSTMH CEO
News COVID-19