The huge impact of COVID-19 on noma patients in Nigeria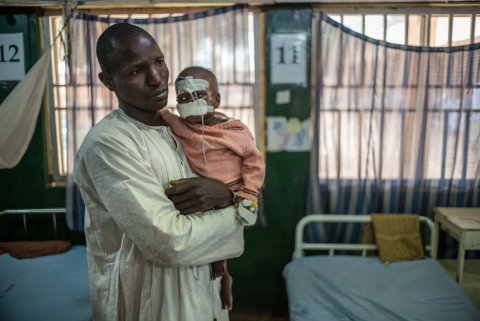 Noma, or cancrum oris, is a rapidly progressing oro-facial infection that can lead to the destruction of the hard and soft tissues of the face in a matter of weeks.
If it is detected early, noma can be treated effectively with antibiotics. But if untreated, noma can kill a person within a few weeks, while those who survive are often disfigured for life.
At the Noma Children's Hospital, in Sokoto, northwest Nigeria, run by the Nigerian Ministry of Health and supported by Médecins Sans Frontières/Doctors Without Borders (MSF), we provide comprehensive care for people suffering from noma, including intensive care for patients with acute noma, continuous care for patients with noma sequelae, integrated hospital-based services and community-based services.
For those with sequelae, we provide reconstructive surgery, carried out by teams of Nigerian and international surgeons and other other healthcare professionals. This surgery is life-changing; it enables survivors with disfiguring injuries, many of whom have suffered stigma from their communities, to return home and live normal lives.
In 2019, we carried out 178 surgical procedures on 129 patients, each of whose life was changed dramatically.
Huge impact of COVID-19
But then COVID-19 arrived. The impact it had on our hospital was huge.
From March 2020 to April 2021, along with other hospitals in the region, we were forced to suspend all services except emergencies. This meant we could not admit any new noma patients and we had to send all patients in a stable condition home. Many survivors had been waiting for months for reconstructive surgery or were just recovering from surgery.
Without proper follow-up care, all the progress they had made was at risk. Only the more acute patients with noma stayed in the hospital; sending them home was not an option because they would not have survived.
Patients crying for help
Movement restrictions during the pandemic also forced us to cancel all our outreach activities. Some patients were crying out for help and were desperate because they could not come to the hospital.
One patient's mother called our team, asking them to advise the community health workers in her village on the best way to treat her child, because the child fell sick and was dying and she could not come to the hospital due to movement restrictions.
Some patients turned to traditional healers, but that did not work – only antibiotics and medical care can help.
However, we have focal people within the community who contacted us when a noma patient needed urgent help. One of our doctors would provide them with phone support, explaining how to clean their wounds and where to go to get antibiotics. Our team tried to support people from afar as much as they could.
International travel restrictions also meant that it was impossible to bring in teams of surgeons from abroad, as we usually do. But work in the hospital continued and we were as busy as ever. Due to the restrictions, we had fewer patients than prior to the COVID-19 pandemic, most of the patients who were under care were in an awful condition and affected by other morbidities related to noma and their fragile immune system, such as malaria, hepatitis, HIV and respiratory tract infections. They needed intensive care and treatments that take time.
National movement restrictions were in place and people could not travel between states without a doctor's referral letter. We had some patients from far away – from Kaduna, Kano or Zamfara (neighbouring states to Sokoto) – but by the time they arrived, their health had drastically worsened. The security situation in places like Zamfara and Kaduna also deterred them from travelling to hospital; patients told me they were afraid of being kidnapped or attacked on their way to Sokoto.
Preventive measures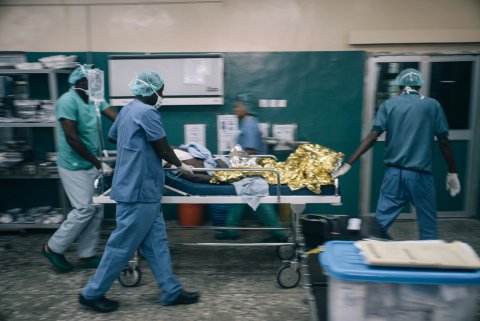 During this period, our staff were under great strain. They were afraid of being infected by COVID-19 but, at the same time, they were fully committed to providing noma patients with the best care possible.
We had preventive measures in place even before COVID-19, including handwashing and the daily disinfection of all wards, as noma patients are at risk due to their fragile immune systems. We have always been extremely careful, but after March 2020, we introduced the mandatory wearing of masks and social distancing measures.
When we reopened in March 2021, we established a triage system. We measure patients' temperatures and those with COVID-19-related symptoms are referred to other medical facilities where they treat COVID-19. We have done what we can to prevent the pandemic getting into the hospital and we are succeeding.
All-Nigerian surgical team
Restrictions on international travel, which are still currently in place, have meant that we face limitations in bringing in surgeons from abroad. Patients on the waiting list for surgery were discouraged at first, and some did not believe the interventions would go on. One patient did not want to be included on the surgery list until she was sure the procedure was a possibility. There was a lot of confusion at the hospital, and it was difficult to manage patient expectations.
One year after our services were suspended, we were finally able to resume providing surgery for survivors in April 2021. We had a large number of patients who had been waiting many months for surgery.
We are very proud that the two surgical interventions in 2021 have been carried out by a highly skilled all-Nigerian surgical team of experienced doctors and nurses. This team had a series of preparatory meetings and an online meeting between the local and international teams to discuss which patients would be included in the interventions. These patients were operated on and cared for post-operatively at the hospital. The patients are now comfortable with both the international and local surgical teams.
Despite all the negative aspects of the COVID-19 pandemic, the creation of this highly-skilled, effective all-Nigerian noma surgical team is one positive take away. It is the plan to one day hand over all surgical care to Nigerian teams. 2021 has proved that this is possible.
Get involved
Raise awareness
Noma is a neglected disease, part of this neglect stems from the fact that noma is relatively unknown in the global health community.
In order to raise awareness about noma, we are asking people to include noma in medical teaching curricula and hold documentary screenings.
Volunteer
Each year, thousands of international staff of all nationalities carry out field assignments working with staff hired locally to give lifesaving medical assistance to people who would otherwise be denied access to healthcare, clean water and shelter.
Blogs COVID-19