COVID-19 surge across African continent, RSTMH statement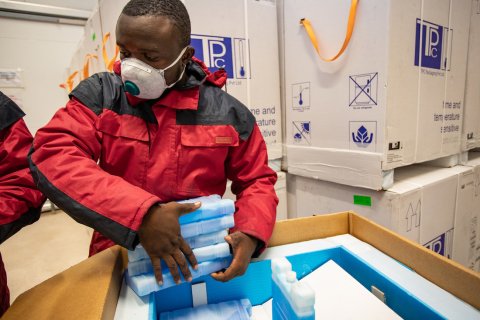 RSTMH is hugely concerned about the current devastating wave of COVID-19 that is sweeping across the African continent.
Tamar Ghosh, RSTMH Chief Executive said:
"We are devastated to hear about the steep rise of COVID-19 cases in 12 countries in Africa. To our members, supporters, partners and friends, and to the individuals affected, we send our support, and commit to doing whatever we can to help."
Third wave
In a statement, the WHO said:
"COVID-19 cases have risen for five consecutive weeks since the onset of the third wave on 3 May 2021. As of 20 June [day 48 of this wave], Africa had recorded around 474,000 new cases, a 21% increase compared with the first 48 days of the second wave.
"A combination of factors including weak observance of public health measures, increased social interaction and movement as well as the spread of variants are powering the new surge.
"In the Democratic Republic of the Congo and Uganda that are experiencing COVID-19 resurgence, the Delta variant has been detected in most samples sequenced in the past month. Across Africa, the variant – first identified in India – has been reported in 14 countries."
Vaccines must be shared immediately
Case numbers and serious illness is on the rise, but vaccines are in short supply.
The WHO said:
"Eighteen African countries have used over 80% of their COVAX vaccine supplies, with eight having exhausted their stocks. Twenty-nine countries have administered over 50% of their supplies.
"Despite the progress, just over 1% of Africa's population has been fully vaccinated. Globally, around 2.7 billion doses [have been] administered, of which just under 1.5% have been administered in the continent."
Emphasising the immediacy of the need for vaccines, Dr Matshidiso Moeti, WHO Regional Director for Africa, said:
"Vaccine shortages are already prolonging the pain of COVID-19 in Africa. Let's not add injury to injustice. I urge all regional and national regulatory agencies to recognise all the vaccines Emergency Use listed by WHO."
"High-income countries could not only donate vaccines – urgently, immediately and in volumes that will have an impact – but release some of their reserved supplies for purchase by the African Union on behalf of African countries. A Task Force has spent a year trying in vain to find supplies to purchase."
Inequalities and injustices
Ghosh continued:
"The injustice of the pandemic continues to show itself, affecting the most vulnerable in the worst ways, often as a result of global transmissions and a lack of access to protection and vaccines.
"We hope that governments demonstrate their commitment to help by donating as many vaccines as possible to where they are most needed. As global travel starts to open, we all need to consider the risks of global transmissions for those not yet vaccinated."
The pandemic has made clear the interconnectedness of human health. Cases in Africa have their origins in other parts of the world, including Europe. Immediate vaccine sharing is therefore crucial, not just for those suffering from this deadly surge, but to avoid subsequent waves of the virus in other regions.
RSTMH's pledge
RSTMH is committed to:
Offering support to our members affected in any practical ways we can, including offering extensions of renewal membership payments for anyone who is unable to pay currently due to the pandemic,
Encouraging governments to donate unneeded vaccines through the COVAX programme,
Encouraging those who are double vaccinated to consider travelling to countries where vaccinations are at lower levels,
Collecting and sharing stories from our members affected by the pandemic. sarah

[dot]

marzouk [at] rstmh

[dot]

org

(Please email us)

if you would like a chance to share your experiences.
Support COVAX
If you would like to join the effort to bring the pandemic to an end, consider making a personal donation to Gavi.
Gavi launched the Gavi COVAX Advance Market Commitment (AMC) in June 2020.
This financing instrument will enable people in 92 lower-income economies to access safe and effective donor-funded COVID-19 vaccines through the COVAX Facility at the same time as 98 higher-income, self-financing countries receive their doses.
COVID-19 Vaccines News