The complex reasons for Peru's high COVID-19 fatality rate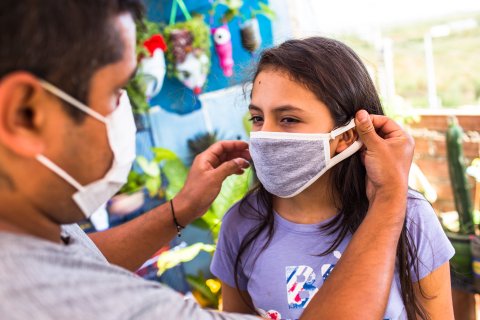 This guest blog from Dr Miguel Madariaga is based on an article originally published in our journal, Transactions.
Jesse Katayama may be one of the most fortunate men on earth.
On 10 October 2020, the famed National Park of Machu Picchu in Peru was opened just for him. His initial pass was cancelled when the COVID-19 pandemic started. Seven months later, as compensation for his obstinance (he opted to stay in the outskirts of the park), the Peruvian Government allowed him access as a reward.
His story was one of the few bright spots during the catastrophe caused by the novel coronavirus in the Andean country.
Complex reasons for high fatality
The United States, India and Brazil currently have the highest numbers of deaths due to COVID-19 in the world, but Peru has the dubious honour of having one of world's highest fatality rates.
Nine out of 100 people infected with the virus die in Peru, as opposed to no more than three per 100 in the countries mentioned above.
The reasons for the high fatality rate are complex, but likely include the poor socioeconomic situation, the broken health system and factors that prevent people from social distancing.
Informal economy
Although Peru was one the best performing economies of this century in Latin America, much of the money was made in the informal market.
Up to 70% of jobs lack formal contracts, worker benefits or social protection. One out of every five households does not have access to drinking water and has to collect or buy water. Only 34% of households own a refrigerator.
Among poorer communities, electricity is not continuously available. In order to survive, many Peruvians have to use packed public transport, buy or sell goods in very crowded markets, and stand in long lines to get cash from banks, thus fuelling the epidemic.
Fragmented health system
The Peruvian health system is very fragmented. The quality of practitioners and services varies widely. The hospital infrastructure is old and dilapidated. Although smaller hospitals have been inaugurated in the last decades, the last large hospital, with critical care beds, was built 62 years ago in the capital Lima, when the population was one fourth of what it currently is.
Even before the pandemic, hospitals were saturated and overwhelmed. In order to be admitted, some institutions require the patients "to bring their own oxygen supply" and to get their own sedating and paralysing agents (these are the drugs needed for a patient to tolerate a tube to be inserted in their throats and to remain connected to a ventilator). Businesses taking advantage of the desperation of patients and their relatives have proliferated.
Barriers to social distancing
But other countries in the world are poor and have bad health infrastructure, so why does Peru have the highest fatality rate? Perhaps it is due to the strong family bonds and limited physical barriers between people.
As the costs of real estate have skyrocketed, large middle-class family homes have become multilevel buildings where many generations live together. Among the poor, illegal occupation of land happens where extended family or groups of people with strong social bonds occupy pieces of public or private land, building sprawling towns overnight with little space between inhabitants and a complete lack of basic services, such as sewage or water.
On top of the overcrowding, Peruvians are gregarious and strongly committed to family. Thus, if a loved one gets sick a multitude of people become involved in their care: predominantly relatives, but also paid helpers (out of financial need), most of the time with limited personal protective equipment.
Peru has been in the COVID-19 news not only because of the high lethality, but also the misuse of ivermectin, a vaccine scandal and the rise of a new strain.
Approval of ivermectin
On 8 May 2020, the Ministry of Health approved the use of ivermectin in mild, moderate and severe cases of COVID-19 infection. The approval was based on an in vitro study from Australia, but without evidence of real impact in humans. A newspaper report on the treatment of "1,200 jailed inmates and first line responders with excellent results" popularised the use of ivermectin.
The drug was in such demand that people started buying the veterinary version. The furore extended to the rest of the world, despite the lack of evidence. Ivermectin is not recommended by serious physicians but continues to be promoted by fringe providers.
Immunisation issues
In the midst of the epidemic, Peruvian people were relieved to hear the news that an immunisation campaign would start using a Chinese-produced vaccine.
Unfortunately, soon after the announcement, it was reported that the President (Martin Vizcarra, who has since been ejected from the government) and 470 other high-profile individuals were inoculated with the product which was expected to be used in a clinical trial.
The incident generated intense doubts in the population and the vaccination campaign was put to a halt.
Lambda variant
Finally, the C.37 strain also known as Lambda variant has emerged and become the most common strain circulating in Peru. The Lambda variant may be associated with increased transmissibility and possible increased resistance to antibodies, but further studies are needed to determine the risks.
Not all the news coming from Peru is dismal. A new vaccination campaign using the Pfizer and Sputnik vaccines has inoculated people of aged 40 and over with excellent uptake, and the newly elected President has made health his number one priority.
References
Lainez RH, Salcedo RM, Madariaga MG. COVID-19 infection in the developing world: the Peruvian perspective. Trans R Soc Trop Med Hyg. 2021 May 15:trab074. doi: 10.1093/trstmh/trab074. Epub ahead of print. PMID: 33991414; PMCID: PMC8194673.
Schwalb A, Seas C. The COVID-19 Pandemic in Peru: What Went Wrong? Am J Trop Med Hyg. 2021 Feb 16;104(4):1176–8. doi: 10.4269/ajtmh.20-1323. Epub ahead of print. PMID: 33591940; PMCID: PMC8045664.
Roman YM, Burela PA, Pasupuleti V, Piscoya A, Vidal JE, Hernandez AV. Ivermectin for the treatment of COVID-19: A systematic review and meta-analysis of randomized controlled trials. Clin Infect Dis. 2021 Jun 28:ciab591. doi: 10.1093/cid/ciab591. Epub ahead of print. PMID: 34181716.
Diamond, F. Lambda Variant of COVID-19 Might Be Resistant to Vaccines. Available at: https://www.infectioncontroltoday.com/ view/lambda-variant-of-covid-19-might-be-resistant-to-vaccines. Accessed on 25 July 2021.
COVID-19 Blogs