Donald Mackay Medal talk: Professor Eleni Aklillu
6 April 2022, 12:00-12:45 pm (BST)
Virtual event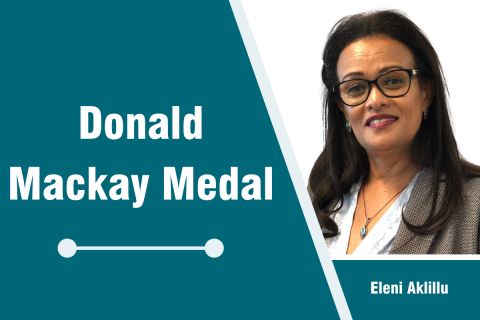 For this webinar, we bring you Professor Eleni Aklillu's Donald Mackay Medal talk on the topic 'Treatment optimization of major tropical infectious diseases with a focus on sub-Saharan Africa population: Role of genetic variations and environmental factors'.
Over the past two decades, Professor Eleni Aklillu's research group has investigated the impact of genetic variations and environmental factors on drug metabolism and treatment outcomes of various infectious diseases in sub-Saharan African population. The burden of tropical infectious disease in Africa is paramount, but little is known about the impact of host-genetic factors, drug interactions, coinfections and comorbidity, and nutrition on the safety and efficacy of therapy.
In this webinar, she will present the highlights of her research finding and illustrate how pharmacogenetic and clinical research in the local population generate evidence-based recommendations to improve treatment guidelines and intervention strategies in the region.
I am truly honoured and delighted to receive the Donald Mackay Medal. It is the result of our extensive clinical pharmacology research on the treatment of HIV, tuberculosis, malaria, and various neglected tropical diseases. It is encouraging and overwhelming to have my work recognised in this way, and I would like to acknowledge the hard work of everyone in my research group and my collaborators in Ethiopia, Kenya, Tanzania, Rwanda, Uganda, and Sweden during the last two decades.

Professor Eleni Aklillu
This event will be online and is free to attend.
Eleni Aklillu (BPharm MSc PhD FRCP(Edin) FAAS) is a Professor of Tropical Pharmacology, senior research scientist, and research group leader at Karolinska Institutet in Stockholm, Sweden. She has over 20 years of experience in leading several major clinical pharmacology research projects focusing on the treatment and prevention of various infectious diseases, including HIV, tuberculosis, malaria, and various Neglected tropical diseases in East Africa.
Professor Aklillu has received several major external research grants. Currently, she is coordinating a multi-national pharmacovigilance capacity-building project entitled PROFORMA , whose objective is to strengthen the national medicine regulatory capacity in Ethiopia, Kenya, Tanzania, and Rwanda. She is the country PI for the PREGART, a multi-national clinical trial project aimed to identify the optimal treatment regimen to prevent mother-to-child transmission of HIV.
She is a current member of the Swedish Research Council's Committee for Development Research, Scientific working group for WHO-TDR, Fellow of The Royal College of Physicians Edinburgh and Fellow of The African Academy of Sciences, and former vice-chair of the Strategic Advisory Committee for EDCTP. She is Recipient of the 2020 Donald Mackay Medal awarded by the Royal Society of Tropical Medicine and Hygiene. She has supervised over 20 completed Ph.D. graduates on Global Health research projects and coauthors and over 150 original peer-reviewed scientific publications.