President's Lecture and Reception 2023
2 August 2023
The Law Society, 113 Chancery Lane, London, UK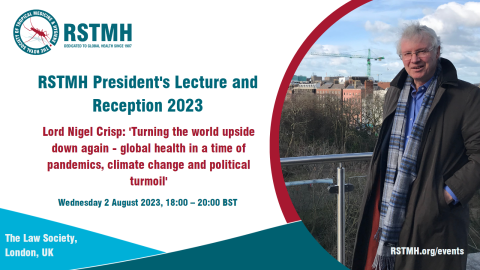 RSTMH members and Fellows are invited to join Simon Bush and the RSTMH team for the President's Lecture and Reception in London on Wednesday 2 August 2023, 18:00–20:00 BST.
This meeting will be a great opportunity to hear an interesting talk from Lord Nigel Crisp, and catch up with others while enjoying some drinks and nibbles.
Lord Nigel Crisp, as nominated by our President, Simon Bush, will deliver this year's annual President's Lecture. The topic of Lord Crisp's talk will be 'Turning the world upside down again - global health in a time of pandemics, climate change and political turmoil'.
In this lecture, Lord Nigel Crisp will survey the biggest issues in global health today and propose a new more ecological way of thinking about health that recognises the way that our health as individuals is intimately connected with the health of our communities, the health of wider societies and the health of the planet and which builds on our capacity to adapt and respond to external changes. He will also provide new ideas and examples of how the wealthy countries of the world can learn a great deal about health from lower income countries - a theme he first explored in Turning the World Upside Down published in 2010 - and how professionals in every country can learn from their own low income communities. Combining the learning from all parts of all countries will help us improve globally.
Programme
Time (BST)*
Session
18:00 - 18:30
Arrival and networking
18:30 - 18:35

Welcome

Tamar Ghosh

18:35 - 18:40

Introduction

Simon Bush

18:40 - 19:15

President's Lecture: Turning the world upside down again - global health in a time of pandemics, climate change and political turmoil

Lord Nigel Crisp

19:15 - 19:30
Q&A with Lord Crisp
19:30 - 19:55
Networking
19:55 - 20:00
Close
* All times given are a rough guide and subject to change before and throughout the event.
Registration
The event will take place in the David Lloyd George room at The Law Society, 113 Chancery Lane, London.
The event is free for members and Fellows to attend; however, if you wish to make a donation to help cover our costs there are several options when registering. RSTMH is a charity and so any support you can offer towards the cost of this event is much appreciated.
You are welcome to bring a plus one, for which there will be a fee of £30.
We hope to record Lord Crisp's talk to make it available to other members and Fellows who are unable to attend.
Biography: Lord Nigel Crisp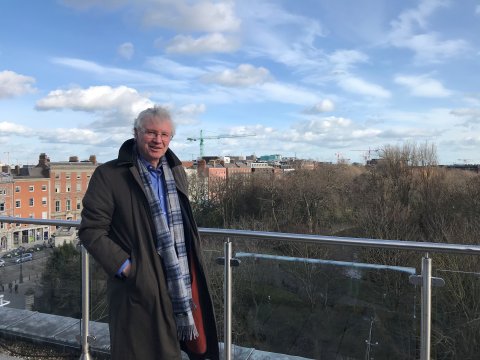 Lord Nigel Crisp is an independent crossbench member of the House of Lords in the UK and works and writes mainly on global health.
He was Chief Executive of the English NHS and Permanent Secretary of the UK Department of Health, from 2000 to 2006. He had previously been Chief Executive of the Oxford Radcliffe Hospitals, one of the UK's leading academic centres, and Regional Director for the NHS in London. His earlier career was in industry and charities.
He has subsequently worked in health globally, mainly pro-bono in low- and middle-income countries in Africa and Asia.
Nigel Crisp founded the All-Party Parliamentary Group on Global Health and the global campaign on nursing, Nursing Now, both of which he co-chaired.
He is an Honorary Professor at the London School of Hygiene and Tropical Medicine, a Senior Fellow at the Institute for Healthcare Improvement and a Foreign Associate of the US National Academy of Medicine. He was formerly a Distinguished Visiting Fellow at the Harvard School of Public Health and Regent's Lecturer at Berkeley.
His books include Health is Made at Home, Hospitals are for Repairs – Building a Healthy and Health-Creating Society and Turning the World Upside Down Again – global health at a time of pandemics, climate change and political turmoil