65 years of RSTMH Fellowship: Dr Edith Waldmann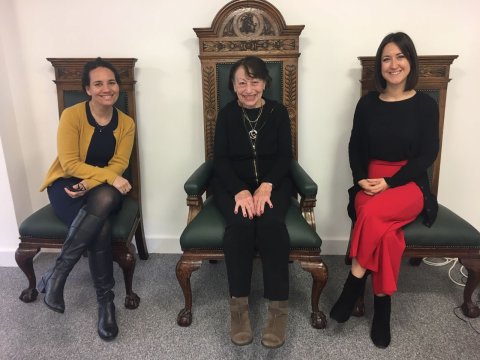 By Tamar Ghosh, RSTMH CEO
A short while ago, we were lucky enough to be visited at RSTMH by Dr Edith Waldmann, who has been a Fellow of the Society for more than 65 years.
Dr Waldmann qualified as a medical doctor in Cape Town, South Africa, having grown up in Austria. She then undertook a diploma in tropical medicine and hygiene at the University of Witwatersrand in Johannesburg.
She came back to work in the UK, following training in paediatric care. With her husband, she then went to live and work in Hong Kong for 20 years where she ran a medical centre for refugees from Vietnam, with a remit for 75,000 patients.
She talked to us about the challenges of working in this kind of environment and of the difficulties in referring patients for specialist care.
From refugee care in Hong Kong to the UK's NHS
She also talked fondly of the diligence of the population to health, about the incredible results of studies into medication compliance, with results of close to 100%. She came back to the UK after Hong Kong, working for the second time in the NHS.
Finally, she had fond memories of when her and her husband had worked for seven years at the Jane Furse Hospital in Sekhukhuneland, named after the founder's daughter who died at 14 from scarlet fever.
At the time trachoma was endemic in that area and we spoke about some of the first community treatment initiatives to help school children with trachoma. With ITI, we're delighted to be funding four small grants on trachoma research.
Advice on the direction of RSTMH
I first met Edith at the launch of our new strategy back in September 2017, at LSHTM. I was then back in contact with her when we invited her to a dinner for those that have been Fellows for 50 years or more.
She wasn't able to attend the dinner due to other commitments, however we asked her for her advice on the future of RSTMH, and what we should be doing more of. She advised us to continue to focus in a multidimensional way on improving health.
She explained that her work in Hong Kong, South Africa and Zimbabwe had demonstrated the need for health interventions to take into account the widest set of factors such as traditional custom, poverty and malnutrition and lack of education.
She said: "I wish this trajectory to be maintained, with an emphasis on maximising local training programmes for vulnerable populations and the optimal use of technology."
This wide context for achieving change in human health is one of our strategic priorities, falling under the area of Planetary Health. This encourages us to consider human health alongside animal health and the environment, in the context of social, economic and political factors.
Meetings at Manson House
During our time together she also said something we have heard many times from our Fellows and members who have been involved with RSTMH for some years and who were able to visit Manson House for discussions and dinners.
"The few occasions when I was in London and able to attend a meeting at Manson House were very special and, though I knew hardly anyone, I felt very much at home."
She said the early meetings she attended were quite scientific and medically technical, and while it was a great opportunity to keep updated on the latest medicines and treatments, there was less discussion of the context around these topics.
A momento from the field
After our visit, Edith wrote us a lovely note enclosing an early version of the tape for measuring malnutrition in under-fives and wishing us good luck for our small grants programme, which we had talked about.
Edith is still living in London and before she left, we encouraged her to have seat on one of the chairs from Manson House, with us.
We look forward to seeing Edith again at one of our next events.
Members Membership