A comprehensive approach to NTD care in Shahdara, India
Dr Mwele Ntuli Malecela is Director of the Department of Control of Neglected Tropical Diseases at the World Health Organization.
---
During my visit to Delhi in October last year, I had the opportunity to visit The Leprosy Mission Trust India [TLMTI'] Hospital in Shahdara – one of the oldest institutions working with people affected by leprosy and other neglected tropical diseases (NTDs).
I was very impressed by the comprehensive set of services the hospital offers through its outpatient department and was made to understand that most of the patients visiting the department were not only leprosy patients, but also people with disabilities and other conditions.
Subsidising the cost of leprosy care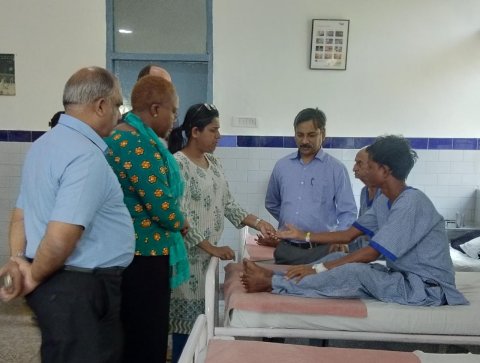 The hospital works on a model that enables paying patients to subsidise the costs for the leprosy patients, who do not pay.
The hospital gave me great insight into what a model for a comprehensive approach to NTD care could look like.
The continuum of care model
In developing the WHO's new Roadmap for Neglected Tropical Diseases 2021-2030, a lot of focus has been on the journey of patient care, or the continuum of care, which takes into consideration promotion, prevention, treatment, psychosocial support, rehabilitation and inclusion.
I will try and describe how what I saw fits into this continuum of care model and finally, how this can be a model for other NTDs and more importantly, for systems that support NTDs.
The hospital's inpatient facility has a total number of 45 beds, the majority of which are dedicated to care for leprosy patients. This facility includes treatment, wound management and surgery.
The hospital has a rehabilitation unit to support patients to move their limbs, walk with prosthetics etc., as well as a psychosocial unit, which provides care to patients, especially around coping with disability and managing stigma.
Research into better diagnostics
The hospital also has a research laboratory in which very impressive work linked to finding better diagnostics for leprosy is carried out. Research also includes modes of leprosy transmission, early diagnosis, nerve function impairment, disability management, drug resistance, measures of overcoming stigma, inclusion, social integration and advocacy.
The hospital has a shoe factory which uses 3D printing to design shoes for patients. The beauty of this is that the shoes are not generic but made to order for the patient's foot. As part of this process, this small factory also works with patients to select acceptable designs for shoes.
This is definitely a model that could be used by lymphatic filariasis and podoconiosis patients in providing high quality shoes that are acceptable to the patient.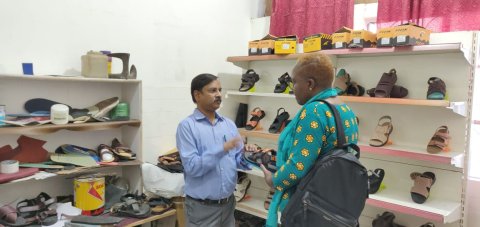 The most moving part of my visit was when I visited the social programme where children had a mini government programme set up. These children were born and lived in what are still called "leprosy colonies".
In this mini government enactment, they talked about climate change, health and what small things they could do in the community to make sustainable changes. Discussions were held primarily in Hindi but I was fascinated by the passion with which they spoke.
I was comforted by the fact that these children would not face the same levels of discrimination their parents do and that they had a way out.
This session with the children inspired me and gave me hope for leprosy and rekindled in me the fire to continue the fight against all NTDs. These programmes, especially for children, are an important part of addressing stigma and promoting inclusion.
WHO roadmap for NTDs
"Leprosy has been around for 3,000 to 4,000 years and despite progress over the past half a century, it continues to ruin the lives of mostly poor people in many countries. WHO's new Roadmap for Neglected Tropical Diseases 2021-2030 focuses on integration, collaboration and country ownership.
Over the next decade, we want to work with partners and the global community to implement strategic interventions. It is time to envisage 'a beginning to the end' and make Zero Leprosy a reality."
NTDs Leprosy