Collaboration needed to tackle NTDs across Africa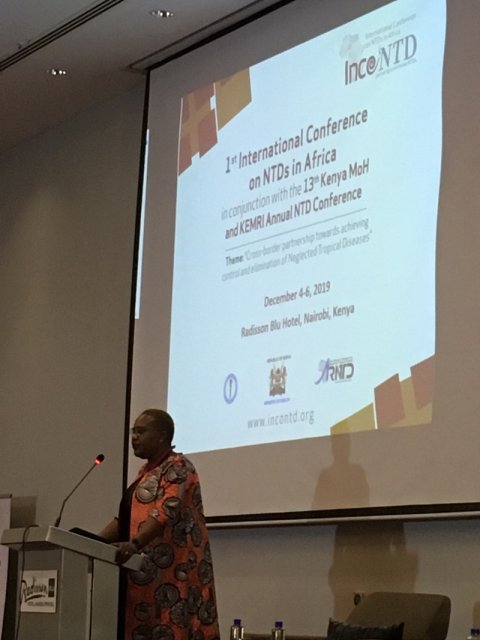 I was delighted to attend and speak at the first International Conference on NTDs in Africa (IncoNTD) in conjunction with the 13th Ministry of Health, Kenya and KEMRI Annual NTD Conference.
The event in Nairobi was a great opportunity to learn more about neglected tropical diseases (NTDs), as well as cross-border partnerships towards achieving the control and elimination of NTDs.
The event started with a high-profile list of speakers, including Dr Sultani Matendechero, Head of the Division of Vector Borne and Neglected Tropical Diseases at the Ministry of Health Kenya, in Dr John Amuasi, Director of the African Research Network for Neglected Tropical Diseases (ARNTD), and Dr Rashid Abdi Aman, Chief Administrative Secretary for the Ministry of Health, Kenya.
Communities trapped by NTDs
During opening remarks, Dr Sultani talked about the region's communities being trapped by NTDs in a cycle of poverty. This cycle keeps children out of schools and parents out of work. He talked us through some of the upcoming programmes of the Ministry of Health, which aim to address this, including one aimed at breaking transmission.
The keynote address was delivered by Dr Mwele Malecela, Director Department of Control of NTDs at WHO. Dr Mwele is pleased with how the programmatic work and the research community has increased and improved in recent times and highlighted some of the great achievements in elimination across the continent.
NTDs do not respect borders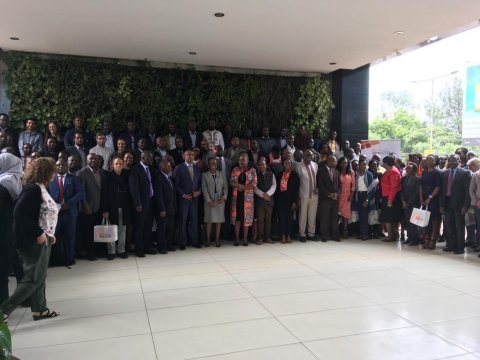 As Dr Mwele reminded us, diseases do not respect borders, and our approach needs to take that into account. Success in controlling diseases should be thought of in terms of regional gains only.
For NTDs, this is the case for outbreaks, as well as for long term elimination plans. As we move towards elimination, Dr Mwele urged the audience of researchers and programme staff to work together in delivering programmes that take into consideration the cross-border context.
Dr Mwele also mentioned the new WHO road map for NTDs which would be announced next year and will help guide progress in fighting NTDs from 2021 to 2030.
She reaffirmed that although the picture can be daunting, the next decade represents a great opportunity to bring about change for African countries, we know there is the expertise, capacity and desire to eliminate NTDs in partnership and through collaboration.
NTD research in Africa
During the first day, I took part in a workshop around monitoring and evaluation, which highlighted the importance of different stakeholders working together to enable programmes to be flexible to respond to early findings.
In the afternoon, I chaired a session on how we position NTD research in Africa to be informative and responsive to the control and elimination agenda. As part of this discussion, I talked to RSTMH Fellow, Professor David Molyneux, Liverpool School of Tropical Medicine, Professor Serap Aksoy, and Professor Tom Kariuki from the African Academy of Sciences.
Capacity building and charismatic leaders
We discussed how we could ensure research isn't just "about Africa" but happening in Africa. We also looked at how capacity building and awareness could play a role in encouraging young and early career researchers to work on some of the challenging issues holding NTDs back from elimination.
We touched on the role of charismatic leaders in pushing agendas forward and talked about how we can encourage more of these leaders from Africa to lead the way for the next generation of science and health.
Innovation and the future of NTD programmes
We ended our discussion thinking about innovation and how we make sure that we don't sacrifice new innovations for the sake of new approaches to existing methods.
There was a great discussion about how we position African research at the heart of the African research agenda and plans, and a feeling that much of this is already well underway and needs to be measured and scaled. Certainly, in the next decade, we will rely on these learnings to shape future programmes.
As Dr Mwele mentioned in her opening talk, "if you want to go fast, go alone. If you want to go far, go together".
This meeting was a great reflection of the current and future appetite for collaboration to tackle NTDs across the African continent.
NTDs