Meeting Gordon C. Cook, 42nd President of RSTMH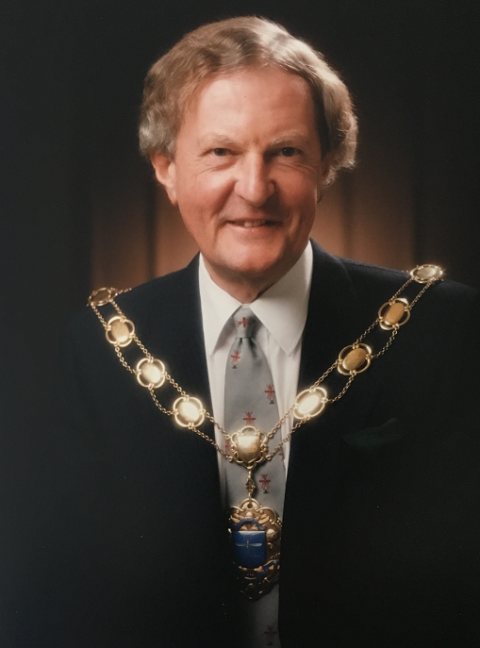 A few weeks ago, I was lucky enough to meet one of our former Presidents, Professor Gordon Charles Cook.
Professor Cook was President of RSTMH from 1993 to 1995 and has been a member since 1961. He is one of our longest serving members and it was a real pleasure to be able to meet him and talk about the Society.
Born in Wimbledon in 1932, he was educated at the Royal Free Hospital School of Medicine in London, graduating as an MD in 1965.
A varied career
A physician with special interest in tropical and infectious diseases, his career took him to be the Chair of Medicine for the Universities of Zambia, Professor of Medicine in Saudi Arabia and Papua New Guinea, as well as doing national service in Nigeria and working as a physician at the Royal Free Hospital and the Hospital for Tropical Diseases – both in London.
He spent part of his career lecturing on many subjects including nineteenth and twentieth century maritime medicine and infections and tropical diseases and at many institutions, including as a visiting Professor at University College London. He has published over 500 articles.
As well as scientific publications, Professor Cook has – to date – written over 30 books. In his late eighties, he continues to write books, aiming at two per year, always on the topics of tropical medicine and wider health issues.
A growing bibliography
He was kind enough to show me a number of his books and talked through the basics of some of these topics. I had recently read his book about the Society's old building in London, Manson House – named after our first President, Sir Patrick Manson. The book is called, Twenty-six Portland Place, the address of RSTMH's former home.
Professor Cook also very generously donated a number of his books, which he signed, for us to be able to use as prizes. Most recently, we presented two of his books to the students whose essays were deemed "highly commended" in the 2018 RSTMH Medical Student Essay Competition.
Some of the book titles he donated include Origin of a Medical Specialty: The Seamen's Hospital Society and Tropical Medicine, Before the Germ Theory and History of Malabsorption in a Warm Environment.
RSTMH in the 1990s
Professor Cook was President during a very interesting time at the Society. There were events on many topics, including snakebite, which was organised by Professor David Warrell. This is a topic that has come to the forefront of our work, particularly last year when we launched in coalition the first International Snakebite Awareness Day.
At the time of Professor Cook's Presidency, there were local secretaries across many countries, as well as branches in Edinburgh and Cairo. This was interesting to talk to him about, at a time when we are trying to recruit new Country Ambassadors.
There were events about malnutrition, imported disease and trypanosomiasis, which reflect our continued interest in neglected tropical diseases, infectious diseases and non-communicable diseases. This also reflects well the breadth of topics within our new priority areas. There were also partner events on gastroenterology, which fits well with our plans to work more with partners.
It was reassuring to hear the similarities of our current activities with Professor Cook's Presidency, for example that the Research in Progress meeting took place and that three of our medals were awarded in 1993 – the Chalmers Medal to Nicholas White, the Donald Mackay Medal to Warren and Gretchen Berggren and the George Macdonald Medal to Tore Gordal.
Fond memories of Manson House
Professor Cook talked about his fond memories of Manson House, the building the Society used to own in central London. He said that dinners at the House enabled discussions on important topics in the field and that it played a very unique role in bringing together people who were exploring new diseases, as well as giving them a chance to discuss their new research. This is something we've heard about many times from members and fellows, and we are always thinking of ways that we can maintain that same sense of community when we have a far more dispersed network.
We talked about how the focus of the Society had changed over the decades. In his day, our work focused mainly on the basic science, whereas now it is broader and looks at all stages of the research pipeline and policy work.
The changing discipline of tropical medicine
Professor Cook went on to say that the focus of tropical medicine as a whole has changed in his opinion. Before it was linked to travel medicine, which is now becoming blurred with global health issues. He wondered if maybe the Society should safeguard tropical medicine as a discipline, although we went on to agree that the future of tropical medicine is hard to predict, but it cannot be as narrowly focused as it used to be.
I told him about the plans in our current strategy for more overseas events, more support for early careers researchers, to encourage a wider range of disciplines into our work, and ultimately to be able to deliver more towards the greater goals of eradicating and controlling disease and improving access and equity in health. He was pleased with our plans and said the Society looked to be in good shape, which was a great place to leave our meeting with a sense of achievement as well as food for thought.
Members