Mycetoma: "a scar on the human conscience"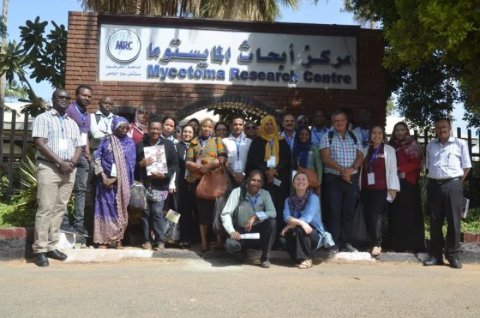 Last week I was lucky to be invited to attend and speak at the sixth International Conference on Mycetoma in Khartoum, Sudan.
Hosted by Professor Ahmed Hassan Fahal, Director of the Mycetoma Research Centre in Khartoum, and the WHO, this was my first visit to the country, and an in-depth introduction to this devastating and disabling disease.
A skin disease, recognised as a neglected tropical disease by the WHO in 2016, it affects predominantly young men in poor communities, in the countries of Sudan, Somalia, Senegal, India, Yemen, Mexico, Venezuela, Colombia, and Argentina.
It is still not entirely proven how the disease occurs, with theories ranging from thorns, splinters, seeds and wood fragments to earthquakes, floods and tsunamis.
Lack of information and awareness, coupled with stigma, lack of income and poor infrastructure have together prevented people coming forward for treatment in the early stages, where often there is no physical pain. This delay leads to more serious consequences, including amputation.
This is because there is no tool to provide early and accurate diagnosis nor safe, effective informative treatment. Once diagnosed, treatment is suboptimal, and is long term, which often leads to treatment interruptions and more serious outcomes such as amputation.
Regional case studies
Across the Americas and the Caribbean there are cases being reported, however an overarching message at the conference was of large under-reporting. Mexico is a country with one of the highest burdens and has new groups being formed there to try and increase awareness.
In West Africa there is also significant under-reporting. There seems to be an even distribution between bacterial and fungal types of mycetoma, however there is no mycology lab in the country, no health insurance and treatment is very expensive. Awareness and advocacy are needed at the community level.
In North Africa, the picture is similar. In this region there isn't an efficient treatment and there is also a need for new approaches and prevention measures.
Looking at Asia the story is much the same, the heaviest burden is in south east Asia and the middle east. The cases occur in young adult men frequently, particularly those in rural communities living in poverty. Here also there was a call for improved surveillance, diagnostics and clear guidelines, and a need to understand the exact burden.
Europe also sees around 200 cases per year, mostly from migrant communities.
Address mycetoma to achieve SDGs
Dr Mwelecele Ntuli Malecela, the Director of Control of Neglected Tropical Diseases of the WHO talked about how we need to address mycetoma to be able to achieve the Sustainable Development Goals. She mentioned the lack of suitable tools for prevention, treatment and diagnostics. She urged us to consider the mental health of patients, and the need for more data to accelerate progress in this disease. Following the World Health Assembly focus in May 2016 she talked about the cross-sector Global Mycetoma Working Groups that have been established to take forward the agenda.
These groups will look at clinical care and treatment, epidemiology and burden estimation, diagnostic tool development, novel treatments and the role of the host.
The Ministry of Health for Sudan was represented and talked about a need for better prevention and for medicines to be safe, efficacious, effective and affordable. There was a call to action for collaboration.
Professor Fahal talked about the need for a holistic approach to mycetoma, given its uniqueness as a disease. Its lack of research and development, no control programme, optimal treatment or diagnostics, and impacting a unique group of patients living in poverty and challenging socioeconomic circumstances.
He talked us through a positive case study in the state of Sennar where in-depth community activities with support from local governors has made a real difference. A centre for mycetoma management has been established, with surgeons, nurses and community health workers, even artists and musicians working together for patients. A mobile workshop for prosthetics was also established.
This centre has performed over 1,000 ultrasounds and over 800 surgeries free of charge in a short time. There are also health education sessions for children.
First clinical trials
In the closing session DNDi and WHO talked about the expectations on the current clinical trials to help us move forwards with treatment. Alongside this, it asked for continued advocacy. There is a need for greater research and development into the pipeline for mycetoma drugs and in the meantime the sector may need to think more creatively about treatments and ensure that we have adequate reporting.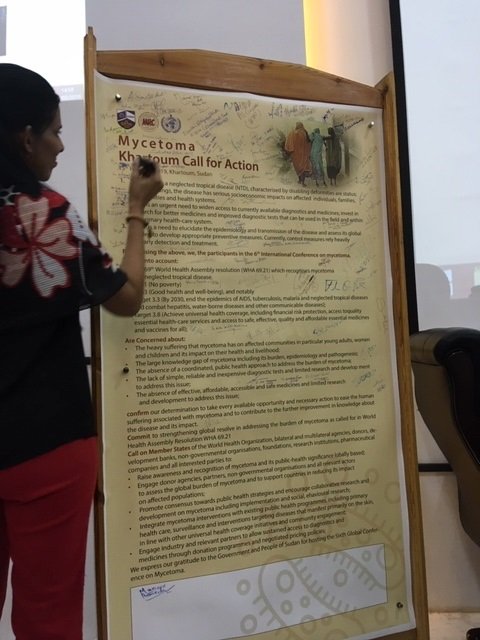 There is a need to invest in new models for mycetoma, to help us improve accuracy of our burden of disease, behavioural and determinants data, which are required for advocacy, fundraising, and even differential drug pricing. We also need to engage with the wider sector about this disease, widening the existing networks and utilising learnings from other NTDs.
As the WHO roadmap starts to turn its attention to the next decade beyond 2020, the community needs to consider what the targets are for this disease for the next decade.
RSTMH's commitment
Professor Fahal refers to mycetoma as "a scar on the human conscience". Having attended the conference I can understand why he says this – it is wrong and saddening that a skin disease in 2019 is often addressed through amputation, affecting young people who live in circumstances that don't enable them to be prepared for this life changing event, or to be able to recover from it financially, physically and often mentally.
It's unjust for this to be the case and I certainly left feeling that RSTMH must continue to do what it can to try and help fight this disease. Like many other NTDs that are difficult to control or eliminate, awareness and behaviour change are also significant areas for focus, especially as these also touch on cultural practice and approach.
I left with a sense of optimism for mycetoma, the WHO Call for Action firmly positions it as a disease deserving more focus. The first clinical trials going on now will hopefully bring new information and evidence on which we can act.
For RSTMH we are going to try and help through encouraging applications to our small grants, showcasing the disease through our meetings and events, and scoping a special issue of our journals.
There was a great sense of collective action and ambition in the room, and we look forward to playing our part in helping fight this disease.
We encouraged the Global Mycetoma Working Groups to also include the topics of awareness and behaviours, and for this small but committed network to help ensure the momentum gained from this great conference is not lost. We will certainly do our bit to achieve this.
mycetoma NTDs Partner events