New drugs and more collaboration needed to tackle antimicrobial resistance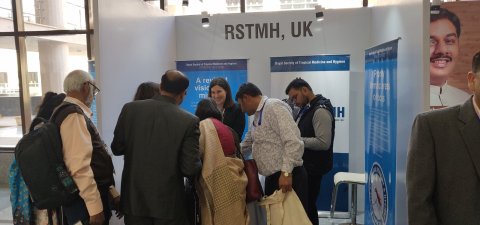 By Adriana Thursby-Pelham, RSTMH Meeting and Events Manager
The second international conference on antimicrobial resistance (AMR), novel drug discovery and development was held in Delhi between 17 and 19 March 2019. Drug resistance is one of RSTMH's key priorities, so we were thrilled to support the event.
RSTMH recognises that India is a key country for solving the issue of AMR, as there are many scientists and entrepreneurs working on innovations in an environment where antibiotics can be obtained in a variety of ways.
The conference, organised by SRM University, brought together speakers and delegates from across the world working on a range of fields: from tuberculosis to Lyme disease, leishmaniasis to malaria.
A huge body of research was presented, here were the key themes throughout the conference.
More needs to be done to incentivise the development of new antibiotics
Many speakers noted the economic model for antibiotics is broken. Professor Ada Yonath, Nobel Laureate, highlighted the fact that there are a negligible number of new antibiotic drugs presently undergoing development.
She expressed concern that, despite political pressure from the G7, G20 and many national governments, they have not been able to convince companies to go into the design and production of new antibiotics.
Indeed, most drug companies have stopped attempts at creating new antibiotics because of the huge mismatch between the social value and the high expense needed.
The need for collaboration across sectors: knowledge exchange is important
A broad theme of the meeting was the need to work across sectors. Sir Tom Blundell spoke about the links with industry being critical to the success of his company Astex, saying "good science is done in industry".
He also referenced Dorothy Hodgkin and JD Bernal in saying that science must be international, interdisciplinary and gender-balanced.
The benefits of working across sectors was well evidenced by the work presented by Dr Francois Franchesci at the Global Antibiotic Research and Development Partnership (GARDP). GARDP uses public-private partnerships to encourage research and development of new antimicrobial agents and diagnostics.
Working on neo-natal sepsis, paediatric antibiotics and sexually transmitted diseases, they have seen successes with a first in class antibiotic entering phase three clinical trial, four recovered antibiotics in different phases of development and ten antibiotics under discussion with potential biotech and pharmaceutical partners.
Repurposing of drugs will be key to solving the issue of AMR
Sir Tom Blundell's keynote talked about his work on fragment-based approaches to drug discovery for cancer in the 2000s. He detailed how Bill Gates visited his company and asked them to work on tuberculosis.
The question of repurposing drugs depends on having a sound understanding of the impacts of the changes that occur in resistance. Alongside this, thought needs to be given into how to coordinate that information.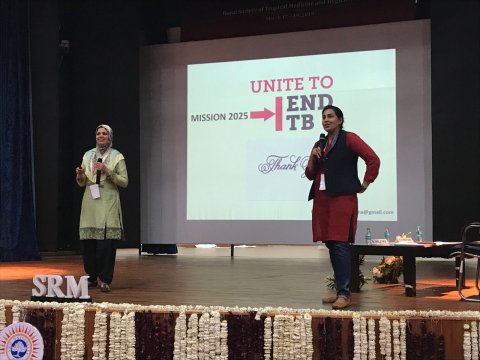 A good example of this is GSK screening their compound library. Sir Tom highlighted the importance of persuading other companies to make their libraries available to enable more effective screening.
He finished by observing the many useful parallels between cancer and antimicrobials and the fact that professional relationships between the two fields are crucial.
Data gathering on a local level is needed
Professor Katoch, former Director General of the Indian Council of Medical Research put forward the idea that collecting evidence needs to be part of the solution.
He said that while the Indian government's policy guidelines on AMR are good, what is needed is to gather evidence so we can determine what is and isn't working.
Another theme covered at the conference was the role of vaccines in fighting AMR. Prof G P Talwar noted the importance of this area, saying it is under recognised despite the positive effect of vaccines being well-established.
Professor Yasuhiko Matsumoto from the University of Teikyo shared his research on silkworm models and their use in identifying antibiotics, including anti-bacterial and anti-fungal drugs.
Professor Simon Croft, LSHTM spoke on leishmaniasis. He put forward the view that the disease is ignored like many other fungal infections. Treatments that are effective in the Indian sub-continent are significantly less effective in Africa.
Partnership is key
Professor Samuel Raj, Dean of Academic Affairs at SRM University and the organising secretary closed the conference by reiterating the need for collaboration. He noted that there needs to be more representation from industry, vaccines and diagnostics in conferences dealing with issues like AMR. SRM University will compile a report from the conference which will be sent to the WHO and Indian government.
It was fantastic to be a part of the conference and speak to students at SRM and other Indian universities.
We hope events like these will widen our membership base in the region. This is particularly important in this area as we will be consulting our members to feed into our policy position on AMR.
Drug-resistant infections is one of the priority themes of our current five-year strategy. Watch this space as we ask our members and Fellows to help us finalise our operational and policy position on this important area of work.
AMR RSTMH event