One Health and snakebite: catching up with the Coopers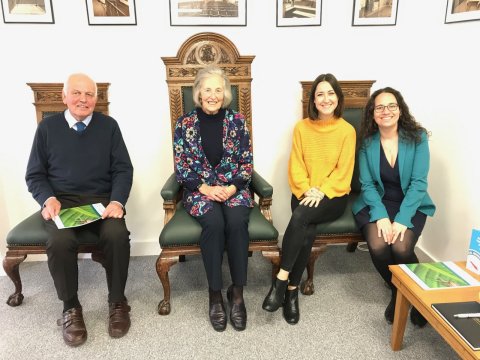 By Tamar Ghosh, RSTMH CEO
Very recently, we had the real pleasure of welcoming Professor John E Cooper, and his wife Margaret Cooper to the RSTMH office, for a cup of tea and a catch up.
Professor Cooper, an animal pathologist, has been a Fellow of RSTMH since 1968. He trained as a veterinary surgeon and is now a specialist pathologist with particular interests in wildlife and exotic species, tropical diseases and comparative medicine.
Twenty years living and working overseas
Margaret Cooper originally trained as a solicitor and has made the study of animal and conservation law her special interest.
Together, the Coopers have travelled widely and lectured together in many countries. They spent nearly twenty years living overseas, especially in Africa, including a period in Rwanda working with mountain gorillas.
In 2009, they returned from nearly seven years at the University of the West Indies in Trinidad and Tobago where they combined their medical and legal backgrounds in the promotion of an interdisciplinary approach to veterinary and biological education, wildlife conservation and forensic science. They are the authors of two books on animal forensics and various other texts.
The Coopers are now based in Britain, where they hold several visiting academic appointments. They continue their voluntary work with wildlife, domesticated animals and rural communities in East Africa.
I had first been in contact with Professor Cooper shortly after I joined RSTMH in 2016, when we had invited him to a dinner to thank our longest standing fellows for their support. He was not able to join the dinner as he was out of the UK at the time.
Shared areas of interest
Since this first contact, I've been trying to meet with Professor Cooper, and Margaret, to hear his thoughts about the Society, and his advice on the future of the organisation. Given their extensive travel and many roles, this is the first opportunity we have had to talk together about our shared areas of interest.
As an animal pathologist, Professor Cooper is invited to act as expert witness in court cases, as well as delivering training on aspects of health, care, welfare and conservation of cattle, wild and domestic animals across the world.
Margaret also delivers training on areas of this work, such as conservation. For both of them, the concept of animal and human health working together in a mutually beneficial way is important and well established.
Training in Kenya
We discussed many areas of shared interest during their visit to the Society. The Coopers have recently returned from Kenya, a trip to mark the 50th anniversary of their move to the country.
During the visit, they spent time with Professor Rob Harrison from the Liverpool School of Tropical Medicine looking at the pathology of reptiles at a new reptile museum there.
This was of great interest to us given our current focus on raising awareness of snakebite. As we discussed, we are currently making plans for the next International Snakebite Awareness Day on 19 September, which will take place during the 11th European Congress on Tropical Medicine and International Health, which we are hosting in Liverpool.
While in Kenya, they organised a training session for veterinary students and reptile-keepers at the Nairobi Snake Park at which they examined sick reptiles, inspected cages, discussed legal issues, displayed herpetological literature, and demonstrated health monitoring of tortoises.
Snakebite research
Professor Cooper also told us about his first writing on snakebite in 1976 as a letter to Transactions. It explains and discusses the crucial role of sound scientific investigation and an understanding of the law in combating wildlife crime and cruelty to animals.
It's great to know more about the history of the Society's involvement in an area of work which is increasing in importance for us and the global health community, particularly as the WHO has established a working group on snakebite envenoming and plans to develop a road map; an activity in which we hope to play an integral part.
The text of Professor Cooper's article focuses on forensic science as it relates to animals, free-living and captive, but it also includes mention of threats to plants and habitats because of their relevance to environmental conservation. The damage that can be inflicted on humans and property by wildlife is also covered.
Annual Meeting on the topic of One Health
This links to one of our priority areas; One Health. Throughout their careers, the Coopers have taken an inter­disciplinary, One Health, approach to veterinary and biological education, wildlife conservation and forensic science.
It's also fortuitous that our Annual Meeting this year will examine the changing world from a One Health perspective.
Two major themes will be covered – surveillance and delivery of healthcare – through the cross-cutting lenses of economics, social sciences and technology.
We aim to end the meeting with a clearer steer towards what RSTMH should be focusing on operationally and strategically in this space, as one of our priority areas.
Links between past and present work
As well as talking about areas of work, Professor Cooper talked fondly about the time he spent in the former home of RSTMH, Manson House, which he visited many times.
As always, it's wonderful to meet such loyal members of the Society and to find out more about RSTMH's past and the incredible lives and careers our members have had and continue to have. The Coopers were very positive about the RSTMH team and our strategy, praising the fact that it highlights the importance of working across disciplines and sectors.
In addition, it's also reassuring to see the connection between work that has been carried out previously and the links with the themes and issues we continue to work on in order to support those working in tropical medicine and global health to save lives, fight diseases and improve access to health.
One Health Snakebite