Our plans for the year ahead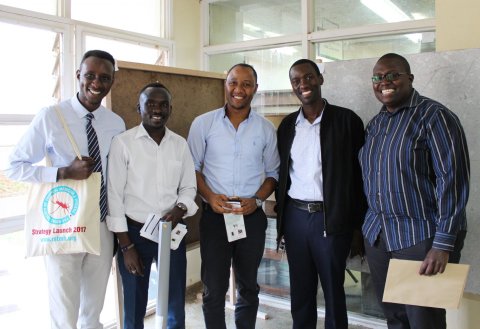 As we start 2019, it's a good time to reflect on what we have achieved in the last year and to start to focus on delivering our exciting plans for the year ahead.
If you want to read about our activities from last year, you can read our 2018 highlights blog.
In 2018, three quite different strands to our impact started to emerge.
Helping members' careers
We're starting to see more ways to directly help the careers of our members. In delivering our first careers day, changing the basis of our small grants, and expanding our research in progress event, we're starting to see more continuity in our relationships with early career members.
Our focus this year is to see what value we can add to our members who are more established in their fields of work.
The second way in which we saw us starting to add value is through collating the views of our members and Fellows around key issues. For example, we asked UK clinicians about their experiences with revalidating their work after periods outside of the UK.
This year we hope to engage our members and Fellows in more thematic discussions around our priority areas.
Thirdly, we want to better utilise our position as an independent and well networked organisation to identify other improvements to the sector, an example of this being the launch of the first International Snakebite Awareness Day.
Thank you to our global network
As we start the year, we've finally completed our recruitment into the team. Adriana Thursby-Pelham joined us in December as our Meetings and Events Manager. This brings our permanent team to six people. This is a smaller team than we had a few years ago but a restructure of the way in which we deliver our scientific journals has enabled us to have more dedicated capacity for our members, for events and meetings and for digital communications.
Although the team is relatively small, we have an extensive network of around 1,000 Student Ambassadors, volunteers, Global Assessors, peer reviewers and Committee members. We also have an incredible Board of Trustees who give their time for free and two fabulous Editors-in-Chief. Without this large group of volunteers, we wouldn't be able to deliver the amount of work we do.
Expanding our calendar of meetings and events
This year we will continue to expand our meetings and events to new countries and to use opportunities of partner events to meet more of our members, Fellows and supporters.
We are attending a mycetoma conference in Sudan in February, as well as scoping events in India and West Africa.
In September, we host the 11th European Congress on Tropical Medicine and International Health in Liverpool. This is an exciting opportunity to host such a large-scale meeting and demonstrate the ongoing need for collaboration in Europe and beyond.
Throughout this year we will use the outcomes of our meetings to identify how we generate impact, for example a policy position.
Your views on Plan S
We have new Associate Editors and Editorial Advisers under the guidance of our two Editors-in-Chief. We're looking at ways to ensure we can better analyse what research is telling us about the sector and identify gaps that need to be filled at all stages of the research pipeline.
As we look at the impact of Plan S to our business model and our publicly-funded research, we are also encouraging research from less represented sectors, such as NGOs and industry. A survey we conducted shows that for some open access fees are not affordable, even with discounts available.
We hope to continue to develop our programmes for Student Ambassadors and Country Ambassadors. Our Student Ambassadors come from 11 countries, including the UK, Rwanda, Mexico, Pakistan and Sudan and are committed to sharing RSTMH's work and giving us advice. We are in the process of selecting Country Ambassadors.
Strengthening partnerships in a difficult political climate
We want to continue strengthening our partnerships, in all sectors and geographies, and identify opportunities for new and innovative approaches to achieve our goals and support others. Our Committees have bold targets this year around education and training, policy, optimising our grants and awards, and to improve the networks for our international members.
They are working in a difficult political climate, where so many aspects of science and social science have an impact on human health. With conflict and population movements, climate change and poverty challenges, we need to be even better prepared to identify where we can make a difference.
Ambitious plans
The plans for this year are ambitious, and this is just a flavour of what you can expect.
We want to continue to improve our efficiency and accessibility to all of our members, Fellows, supporters and partners.
We want to deliver more and improved outcomes and importantly we want those to count towards the longer-term improvements to peoples' lives, to fighting disease and to improving access to healthcare.
To do this we need to change some of the ways in which we operate, and we need to secure more funds to better finance our work. In the past few years we have relied on the proceeds of the sale of Manson House to help us meet our costs, however we would like to safeguard that for the future of the Society.
Innovation and creativity
In past decades, we have been nimble in securing funds from a wide variety of sources, for example rent, subscriptions, events and bequests.
As we start 2019, we need to look more creatively at how we secure the funds we need to protect our future for the next hundred years or more. This means trying and testing new things. Please watch this space for new opportunities to support us and help where you can.
I want to thank all of our members, Fellows and partners who continue to support and guide us as we start 2019.
It will be a very exciting – and we hope rewarding – year.
Strategy