RSTMH membership update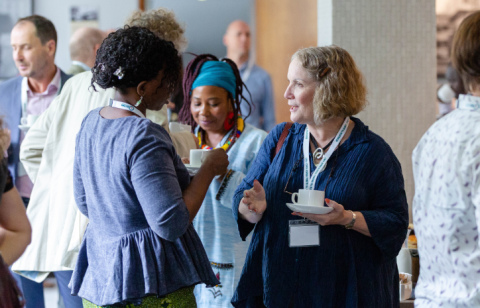 For those of you who have read RSTMH's 2018 highlights, you will know that the last twelve months have been particularly busy for the Society.
We have been working on our digital communications and our events programme; we're ensuring our journals remain impactful by appointing new editorial board members; and we're working hard on behalf of our networks, such as ensuring UK trainee doctors are aware of how they can work overseas and return to practice in the UK.
The above is just a snapshot of what RSTMH has achieved this past year, but it is worth highlighting to our members that all of this activity feeds directly into the value of their membership.
The latest developments in the world of tropical medicine and global health
By developing our digital communications, we are getting relevant information on what is going on in the ever-changing world of tropical health to you quicker.
Be it opportunities or news, we are now able to share this immediately with you via our social media platforms, the website, and the members newsletter.
The work we are doing to develop our events programme and increase the profile of our journals means that the end products that you receive as members, are of the best quality they can be. As many of you requested, we have introduced mentorship and breakout sessions at our events, so that attendees can talk directly to experts in their fields.
Our journals are in better shape than ever, with new Editors-in-Chief and an editorial board ensuring that they continue to inform the ever-expanding interest in global health.
Strengthened partnerships
We are committed to listening to our members and utilising your knowledge of the sector. Through our new and strengthened partnerships, our direct contact with our networks, and appointing our first Policy Advisor, we are able to shine a light on what you think the sector should be focusing on. Our involvement in launching the first International Snakebite Awareness day is a prime example of this.
We recognise that we have a long way to go to ensure that we are offering our members the best value possible, however. Much of the work we still have to do is operational, making sure that the systems we have in place can support you throughout your journey as a member. This all begins with a user-friendly sign-up process on the website, right through to distributing targeted communications and benefits.
In order to do this, we need to have a better idea of what our members want, and a website and database that are fully integrated. The processes required to support this don't sound particularly exciting, but they are essential for any membership society to ensure that they are engaging with their members effectively. We are currently updating these systems and will hopefully be rolling them out in late 2019.
This year our focus will be continuing to contact our members directly to find out whether you think we're on the right track to improving your membership. We will be sending out a survey to monitor this as well as inviting our members to attend focus groups to make sure we are capturing your views as comprehensibly as possible.
More ways to connect with you
As aforementioned, we will be introducing a new database that will allow us to share more targeted content to our members based on their interests and career path. We hope that this will also enable us to provide more ways for you to connect and network with one another online, as well as provide bespoke membership benefits and opportunities.
Finally, I would like to take this opportunity to thank all our members for your support, your patience during this challenging (yet exciting) time for RSTMH, and for your commitment to our mission to improve health around the world.
Quite simply, we couldn't do what we do without you.
Members Membership