SCHISTO AND LADDERS™
New schistosomiasis educational tool developed by RSTMH member, Dr Uwem Ekpo, Professor of Parasitology & Epidemiology at the Federal University of Agriculture, Abeokuta, Nigeria
What inspired the development of the Schisto and Ladders™ board game
Schistosomiasis is a neglected tropical disease, often affecting the poorest people living in rural communities. Also known as Bilharzia, it is an infection caused by a parasitic worm that lives in fresh water in subtropical and tropical regions. School aged children, between 5 to 14, are the most at risk of this disease, as they are more likely to come into contact with water through swimming and bathing in ponds, lakes and streams, which exposes them to infection.
Although praziquantel was developed to treat and control schistosomiasis, school children are often re-infected after treatment. Alongside praziquantel mass treatment exercises, there's an urgent need for innovative, interactive and user-friendly health education strategies.
How was Schisto and Ladders™ game developed?
The game was developed based on the concept of "Snake and Ladders", a board game commercially available and readily accessible to children in rural areas. We realized that we could place schistosomiasis health education message on the game board and changed the snake to a Schisto worm. We conducted a literature search and complied data from KAP studies to identified key messages on transmission risk, control, prevention, and treatment to inscribe on the board. Pictures and graphics were added to provide visual cue to school children on why they are promoted to climb a ladder or demoted to slide down a Schisto worm.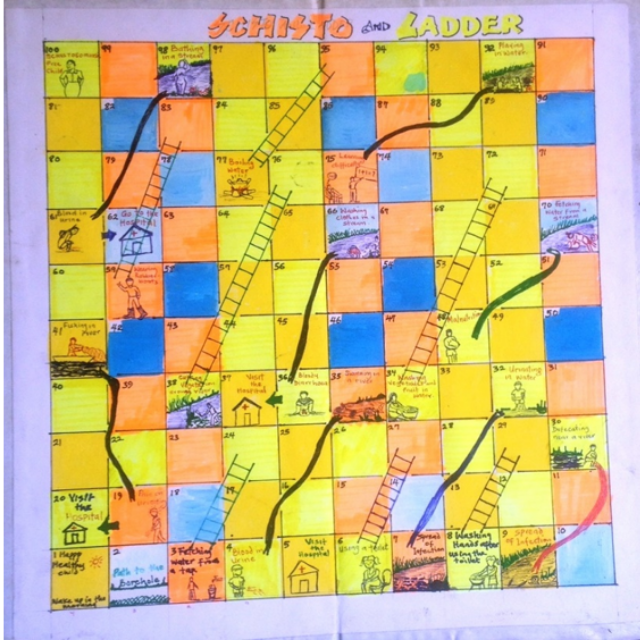 About the Schisto and Ladders™ game
The Schisto and Ladders™ game was designed and developed because of our passion to deliver health education messages to school children who are living in endemic areas of schistosomiasis. It was developed to help them understand how they get infected, the symptoms of infection (blood they may see in their urine or stool on a daily basis) and how they can get treatment and avoid re-infection.
Two versions of the games have been developed based on peculiarities and needs to address specific schistosomiasis control issues. The Schisto and Ladders™ board game version 1 provides general health education messages about schistosomiasis, its transmission and its control. Health education messages are inscribed on the board which children are expected to read as they play the game.
Version 2 was designed to encourage school children to participate in praziquantel treatment in their schools. It contains health education messages that encourage uptake of praziquantel MDA.
It includes messages such as "Take praziquantel in school", "Eat before taking praziquantel", and "Do not reject praziquantel due to side effects and rumours of the drug being deadly". The second version essentially promotes praziquantel mass treatment in schools.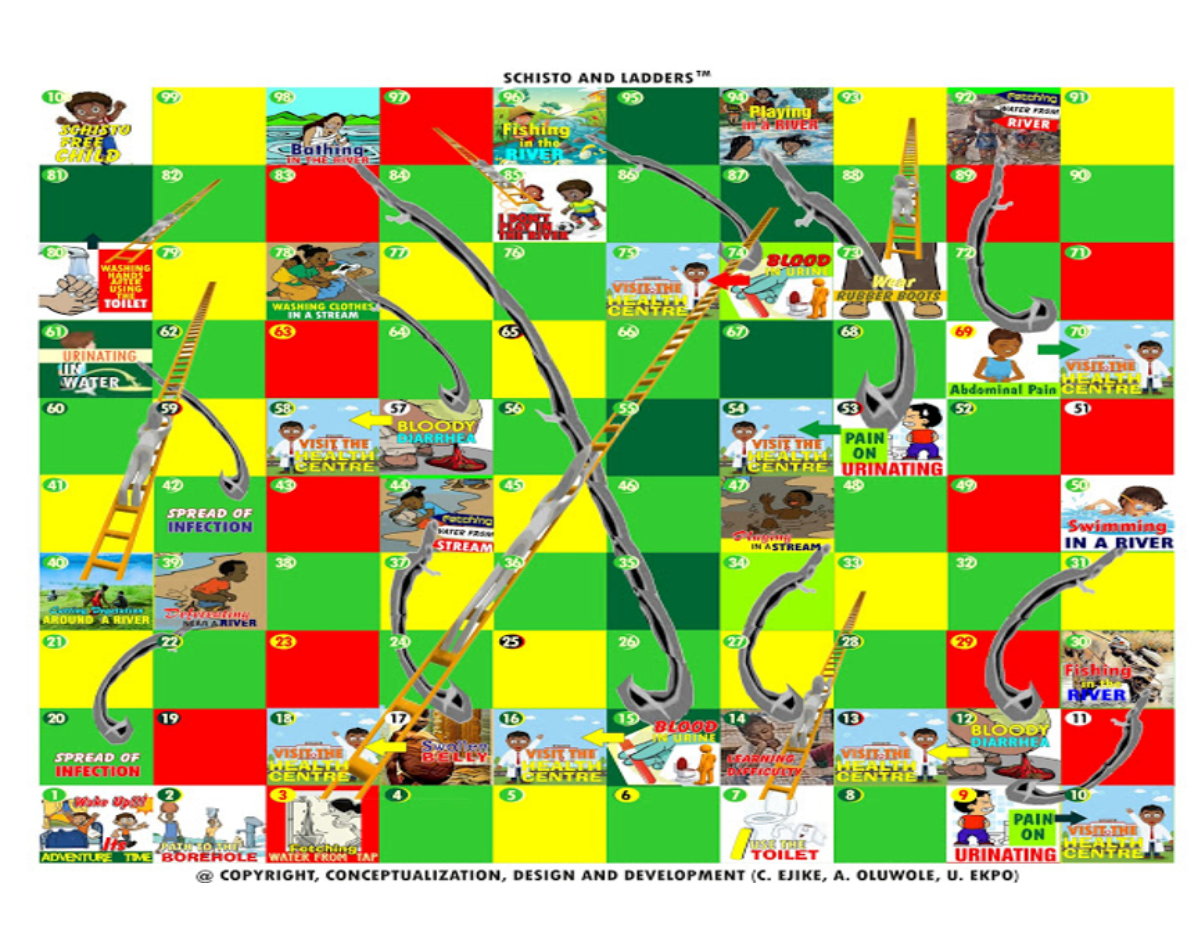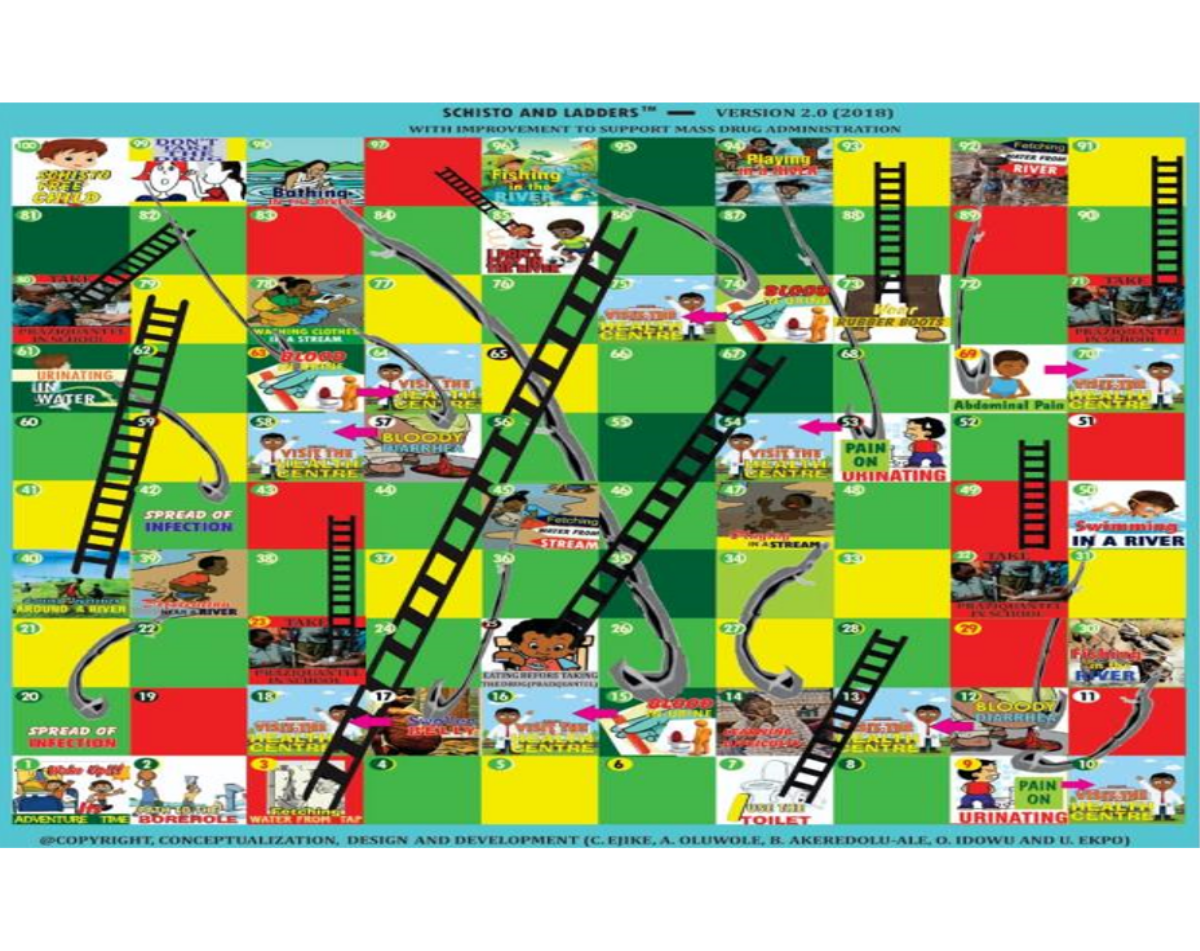 What makes it different from other schistosomiasis health education tools?
The Schisto and Ladders™ board games teaches school children schistosomiasis health education in a friendly and accessible format, using pictures of the "Schisto worm" and risks behaviours on a board game.
This is different from the usual staticInformation, Education and Communication (IEC) materials like posters and billboards currently used to convey health education. The game was tested in a recent study by Ejike et al, 2017 which showed that the Schisto and Ladders™ board game was loved by children and the concept of snakes and ladders, which they are familiar with, made it interesting for them and they enjoyed learning while playing.
Why does it target school children?
School children between ages 5-14 are the greatest risk of schistosomiasis infection and therefore is the current target for schistosomiasis morbidity control by WHO. A reduction in morbidity in school children will significantly reduce schistosomiasis transmission, hence the need to educate them on the risk factors, prevention and control of schistosomiasis by accessing praziquantel MDA and preventing re-infection.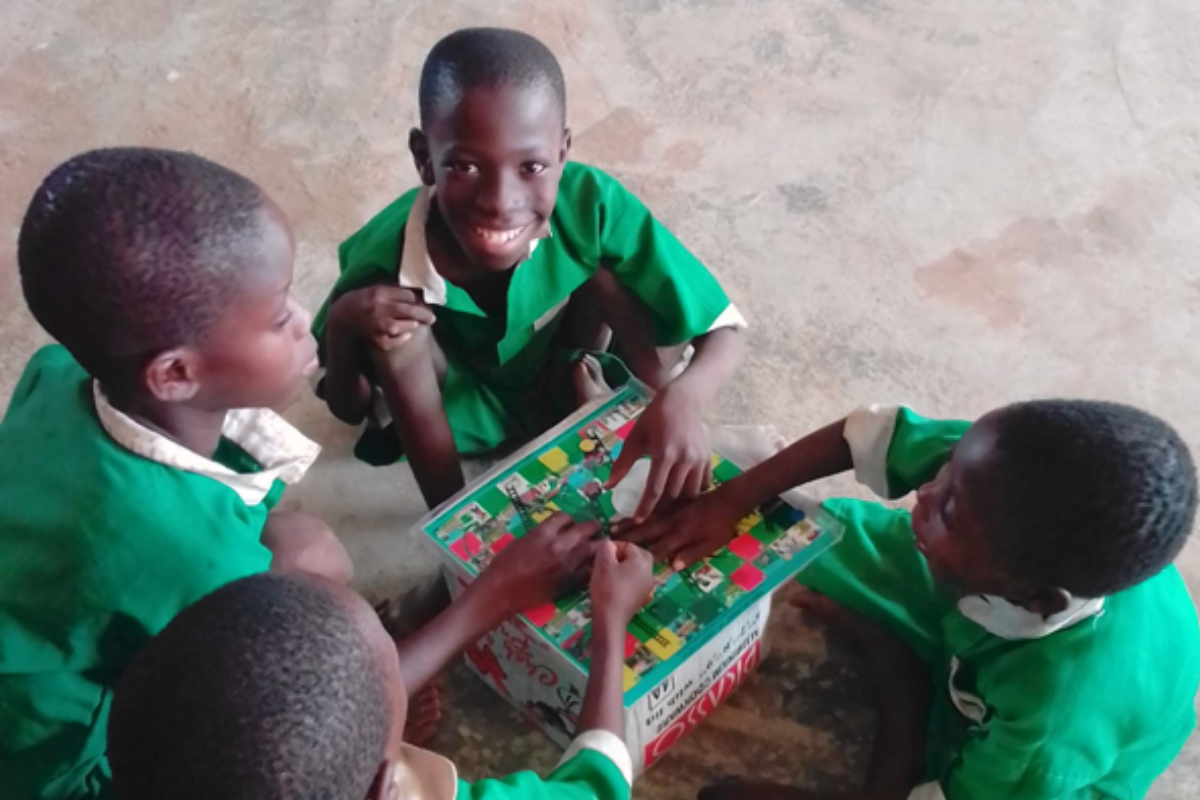 Impact of the Schisto and Ladders™ game and future plans
Schisto and Ladders board game have received commendation both locally and internationally among the NTD communities in general and schistosomiasis community in particular, for its creativity and design. The games have been showcased twice at the innovation lab exhibition at COR-NTD meetings in 2017 and 2019 respectively. The game has led to significant increase in knowledge, attitude and practices of school children in communities where it has been played. In a recent randomized control trial of the Schisto and Ladders™ version 2 carried out in a rural community in Ogun state to determine its potential in improving health seeking behaviour of school children, 65.3% of pupils in the intervention group sought treatment after playing the game for 6 months (unpublished data).
However, lack of funding and support have delayed the commercialization of the product. It is estimated at each game will cost $3 or less to produce in commercial quantity. Therefore, interested organisations are welcome to contact us for possible partnership to roll out of the game for schistosomiasis endemic communities. Future plans include offering the game in other languages based on request, develop an apps version for smartphones, and outdoor magnetic model for community centres.
How is the Schisto and Ladders™ played?
The game is played using a die, dice cup and four coloured game pieces and can be played by a minimum of two players and a maximum of four players.
The first player that rolls "1" on a die starts the game at square 1.
Successive rolls are used to move along the board till a player gets to the last square "100".
A player slides down to the tail of the Schisto worm when they land at the head of a Schisto worm and they read aloud the caption on the head of the worm which is a risk factor and the resultant effect. They then also read alound the solution at the tail of the worm.
A player climbs up the ladder when they land on the foot of the ladder and they read aloud the caption at the foot of the ladder which is a preventive measure.
The first player to overcome all obstacles and get to square "100" wins the game.
Credit:
Version 1: Development and Testing (Cynthia Ejike, Akinola Oluwole, Bolanle Akeredolu-Ale & Uwem Ekpo)
Version 2: Development and Testing (Cynthia Ejike, Akinola Oluwole, Olufunmilayo Idowu & Uwem Ekpo
For more information contact Prof Uwem F. Ekpo, Dept of Pure and Applied Zoology, Federal University of Agriculture, Abeokuta, Nigeria, Email: ufekpo [at] hotmail [dot] com
International Health NTDs Schistosomiasis