World Leprosy Day: Dedicated to ending disability and discrimination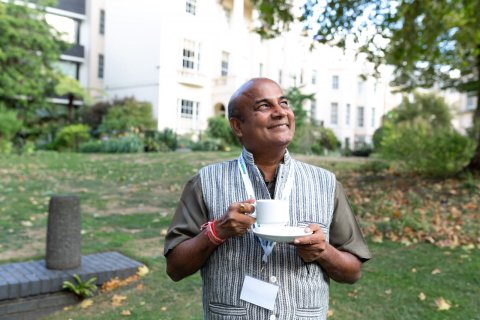 Rajni Kant Singh, MIPH (LSTM, UK) is State Coordinator for Bihar operations at the LEPRA Society, India
I share my birthday with Mahatma Gandhi, the father of the Nation. Incidentally, World Leprosy Day is celebrated in India on 30 January (27 January in the UK), the date of Gandhi's death in 1948. Gandhi worked tirelessly to help those affected with the disease.
I began my career in the field of leprosy in 1994 by working at a grassroot non-government organisation funded by LEPRA and based near my home.
Many of my relatives and friends were not happy when I joined a leprosy organisation. They laughed at me and questioned my career choice. My decision to do so, however, has given me tremendous happiness and satisfaction in life.
Someone affected by leprosy, talking about the trauma and challenges he faces every day, told me: "I feel like I am born and then die every day." When I asked him why, he began to cry.
It is pain and suffering that is very difficult for those not affected to understand. People living with leprosy are still shunned, isolated and thrown out of their families and communities. They face excruciating hardships, and many are forced live in leprosy colonies. India is home to more than 1,000 such places.
Dedicated to leprosy
I decided early on to spend my life working on the issue of leprosy. I always say: "Leprosy is known for its numbing effects on people's body. My brain has become numb to anything except leprosy after 24 years working in the field."
I introduced a Prevention of Disability (POD) programme when I first started out. The period from 1994 to 1996 was the best period in my life. Being a physiotherapist, I have learnt a lot, such as the charting of cases, slit skin smear (SSS) techniques and how to monitor and evaluate programmes.
I remember the days in 1994 when we used to start travelling at 4:00am to drug delivery points, only returning around 5:00pm after covering four or five different delivery points. We used to assess more than 80 cases a day, starting on the first of the month, running all the way to the twenty-third.
Leprosy in India
Currently, India contributes 60% of global leprosy cases. The National Leprosy Eradication Programme (NLEP) is a centrally sponsored health scheme in India.
Treatment for leprosy was found in 1982 and recommended by the WHO. Subsequently, MDT started to be used globally and is still what we use in our progammes. The main challenge remains that we do not know the exact entry and exit of the bacteria from and into the body. Its long incubation periods, on average two to five years, but can be up to 30 years, makes it harder still.
Leprosy is part of the group of diseases known as neglected tropical diseases (NTDs). Due to the fact that leprosy often causes visible disfigurement or permanent disability, stigma is a huge problem and causes a lot of distress in patients. It can make those affected fearful, depressed, anxious and sometimes suicidal. The effect of stigma has never been accounted for in epidemiological data.
Where we are: control, elimination and eradication
The NLEP has a target of elimination and this adopted strategy has brought the prevalence rate below 1/10,000 population. However, detection of new cases has remained the same for more than a decade.
Elimination can actually cause problems, such as:
a reduction of political commitment, policy support and allocation of resources,
a decline in the capacity to diagnose and treat cases of leprosy.
The decision to integrate with the General Health System (GHS) was a good initiative in terms of greater coverage and scope for leprosy services at the level of primary health centres. But at same time, we lost a focus on surveillance, disability prevention and rehabilitation.
Lost battle
After almost a quarter of a century working in the field, it is difficult not to feel disheartened by the fact that practically the same number of cases have been detected in 2009, as in 2017 (134,000 and 135,000).
There were more than 10,000 cases of disability due to leprosy reported in 2017. This could be due to a delay in detection, low awareness, lack of available services locally and the quality of government services. We all have a part to play.
The worst part of my job is seeing new cases of children with disabilities. More than 11,500 cases in children under the age of 14 were registered in 2017. This demonstrates to me that infections within communities are still very high.
Social and physical problems can lead to mental health problems and thus affect the way of thinking, behaviour and emotions of the people affected by leprosy. The disabled have psycho-social difficulties such as separation from family, joblessness and dislocation from their homes.
Late detection and disability are the major issues and concern for the fight against leprosy in India. The best way to control or eliminate the disease, in my opinion, would be to invest more in improving early case detection and prompt diagnosis.
Voices from the ground
I have spoken to hundreds of people affected by leprosy across the years. It is so important to share their voices, especially when understanding the impact of stigma and discrimination on people's lives. Here are just some quotes:
"Due to leprosy, I felt no family would marry our children, so I left. I don't want to give any pain to my family members."
"I came out on my own because I don't want to make others' lives difficult in my family. I have not been home for almost 15 years. I have seen my daughters-in-law once when they came to visit me."
"They have separate utensils for me to use and for my food. It is very frustrating, I feel like taking poison and dying."
"Some people told me that if you take marijuana with oil you could die. I thought about it and bought some marijuana and drank it with oil. I vomited and was sick, but I didn't manage to die."
Leprosy is a disease, but if not treated at early stage than disability, discrimination and destitution have the most long-lasting impact.
Leprosy NTDs