International Health: Volume 15, Issue 4, July 2023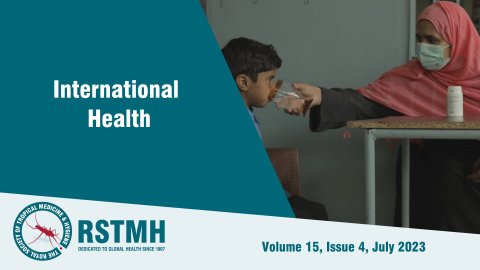 International Health is a fully Open Access journal which launched in 2009. The journal welcomes submissions on all aspects of global health, including the social and economic aspects of both infectious and non-communicable diseases, health systems research, policy and implementation, and the evaluation of disease control programmes and healthcare delivery solutions.
This month's Editor's Choice article is a Commentary by by Zainab Syyeda Rahmat and colleagues which explores child malnutrition in Afghanistan amid a deepening humanitarian crisis. Their work highlights the predominant challenges in eradicating malnutrition and provides recommendations to overcome it. The authors also include an analysis of initiatives that have proven to be beneficial in situations similar to what is happening in Afghanistan.
International Health Editor in Chief, Dr Stefanie Meredith, observed that this work "is an urgent reminder of the impact of humanitarian crises on children, an issue that remains largely overlooked by the wider media in the reporting of recent conflicts in Afghanistan, Somalia, Yemen, and Sudan, to name a few. It also raises important questions about the role of international aid in addressing these issues."
Other highlights include a Short Communication on the associations between water insecurity and depression among adolescent refugees in Uganda; a systematic review of participatory approaches to empower health workers in low- and middle-income countries; and an Original Article which examines post-traumatic stress disorder, anxiety, depression and related factors among COVID-19 patients during the fourth wave of the pandemic in Vietnam.
Articles
Commentary
Child malnutrition in Afghanistan amid a deepening humanitarian crisis
Zainab Syyeda Rahmat and others
International Health, Volume 15, Issue 4, July 2023, Pages 353–356, https://doi.org/10.1093/inthealth/ihac055
Original Articles
Continuous surveillance of drug-resistant TB burden in Rwanda: a retrospective cross-sectional study
Yves Habimana-Mucyo and others
International Health, Volume 15, Issue 4, July 2023, Pages 357–364, https://doi.org/10.1093/inthealth/ihac039

Post-traumatic stress disorder, anxiety, depression and related factors among COVID-19 patients during the fourth wave of the pandemic in Vietnam
Hoang Bac Nguyen and others
International Health, Volume 15, Issue 4, July 2023, Pages 365–375, https://doi.org/10.1093/inthealth/ihac040

Development and validation of a Perceived Relocation Stress Scale for older individuals transferred to long-term care facilities in Taiwan
Shu-Ming Chen and Chiung-Jung Wu
International Health, Volume 15, Issue 4, July 2023, Pages 376–382, https://doi.org/10.1093/inthealth/ihac041

Breastfeeding-related neck pain: prevalence and correlates among Nigerian lactating mothers
Chidiebele Petronilla Ojukwu and others
International Health, Volume 15, Issue 4, July 2023, Pages 383–388, https://doi.org/10.1093/inthealth/ihac050

Are informal healthcare providers knowledgeable in tuberculosis care? A cross-sectional survey using vignettes in West Bengal, India
Poshan Thapa and others
International Health, Volume 15, Issue 4, July 2023, Pages 389–396, https://doi.org/10.1093/inthealth/ihac051

Management of an emergency sample collection team under the setting of whole-community severe acute respiratory syndrome coronavirus 2 nucleic acid testing
Yong-li Lyu and others
International Health, Volume 15, Issue 4, July 2023, Pages 397–402, https://doi.org/10.1093/inthealth/ihac057

Prevalence of and factors associated with early initiation of breastfeeding in Bangladesh: a multilevel modelling
Satyajit Kundu and others
International Health, Volume 15, Issue 4, July 2023, Pages 403–413, https://doi.org/10.1093/inthealth/ihac058

Integrating traditional medicine into the Ghanaian health system: perceptions and experiences of traditional medicine practitioners in the Ashanti region
Irene G Ampomah and others
International Health, Volume 15, Issue 4, July 2023, Pages 414–427, https://doi.org/10.1093/inthealth/ihac059

Distance-quality trade-off and choice of family planning provider in urban Pakistan
Imtiaz Hussain and others
International Health, Volume 15, Issue 4, July 2023, Pages 428–434, https://doi.org/10.1093/inthealth/ihac063

"I don't like to be seen by a male provider": health workers' strike, economic, and sociocultural reasons for home birth in settings with free maternal healthcare in Nigeria
Anthony Idowu Ajayi and others
International Health, Volume 15, Issue 4, July 2023, Pages 435–444, https://doi.org/10.1093/inthealth/ihac064

Preceding birth interval, timing and number of antenatal contacts in Africa, 2010–2020
Derek Anamaale Tuoyire and Joshua Amo-Adjei
International Health, Volume 15, Issue 4, July 2023, Pages 445–452, https://doi.org/10.1093/inthealth/ihac067

Advanced HIV disease and associated attrition after re-engagement in HIV care in Myanmar from 2003 to 2019: a retrospective cohort study
Anita Mesic and others
International Health, Volume 15, Issue 4, July 2023, Pages 453–461, https://doi.org/10.1093/inthealth/ihac069

A systematic review of participatory approaches to empower health workers in low- and middle-income countries, highlighting Health Workers for Change
Obaraboye Olude and others
International Health, Volume 15, Issue 4, July 2023, Pages 462–473, https://doi.org/10.1093/inthealth/ihac070

Associations between water insecurity and depression among refugee adolescents and youth in a humanitarian context in Uganda: cross-sectional survey findings
Carmen H Logie and others
International Health, Volume 15, Issue 4, July 2023, Pages 474–476, https://doi.org/10.1093/inthealth/ihac065
Journals