International Snakebite Awareness Day 2023: Article Collection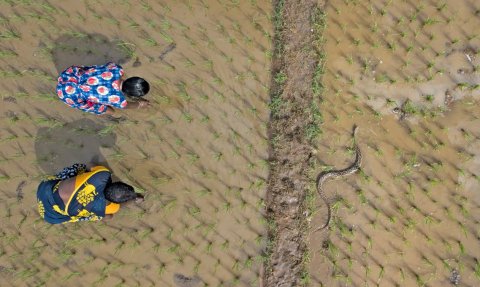 To mark International Snakebite Awareness Day on September 19th, 2023, we have collated the most recent, impactful snakebite research from across the RSTMH portfolio.
Highlights include a scoping review of the factors associated with mortality in snakebite-envenomed children; a retrospective study of clinical and epidemiological characteristics of snakebite in Napo Province, Ecuadorian Amazon; a prospective study of snakebite in a tertiary care hospital in south-western Nepal; and a case study looking at traditional remedies and other characteristics among human snakebite survivors in Baringo county, Kenya.
All papers in the collection are free-to-read.
Transactions of the Royal Society of Tropical Medicine & Hygiene
Factors associated with mortality after snakebite envenoming in children: a scoping review
Lucy Guile, Adrienne Lee, José María Gutiérrez
https://academic.oup.com/trstmh/article/117/9/617/7188760
Healthcare practitioners' knowledge of snakebite management and associated factors in high-burden, low-resource settings in Uganda
Solomon T Wafula, Innocent B Mugume, Lydia N Namakula, Aisha Nalugya, Vencia Naggayi, Abel W Walekhwa, David Musoke
https://academic.oup.com/trstmh/article/117/8/569/7128317
Lifetime prevalence and knowledge of snakebite among graduates in Nigeria
Godpower C Michael, Bukar A Grema, Auwal A Bala, Abdulgafar L Olawumi, Aisa A Gana, Jeremiah K A Madaki, Abdulrazaq G Habib
https://academic.oup.com/trstmh/article/117/7/505/7058783
A prospective study of snakebite in a tertiary care hospital in south-western Nepal
Deb Prasad Pandey, Bhola Ram Shrestha, Krishna Prasad Acharya, Khagendra Jang Shah, Chhabilal Thapa-Magar, Ishwari Prasad Dhakal, Fahim Mohamed, Geoffrey K Isbister
https://academic.oup.com/trstmh/article/117/6/435/6972592
Decomplexation proteomic analysis and purity assessment of a biologic for snakebite envenoming: Philippine Cobra Antivenom
Praneetha Palasuberniam, Kae Yi Tan, Yi Wei Chan, Francis Bonn Blanco, Choo Hock Tan
https://academic.oup.com/trstmh/article/117/6/428/6972591
Attitudes, knowledge and practices of traditional snakebite healers in Nepal: implications for prevention and control of snakebite
Deb P Pandey, Gita Subedi (Pandey), Sunil Sapkota, Dharma R Dangol, Naba R Devkota
https://academic.oup.com/trstmh/article/117/3/219/6822707
A retrospective study of clinical and epidemiological characteristics of snakebite in Napo Province, Ecuadorian Amazon
Ricardo S P Patiño, David Salazar-Valenzuela, Alberto A Robles-Loaiza, Paola Santacruz-Ortega, José R Almeida
https://academic.oup.com/trstmh/article/117/2/118/6653509
Hypocholesterolaemia as a prognostic factor in venomous snakebite: a retrospective study from a single centre in Kerala, India
Jaideep C Menon, Joseph K Joseph, Manoj P Jose, Chandrasekhar Janakiram, Dileep Kumar K, Dhananjaya B Lakappa, Perumana R Sudhakaran, Oomen V Oomen
https://academic.oup.com/trstmh/article/116/11/1071/6623425