Round-up: 2021 Small Grants Programme
As the funding for our 2021 Small Grants Programme is distributed, Chief Executive Tamar Ghosh looks at the funding's reach and gives a breakdown of the projects which have received grants.
I'm delighted to let you know we have now completed the awards for the 2021 Small Grants Programme. Once again this is a record-breaking year – with 202 awards being made. This compares with 124 last year, following additional funding from the Hamish Ogston Foundation providing funding for a further 2 awards.
Over the last 4 years we have been able to grow the number of awards twelve-fold from just 16 in 2018, to 50 in 2019, 124 in 2020 and now 202 in 2021. This growth is fantastic news, as we have been able to help even more researchers and professionals early in their careers to carry out their first projects. We hope that we are able to continue providing even more grant awards in 2022.

Thank you to our donors
The growth in awards is due to the incredible support received from our partners, and this year is no exception. The Department of Health and Social Care via the National Institute for Health Research has funded 161 grants, the Children's Investment Fund Foundation (CIFF) has funded 13 grants, Wellcome Trust 10 grants, the International Trachoma Initiative (ITI) 6 grants, The Journal of Comparative Pathology Education Trust (JCPET) 2 grants and The International Alliance for the Control of Scabies (IACS) have funded one grant. The RSTMH have also funded 9 grants this year.
Thank you to our Global Assessors
As in all years, the only reason we are able to run such a large programme is due to the hard work and dedication of our voluntary Global Assessors, whose role is to review the applications and provide detailed assessments. Each application is reviewed by at least two Assessors, who apply their experience and skill to provide this important quality review.
We would not have been able to deliver our small grants programme without their support and would like to thank them for their time and dedication in collectively carrying out over 1,900 assessments.
We wanted to share some more detailed analysis of the awardees, including the gender split, thematic areas, countries where research will be carried out and where our researchers are based, and a little more detail on the awardees themselves.

Gender split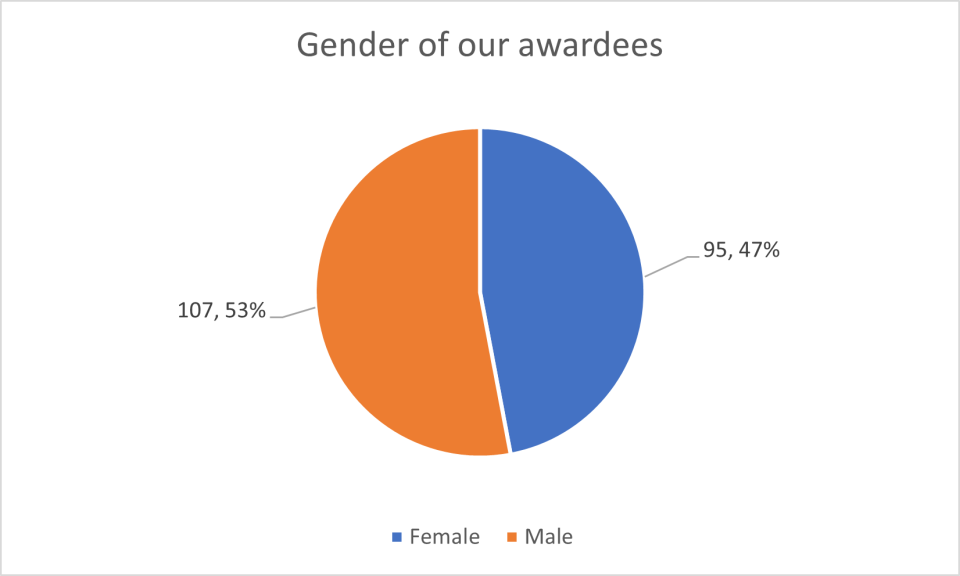 We know first hand from other areas of work that it is difficult to support and recognise the success of males and females equally in our field of work. It is therefore great news to be able to announce that this year 47% of our awards are to females, and 53% are to males. This compares with a split of 43% female and 57% male at application stage.
Research location and nationality of awardees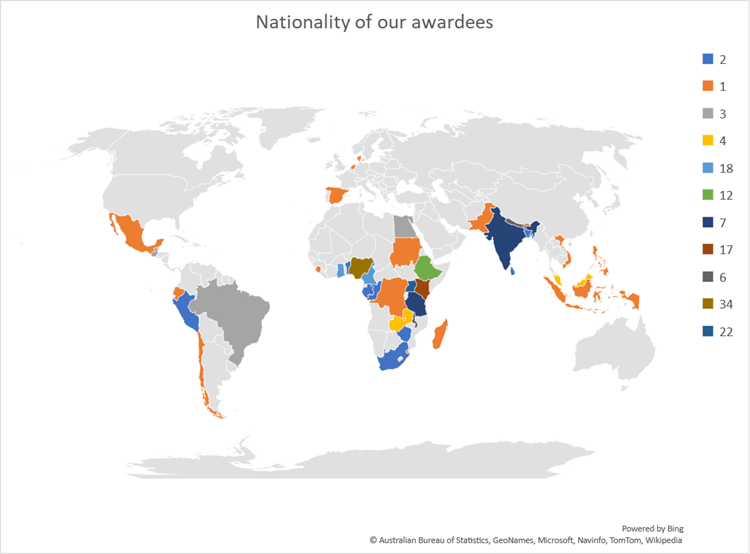 Our cohort of 2021 awardees are from 42 countries, compared to 28 in 2020. Of these, 75% are from Africa, and there is increased coverage across world regions compared to last year. The country with the highest number of recipients is Nigeria at 34, followed by Uganda at 22. We're delighted that this year we are awarding grants to researchers from countries we have not recognised before, including Madagascar, Chile, Ecuador and Guatemala.
Research areas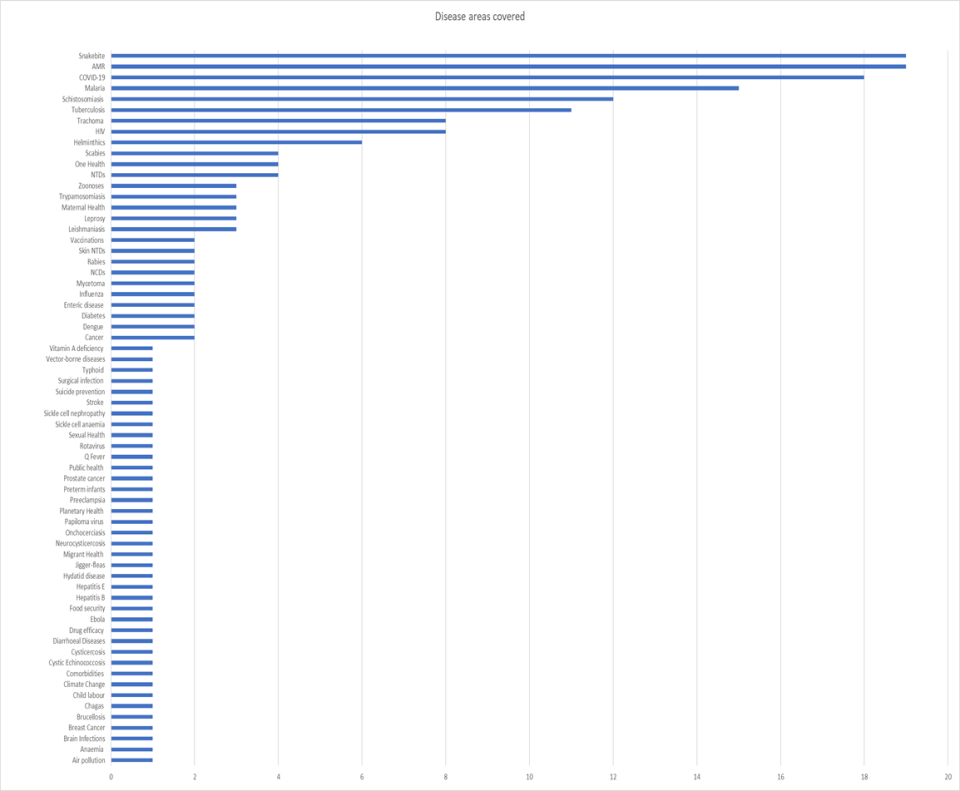 This year we were able to loosely classify the studies across 66 areas of global health, although we accept this is a very simplified view of the studies which often involve multiple disease areas or topics. The most popular topic is snakebite (19) at the same levels of AMR (19), closely followed by Covid-19 (18) and malaria (15). We were also pleased to see 2 awards for projects looking at mycetoma and 2 looking at skin NTDs more broadly. Other topics include infectious diseases and NTDs, NCDs and cross-cutting issues such as pollution.
Professions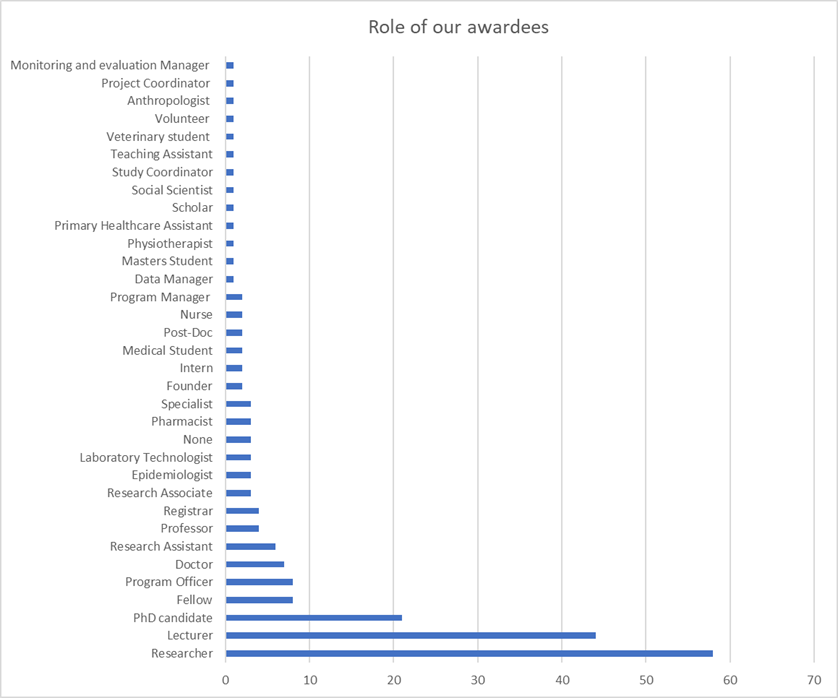 One of the goals of our programme is to ensure we are providing our grant awards to those early in their career across a range of sectors and professions. This year we have also seen a greater range of profession represented by our awardees, as seen below. There are many individuals who are currently working in research, lecturing or studying PHDs, as in past years. We are also please however to see an increase in social scientists, and also those from the professions of veterinary science and nursing. We are also pleased to see those volunteering, doing internships and founders to be part of this diverse cohort.
We wish our awardees the very best of luck with their projects, which for many are the first they will be delivering themselves. As the world still faces so many challenges in the pandemic, and our community is still experiencing busy and difficult times in delivering our important work, we look forward to supporting our new, and past, cohorts carrying out their projects.
We wish our awardees the very best of luck with their projects, which for many are the first they will be delivering themselves. While the many challenges caused by the pandemic remain and our community continues to experience busy and difficult times delivering important work, we look forward to supporting our new, and past, cohorts carrying out their projects.

Blogs Grants