RSTMH announces Professor Dame Sally Davies as Honorary Fellow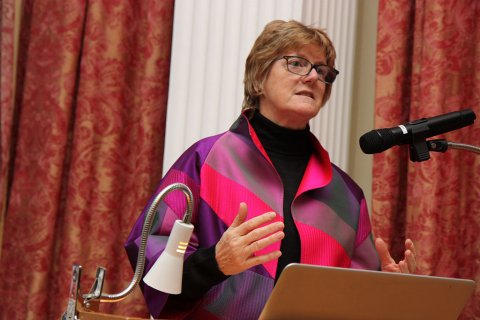 We are delighted to announce Professor Dame Sally Davies, Chief Medical Officer for England and Chief Medical Advisor to the UK government, as our latest annual RSTMH Honorary Fellow.
The announcement is to recognise Dame Sally's global contribution to the area of drug resistance, one of RSTMH's strategic priorities, namely in raising awareness of the issue and calling for action on antimicrobial resistance.
Our Past President, Dr Simon Cathcart, said of the appointment:
"After stepping down from the RSTMH Presidency last year, I had the pleasure of extending an invitation to an individual whose achievements and global impact are unmatched in their field to join the Society as an Honorary Fellow.
"As a public health consultant myself, I felt that Dame Sally's global impact in a particularly relevant and crucial field of healthcare made her more than deserving of this offer. We are thrilled that Dame Sally has accepted our invitation and look forward to working with her in the future."
Tamar Ghosh, RSTMH CEO, added:
"I have been privileged enough, in a previous role, to collaborate with Dame Sally as she worked tirelessly to ensure all sectors in the UK were made aware of the urgent issue of resistance to antibiotics. Forging partnerships across the world, she helped to secure the global action plan on antimicrobial resistance, ratified at the World Health Assembly in 2015. This award couldn't be given to a more deserving person. I'm delighted to welcome Dame Sally into RSTMH."
Dame Sally was appointed to her current role in March 2011 – the first woman to take on his responsibility – having held the post on an interim basis since June 2010. As such, she acts as an independent adviser to the UK government on medical matters, having advised it on not just antimicrobial resistance, but also Ebola, pandemic flu, the Novichok poisonings and public health in the UK.
She worked in the UK's National Health Service (NHS) as a consultant haematologist for three decades and was the first UK medical practitioner to specialise in sickle cell disease. Dame Sally joined the UK Civil Service in 2004.
Between 2004 and 2016, she was the Chief Scientific Adviser for the Department of Health, where she was actively involved in NHS research and development and founded the National Institute for Health Research (NIHR). She became a Dame in 2009.
In September 2017, RSTMH launched our new five-year strategy. The document is the result of a comprehensive review involving RSTMH's Board of Trustees, staff team, members, former members and non-members. It provides a new vision, mission and scope for the Society, which drive a new strategic approach and plans.
Through this process, we defined several priority areas, which include drug-resistant infections in response to the increasingly serious threat to global public health posed by antimicrobial resistance.
According to WHO data, in 2016 alone, 490,000 people developed multi-drug resistant TB globally. Antibiotic resistance is present in every country, it is starting to complicate the fight against HIV and malaria, as well as potentially compromising the success of major surgery and cancer chemotherapy.
Dame Sally has contributed to RSTMH in many ways, including attending and speaking at our meetings on the topic of antimicrobial resistance.
As her term as Chief Medical Officer comes to an end later this year after 9 years, having accepted an appointment by HM Queen Elizabeth II as Master of Trinity College, Cambridge, we felt this was a particularly good opportunity to recognise the global impact she has made in raising awareness and calling for action on antimicrobial resistance.
Dame Sally joins other RSTMH Honorary Fellows, including Professor Baron Peter Piot and Sir Jeremy Farrar.
Strategy Global Health