Tamar Ghosh: Looking at the next five years for RSTMH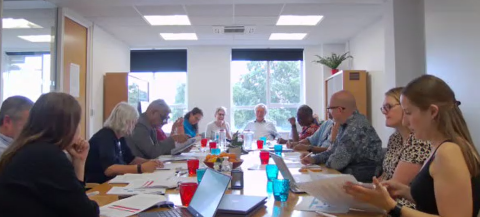 As we look ahead to our next five-year strategy for the years 23-28, RSTMH's Chief Executive Tamar Ghosh has written a blog which gives an overview of the conversations and work that has begun around the development of the next phase of RSTMH.
We were recently very lucky to have our Board of Trustees, our Editors in Chief and the current team at RSTMH come together for a face-to-face meeting around the development of our new strategy, for the years 2023 – 2028. After a few years of having meetings virtually, it was a great opportunity to tackle some of the crucial areas of our new strategy, as well as have the chance for those new in their role to meet others in this important network.
Over the course of a couple of days we held our strategy workshop, the RSTMH Board meeting and had a couple of opportunities to share dinner and catch up more informally.
Our new strategy
The purpose of the strategy workshop was two-fold. After a period of data gathering and analysis, we were able to present the findings of the survey and the interviews we held with our members, Fellows and contacts about our new Strategy 23-28.
A total of 260 people either filled out the survey or were part of an interview. They were based in more than 30 countries and included a combination of current and lapsed members and Fellows, as well as some individuals who have not yet been a member of RSTMH. They represented all career stages and a range of sectors.
Highlights of their feedback included the majority telling us that RSTMH has made a positive impact on their careers and met their expectations. They valued our activities including our grants programme, our virtual and in person events, our journals and the opportunities to network. They also provided feedback on how they feel we could improve as an organisation. These included more opportunities for direct financial support, more training and education, and more networking. Many respondents had direct advice around improving our current activities and processes as well as thoughts about new ones. This set of exercises is so important for us to be able to hear what our community thinks about how RSTMH has performed in its current 5-year strategy.
The workshop
The strategy workshop also gave us the opportunity to discuss specific aspects of our new strategy, due to start in 2023. We talked about the geographic and thematic scope of our work, the health areas and themes we should prioritise, as well as discussing some of the strategic questions related to our current activities.
This was the first of a few conversations with the Board and the Editors in Chief to develop the direction for our new strategy for 23-28. These conversations help the team as we work through all aspects of the new strategy, ensuring we have an agreed vision, set of our day-to-day activities and have agreed how we measure their success. We hope to be able to share some highlights of this with our members and Fellows at our AGM in October, before sharing the whole strategy by the end of the year.

Board meeting
The strategy workshop was directly followed by our regular Board meeting, where those elected and appointed to the Board had the opportunity to discuss more aspects of our current work, with some strategic areas being visited.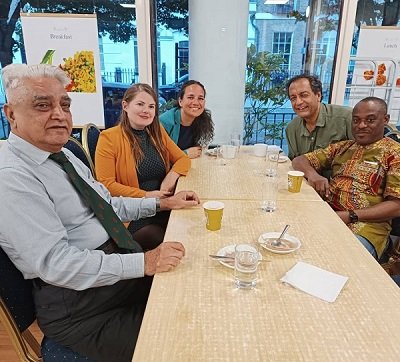 One of the great advantages of being in the same place is sharing some informal time together. We were delighted that Amelia Fincham and I were able to join Pramod Samantaray from India, Buddha Basnayat from Nepal and Quudus Yusuff from Nigeria, all new Trustees on our Board since 2021, to have a wonderful dinner and catch up together. This gave us an opportunity to learn more about the work and lives of our colleagues. Being able to talk about our successes and challenges was such a valuable part of our time together.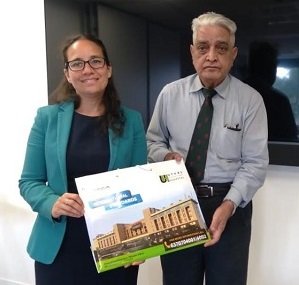 Before the strategy workshop I was able to meet with Professor Pramod Samantaray to hear his thoughts on what RSTMH's next five-year strategy. In particular, we were able to discuss his ideas for encouraging more members and Fellows to join RSTMH from India, where many of our areas of interest are being worked on. He was also able to share information on the development of the Utkal Hospital, which I was lucky enough to visit before lockdown.
We are really excited to be embarking on this next stage of RSTMH and will keep you all updated as we continue to work on our next five-year strategy.