Tamar Ghosh: Looking back at the RSTMH Annual Meeting 2023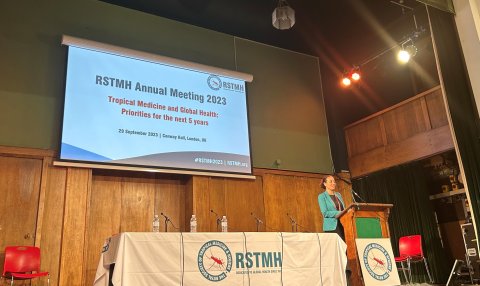 At the Annual Meeting last week, we were delighted to have the opportunity to hear about and discuss many of the biggest priorities for the next 5 years for global health and tropical medicine, as well as hear about some of the exciting research studies in progress by our members and Fellows.
The discussion sessions were focused on the topics of humanitarian health, artificial intelligence, antimicrobial resistance, climate change, translating research into programmes and policy, and the global funding landscape. If you were unable to attend, please go here for the opportunity to purchase the recording of the discussions.

Final panel discussion of the Annual Meeting
At the end of the Annual Meeting, we had a discussion between senior members of many of our partners including the WHO, LSHTM and ARNTDs. This brought together the priority actions we had heard over the two days and considered the role of RSTMH in these actions. In past years this discussion was extremely useful in helping RSTMH and our Policy and Advocacy Committee develop our Policy Positions in priority areas of our work. This year I am sure we will be able to do the same, as we had incredible and thoughtful insights being discussed.
Cross-sector approaches
The importance of cross-sector approaches to the big issues in Global Health and Tropical Medicine was highlighted as a priority, which was highlighted in every discussion session throughout the meeting. For RSTMH this is multi-faceted. We will continue to strive to ensure our network of members, partners and supporters are from all sectors in global health and are influencing our work and our priorities. We also have the goal for our meetings and events to have representation from across all sectors, to enable rich discussions and multiple perspectives. One of our strengths is as a convener and we will look for new ways under this strategy to convene more discussions and debates across the sectors working in the priority areas of global health. There are also ways that we may be able to work with our journals and grants programmes to encourage more direct input from cross sectoral groups and collaborations.
Country ownership
Another area that was mentioned in almost all of the discussion sessions was the importance of country ownership, which is one of the pillars of the WHO NTD Road map. For RSTMH specifically, in the delivery of our work this is a point well made and a priority of the last and current strategy. Having representation from the countries in which our work is focused, where many of our members, Fellows and partners are based, has been a goal for our governance and also for our operations. In 2023 50% of our Board of Trustees are based in countries where our work is focused including Ghana, Nigeria, Nepal, Tanzania and India. RSTMH also has Country Ambassadors across Africa and Asia who influence our work through advising us on what we should be focused on in the countries. Both of these areas will continue to be important to our next 5 years along with ensuring our meetings, events and grants are as inclusive as possible and provide researchers and professionals based across the regions the opportunity to engage and grow their skills.
The second group of opportunities for RSTMH in this area is around using our influence to encourage our partners, the projects we fund and the research we publish to achieve country ownership as much as possible. As a convenor across sectors and disciplines, we could use platforms such as events and other activities to encourage discussions around how improved Country Ownership can be achieved.

Grow our network of influence
The discussion sessions also highlighted the importance of the wide breadth of skills needed to address the priorities in global health over the next 5 years. On this panel this was mentioned again with an emphasis on encouraging more social scientists to be involved in the society, and those from communities most affected by global health and tropical medicine challenges. Linked to this was the plea for us to continue to grow both our Early Career Grants Programme and other work that increases the networks and skills of early career researchers based across Africa, Asia, Latin and Central America. There was a particular mention in the discussion about growing skills around forming collaborations, or taking part in advocacy and influence, as part of our work to support our members and Fellows.
There was also a call for us to widen our network of influence through establishing more strategic partnerships across the regions, with organisations in all sectors. These should be based on mutual trust and should aim to influence the priorities of the next 5 years at policy, research and implementation levels. This would continue the work we have started this year in establishing new partnerships and formalized MOUs with some institutions, to establish closer working.
Finalising our 23-28 Strategy
This discussion was very timely for RSTMH as the Annual Meeting coincided with our Trustees, based in 6 countries, travelling to the UK for the annual half-day strategy workshop with the team and a Board meeting, alongside the Annual Meeting and AGM. These meetings with the RSTMH Board and team signal the culmination of 18 months' work to finalise our new strategy for 23-28.
The RSTMH Strategy 23-28 was published earlier this year, and this workshop focused on the goals and plans for each of our areas of work, setting performance measures and indicators of success.

RSTMH event