Tamar Ghosh: Strengthening our networks in India
Earlier this month, RSTMH Chief Executive Tamar Ghosh returned to India to continue the society's work in strengthening networks and connections with individuals and institutions across the country. In this blog, she outlines the conversations and meetings that took place, as well as the MOUs that were signed – an exciting development for RSTMH.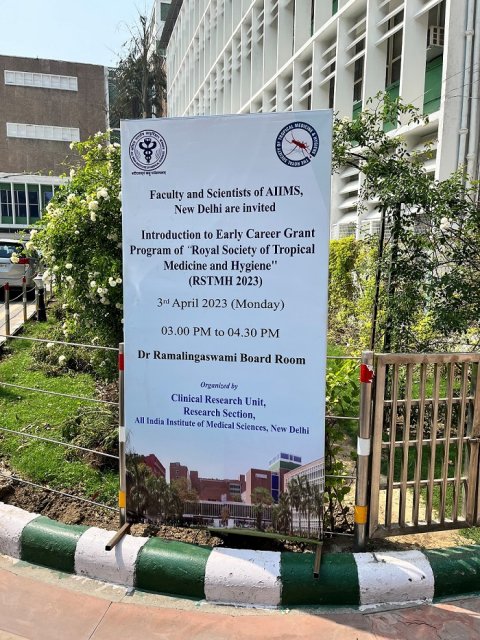 A couple of weeks ago I was lucky to be able to return to India. The aim of the trip was to finalise some plans that have been paused since lockdown, and to strengthen our partnerships with institutions and organisations. This is one of a number of plans we had to stop for a while due to the COVID-19 outbreak, and that we hope to get back on track during the next couple of years.
The visit to India focused on finalising Memorandum of Understanding (MOU) documents with a number of institutions where we hope that working more closely together will benefit the RSTMH and also the faculty and students of the institution.
The first institution was All India Institute of Medical Science, New Delhi (AIIMS Delhi), where the current Director Dr M Srinivas convened an event for RSTMH with his senior faculty to talk about our work, our Early Career Grants Programme, and to sign an MOU.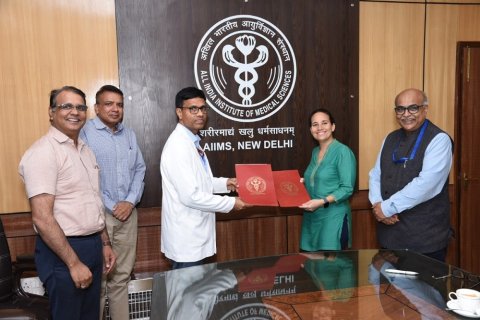 The event panel included our Trustee Dr George M Varghese, the RSTMH Country Director for India Dr Shirshendu Mukherjee, and guest speaker Dr Vinod Scaria, with presentations covering the development of a successful research project, reflections on the move from clinician to scientist and more information about the RSTMH Early Careers Grants Programme and other grant programmes in India. The meeting was attended in person and also online and we hope to see many applications for the Early Career Grants Programme from the Institute. Later in that week we were able to sign and exchange the MOU which frames the ways in which we can work together.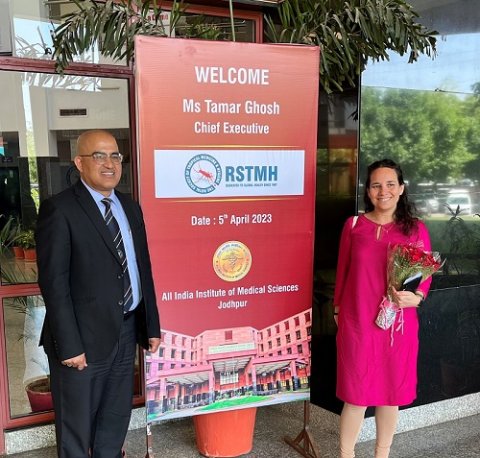 I was then invited to visit AIIMS Jodhpur by the Director Dr Madhabananda Kar and enjoyed a tour of the institute and a meeting with his senior faculty to learn about their work, and discuss RSTMH and ways to work together.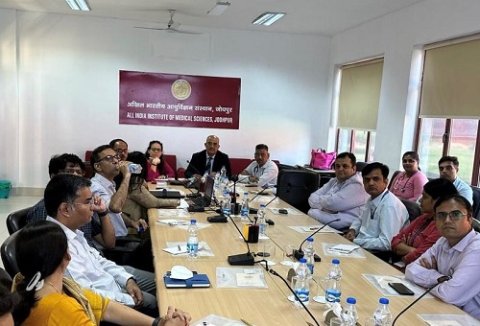 These meetings were very useful to start to discuss collaborations through research projects, training, awareness and other activities making use of the RSTMH scientific and other channels. I look forward to continuing these in more detail over the coming months.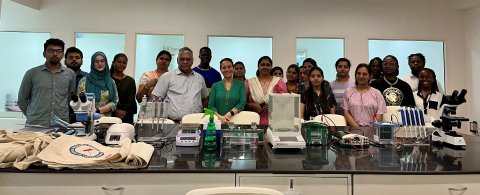 I also visited Sharda University, invited by our Associate Editor and long-term member Dr Vinod Joshi. He invited me to meet his research group along with colleagues Dr Annette Angel and Dr Bennet Angel who are Associate Professors at the Department of Life Sciences. I enjoyed hearing from the students about their interesting PHD projects and also had the opportunity to sign an MOU with the University with the Vice Chancellor Dr Sibaram Khara.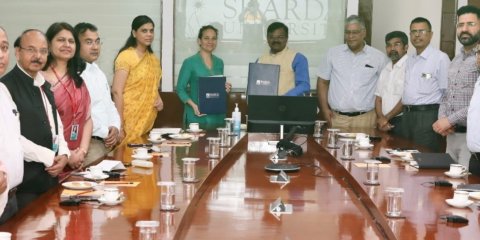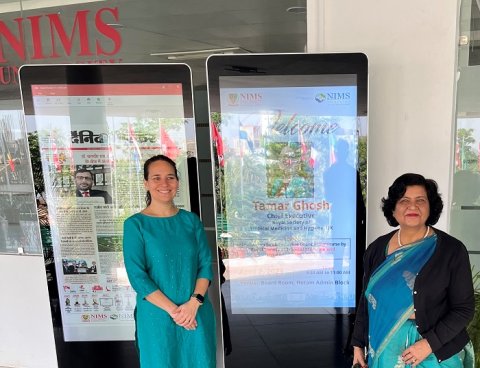 As part of the visit I also visited NIMS University, Jaipur hosted by Dr Rama Chaudhry, Senior Director Dean of Research and Dr Sundip Mishra, Vice Chancellor, where I had a meeting with a group of faculty and students and talked with them about RSTMH and our Early Career Grants Programme. It was a wonderful opportunity to hear about their ideas for projects and I hope we see these coming through the grants programme. We hope to sign the MOU with NIMS in the coming weeks.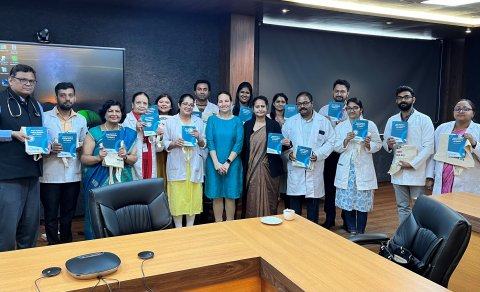 Members and Fellows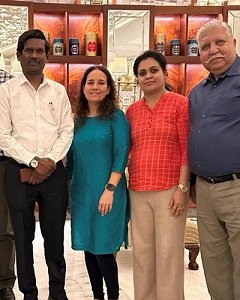 During my time in Delhi I was also to meet with long term member of the RSTMH Dr Samuel Raj, who is Director of SRM University Sonepat, along with his Vice Chancellor Dr Paramjit S. Jaswal and colleague Dr Ruchi Kawatra where we discussed plans to strengthen ties between the two institutions.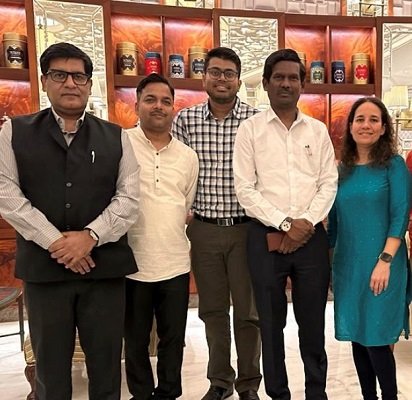 I had a short amount of time to catch up with some of our members and Fellows based in India and to talk about our new five-year Strategy. This included meeting with our Student Ambassador Souradeep Chowdury and past winner of the Emerging Leader Award Dr Devaki Nambiar.
At the end of the trip, I was invited to speak at the IPHACON 2023 meeting in Kolkata, at the invitation of Dr Sanghamitra Ghosh, President of the Indian Public Health Association. I held a meeting of early career attendees there to talk about RSTMH and specifically to ensure they were aware of our Grants Programme, and during the conference I thoroughly enjoyed learning more about the current public health successes and challenges in India.
Strengthening links
This time in India was short but a great chance to strengthen our members, Fellows, friends and supporters and with the individuals, institutions and societies with shared goals, in the hope that by working together we can each achieve more. We hope to see these partnerships translating into us seeing more important research in our field, that we are able to disseminate through our journals and other communications channels. We also hope this means we can support more early career researchers through our grants programme and through membership of RSTMH. There are also many projects which could be developed as part of our new strategy and we look forward to scoping some of these in the coming months.
This series of activities was planned for 2020 initially, and we are pleased that we have been able to move some ways towards this in the last few months. We are continuing to work with other institutions including CMC Vellore, PGIMER Chandigarh, NIMS and SRM to establish partnerships.
This is part of a wider goal to strengthen our links and partnerships with institutions, societies and organisations across the world and especially in countries which see the areas of health we work on, and in which we know the great minds needed to solve the big health issues are based. If your institution or organization is interested in working in a more formal partnership with RSTMH to encourage greater sharing of information please do email me at Tamar [dot] Ghosh [at] rstmh [dot] org.