The volatile mixture in Sudan: Climate change, social injustice, scorpions and gold mining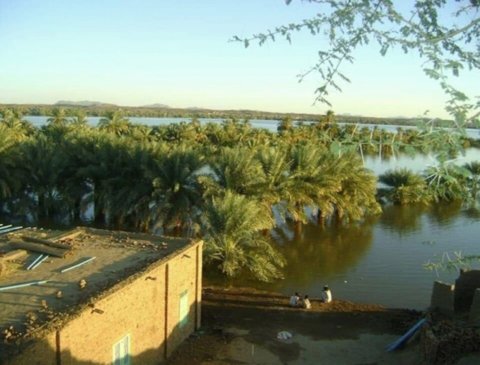 RSTMH Country Ambassador for Sudan, Dr Rania Mohamed Hassan Baleela, describes the current situation in Sudan, which has seen a significant increase in numbers of scorpions. She explains the devastating impact this has caused.
Around October 2019, I came across a message written by a citizen from Al Manaseer area in River Nile state of Sudan. He was sadly announcing the death of 68 children from Al Manaseer due to scorpion stings in that year. This is the point in time that caused me to shift my career from focusing solely on microscopic pathogens to look at the challenging public health issue of envenomation in Sudan. Up-to that point, a single scientist was carrying out scorpions taxonomic studies in different regions in the country (Dr. Manal Siyam of the Sudan Natural History Museum). I made an urgent call to the Sudanese scientific community. They gathered and formed the first Sudanese research group in poisonous and venomous organisms basically to fill the huge scientific gap. The University of Khartoum approved the Toxic Organisms Research Centre (TORC) in April 2021, the first of its kind in the country.
The Al Manaseer tragedy started with the construction of the Merowe Dam on the River Nile. The dam submerged the fourth Nile cataract in 2008. It created a 174-kilometre long reservoir, with a surface area of 800 km2, displacing an estimated 50,000-78,000 people, mainly from the Manaseer tribe who moved to "resettlement" sites in the Nubian desert (Figures 1 & 2).
The dam has also submerged archaeological sites (including kingdom Kerma burial sites), altered the natural river system affecting ecosystems as well as changing the microclimate in the region. It has also been the cause of huge social injustice as the authorities closed its gates without announcements leading to flooding AL Manaseer land and making the citizens flee their homes carrying their precious belongings and children. Residents were not alarmed nor evacuated. They never got reimbursed. Over 150 children died due to scorpion stings in the new settlements in the period from January 2019- about mid-2020 and sadly enough, they dedicated a cemetery for those children (Figures 3 -5). This is how I got involved and decided to be the voice of the voiceless victims.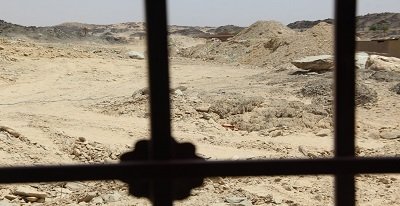 Taxonomically speaking, 17 scorpion species are present in Sudan. The medically important species in Sudan are: Leruis quinquestriatus (i.e. the deathstalker), Androctonus amoreuxi, Androctonus austuralis and Parabuthus abyssinicus. Leruis quinquestriatus for example possess a primarily neurotoxic venom with abundant cardiotoxins. Fatalities are primarily due to cardiovascular and respiratory dysfunction and failure.
Moving to the Northern state of Sudan, a sad story is unfolding now. Unlike the AL Manaseer area, scorpions have always been present here. People are used to them and used to know how to avoid getting stung and if stung how to deal with it. This is changing now due to disturbances caused by indiscriminate and random gold mining and over hunting of scorpions for commercial purposes. In one of our field trips we documented mining activities extremely proximate to residents. You can see the mining site underneath the window (Figure 6). Moreover we documented the over hunting of scorpions. Sometimes you will see people collecting up to the equivalent of 10 kilograms by weight scorpions!
Gold detection operations cause the destruction of mountainous areas leading to the flipping of earth layers. Due to this destruction of scorpions' natural habitat, scorpions flee to settle in the safer residential areas. The Northern State is rich in minerals and random mining is flourishing there. As a result of these random activities, scorpion stings reports are rising in new areas. Last week 3 deaths were reported due to stings in a single locality. Another locality in the River Nile state is also sending alarming calls for help.
We observed scorpions giving birth to above the average number of offspring as well as gender imbalances as almost all of the sample we collected were pregnant female scorpions. We also observed change of diet and extreme aggressive behavior after certain meals abundant in the affected areas. Moreover, the available antivenom is imported and not efficient.
The situation is getting worse. Scorpions stings are on the rise in Sudan. Scorpions are invading new niches. No proper casualties registry is available. Affected regions are far from health facilities. Available antivenom is not efficient. Random mining is on the rise. Over hunting may cause selective evolutionary pressure.
We propose to solve this dilemma through a strategic plan including the local production of antivenoms, raising awareness of the public and influence an informed decision making. All three parts should progress simultaneously.
It is a volatile mixture. It is exploding and the time to take urgent action is now!
Request for help
RSTMH would like to help Rania in her challenge and is calling for those with expertise in the production of local antivenom to join a short meeting to help her explore some key questions. To get involved email tamar [dot] ghosh [at] rstmh [dot] org.
We believe there is great expertise in this area amongst our members, Fellows, partners and friends and would appreciate your support.