World Antimicrobial Awareness Week: Article Collection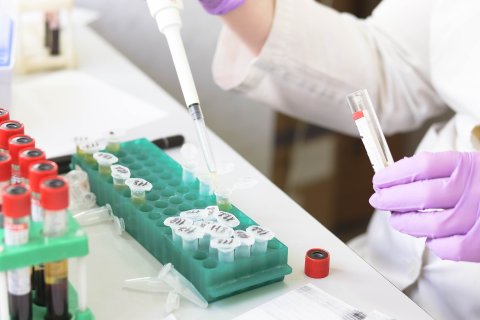 World Antimicrobial Awareness Week (WAAW) is taking place this year from 18 to 24 November 2023. The theme for this year is "Preventing antimicrobial resistance together." This global campaign aims to improve awareness and understanding of AMR and encourage best practices among the public, One Health stakeholders and policymakers, who all play a critical role in reducing the further emergence and spread of AMR.
Antimicrobial resistance (AMR) occurs when bacteria, viruses, fungi and parasites change over time and no longer respond to medicines, making infections harder to treat and increasing the risk of disease spread, severe illness and death. As a result of drug resistance, antibiotics and other antimicrobial medicines become ineffective and infections become increasingly difficult or impossible to treat.
This year, to mark World Antimicrobial Awareness Week, we have compiled a collection of recent articles on antimicrobial resistance from our journals International Health and Transactions of the Royal Society of Tropical Medicine & Hygiene.
Transactions of the Royal Society of Tropical Medicine & Hygiene
Genomic surveillance of Salmonella spp. in the Philippines during 2013–2014. Marietta L Lagrada, Silvia Argimón, Janice B Borlasa, Jaywardeen P Abad, June M Gayeta, Melissa L Masim, Agnettah M Olorosa, Victoria Cohen, Benjamin Jeffrey, Khalil Abudahab, Sonia B Sia, Charmian M Hufano, John Stelling, Matthew T G Holden, David M Aanensen, Celia C Carlos on behalf of the Philippines Antimicrobial Resistance Surveillance Program. Transactions of The Royal Society of Tropical Medicine and Hygiene, Volume 116, Issue 12, December 2022, Pages 1202–1213,
https://doi.org/10.1093/trstmh/trac080
Molecular characterisation of carbapenem-resistant Klebsiella pneumoniae clinical isolates: preliminary experience from a tertiary care teaching hospital in the Himalayas. Mohit Bhatia, Varun Shamanna, Geetha Nagaraj, Dharmavaram Sravani, Pratima Gupta, Balram Ji Omar, Deepika Chakraborty, K L Ravikumar. Transactions of The Royal Society of Tropical Medicine and Hygiene, Volume 116, Issue 7, July 2022, Pages 655–662,
https://doi.org/10.1093/trstmh/trab189
Molecular mechanisms of antimicrobial resistance and phylogenetic relationships of Salmonella enterica isolates from febrile patients in Yangon, Myanmar. Khine Mar Oo and others. Transactions of The Royal Society of Tropical Medicine and Hygiene, Volume 113, Issue 10, October 2019, Pages 641–648,
https://doi.org/10.1093/trstmh/trz053
Antibiotic resistance is the quintessential One Health issue. T. P. Robinson, D. P. Bu, J. Carrique-Mas, E. M. Fèvre, M. Gilbert, D. Grace, S. I. Hay, J. Jiwakanon, M. Kakkar, S. Kariuki and others. Transactions of The Royal Society of Tropical Medicine and Hygiene, Volume 110, Issue 7, July 2016, Pages 377–380,
https://doi.org/10.1093/trstmh/trw048
Antimicrobial resistance: a One Health perspective. Laura H Kahn. Transactions of The Royal Society of Tropical Medicine and Hygiene, Volume 111, Issue 6, June 2017, Pages 255–260,
https://doi.org/10.1093/trstmh/trx050
Key considerations on the potential impacts of the COVID-19 pandemic on antimicrobial resistance research and surveillance. Jesús Rodríguez-Baño, Gian Maria Rossolini, Constance Schultsz, Evelina Tacconelli, Srinivas Murthy, Norio Ohmagari, Alison Holmes, Till Bachmann, Herman Goossens, Rafael Canton et al. Transactions of The Royal Society of Tropical Medicine and Hygiene, Volume 115, Issue 10, October 2021, Pages 1122–1129,
https://doi.org/10.1093/trstmh/trab048
A multicentric knowledge-attitude-practice survey in the community about antimicrobial use and resistance in India. Suparna Chatterjee and others. Transactions of The Royal Society of Tropical Medicine and Hygiene, Volume 115, Issue 7, July 2021, Pages 785–791,
https://doi.org/10.1093/trstmh/traa124
Frequent unregulated use of antibiotics in rural Cambodian infants. Asuka Miyazaki, Rathavy Tung, Bunsreng Taing, Mitsuaki Matsui, Azusa Iwamoto, Sharon E Cox. Transactions of The Royal Society of Tropical Medicine and Hygiene, Volume 114, Issue 6, June 2020, Pages 401–407,
https://doi.org/10.1093/trstmh/traa020
Worrying levels of antimicrobial resistance in Gram-negative bacteria isolated from cell phones and uniforms of Peruvian intensive care unit workers. Barbara Ymaña, Nestor Luque, Joaquim Ruiz, Maria J Pons. Transactions of The Royal Society of Tropical Medicine and Hygiene, Volume 116, Issue 7, July 2022, Pages 676–678,
https://doi.org/10.1093/trstmh/trab186
Molecular characterisation of the first New Delhi metallo-β-lactamase 1-producing Acinetobacter baumannii from Tanzania. Sabrina J Moyo, Joel Manyahi, Alasdair T M Hubbard, Rachel L Byrne, Nahya Salim Masoud, Said Aboud, Karim Manji, Bjørn Blomberg, Nina Langeland, Adam P Roberts. Transactions of The Royal Society of Tropical Medicine and Hygiene, Volume 115, Issue 9, September 2021, Pages 1080–1085,
https://doi.org/10.1093/trstmh/traa173
International Health
A four-drug standardized short regimen for highly resistant TB in South-West Nigeria. Muse O Fadeyi, Tom Decroo, Nimer Ortuño-Gutiérrez, Bolaji Ahmed, Aderonke Jinadu, Osman El-Tayeb, Wasiu Adebola, Aderemi Kehinde, Lutgarde Lynen, Tinne Gils. International Health, ihad023,
https://doi.org/10.1093/inthealth/ihad023
Molecular characterization and antimicrobial susceptibility of bacterial isolates present in tap water of public toilets. Rajanbir Kaur, Drishtant Singh, Anup Kumar Kesavan, Rajinder Kaur. International Health, Volume 12, Issue 5, September 2020, Pages 472–483,
https://doi.org/10.1093/inthealth/ihz074
Indirect effect of oral azithromycin on the gut resistome of untreated children: a randomized controlled trial. Catherine E Oldenburg, Armin Hinterwirth, Lee Worden, Ali Sié, Clarisse Dah, Lucienne Ouermi, Boubacar Coulibaly, Lina Zhong, Cindi Chen, Kevin Ruder and others. International Health, Volume 13, Issue 2, March 2021, Pages 130–134,
https://doi.org/10.1093/inthealth/ihaa029