ECTMIH 2019: Next steps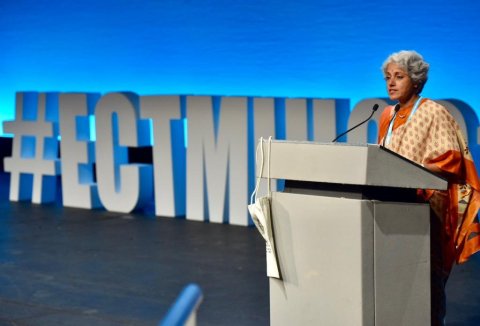 Last month, RSTMH took on one of its biggest challenges – hosting the 11th European Congress on Tropical Medicine and International Health in Liverpool.
The event, run by the Federation of European Societies for Tropical Medicine and International Health, is hosted by a different European Society every two years and sees over 1,200 people from different disciplines of tropical medicine and international health come together to hear talks, as well as discuss and debate ideas and hot topics.
This year was our turn, after 19 years, and we delivered the five-day event under the theme "25 years: investigation, innovation and implementation". Across the five days, there were plenaries with all attendees, over 1,200 from 94 countries, as well as six parallel tracks running for the rest of the Congress, which covered prevention, treatment and patient care, One Health, health systems, age-related care and external factors influencing future health. We also had a half-track running specifically for those early in their careers, which included career advice and mentoring sessions.
AMR and the challenges in global health for the next 25 years
Our opening plenary included a keynote speech from Dr Soumya Swaminathan, WHO's Chief Scientist, who touched on many aspects of the past 25 years, as well as looking forward to the opportunities and challenges we will likely face. She covered areas such as advancements in treatments for neglected tropical diseases, health systems strengthening, new diagnostics and new collaborations.
She also touched on the development of antimicrobial resistance, the potential impact of climate change and the opportunities from technology as we look to the future.
Further plenaries gave us a chance to hear from the Directors of the London School of Hygiene & Tropical Medicine, Professor Baron Peter Piot and the Liverpool School of Tropical Medicine, Professor David Lalloo. They talked about the challenges and opportunities of the next 25 years, as did a panel of representatives from the Bill & Melinda Gates Foundation, among others.
Vaccines, fake news, outbreaks and snakebite
Professor Peter Hotez gave a keynote speech on the subject of vaccines and fake news, which was followed by a panel discussion on the future of research and development.
The last plenary was delivered by Dr Matshidiso Moeti, WHO Regional Director for Africa, on the future of outbreaks, and was followed by a panel discussion on the current Ebola outbreak and how we manage outbreaks in conflict settings.
A snakebite panel event with Dr Mwele Malecela and representatives from the Wellcome Trust, Liverpool School of Tropical Medicine, Global Snakebite Initiative and others looked at the current progress in raising the profile of this NTD, along with establishing where the gaps in research and funding are currently.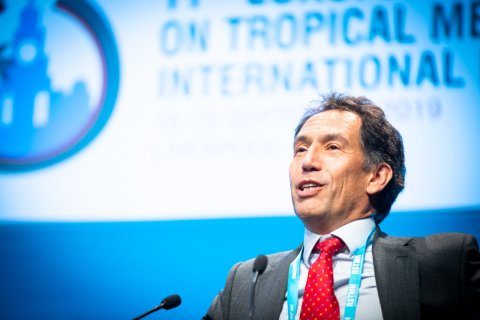 Key points from the Congress
Our aim is to have tangible plans as a result of ECTMIH. During the Congress, we picked up many lessons and areas of potential work to take forward. It was down to Professor David Lalloo to summarise this for us in the closing plenary:
1. The changing environment was a theme throughout the talks:
There are big changes in global demographic patterns, for example global ageing
Non-communicable diseases represent an increasingly high burden of disease
There is consensus that mental health has increased in importance
We may see bigger gaps in health outcomes within countries than between countries
Climate change will have wide-ranging impacts
Potential for AI and big data to be of benefit, but there are ethical considerations
2. There is a need for a different workforce, as we look to the next quarter of a century:
Tropical medicine can't remain an isolated speciality
All cadres should be engaged
There is an increasing need for a multi-disciplinary work force
It is important to train people to be prepared for the future – including having strong communication and policy negotiation skills
3. It has never been more important to invest and nurture partnerships and listen to communities:
There must be greater equity in partnerships between North and South
Multi-sectoral partnerships are crucial for research and development
The contributions of pharmaceutical companies have been considerable to our progress over the last 25 years, through drug donations and innovations
We need to ensure that research is relevant to people on the ground
It is critical to engage hard to reach communities
How do we better engage communities as participants and partners in research?
4. There are key learnings for research and health systems:
The research agenda must be relevant to policy makers, local organisations and communities
We need to overcome the difficulties of working across sectors to meet future challenges
Using established infrastructures for new diseases and learning lessons is important
We need to reduce the gap between research inception and delivery of improved interventions
5. In the future, communication will be more important than ever:
Scientists have been poor communicators; this needs to improve
Dealing with misinformation is difficult
There is great power in social media; if used correctly
All of us need to play our part in improving science communication; the health of the world depends upon this
Ongoing conversations, with the public, affected communities, science colleagues and policy makers are key
6. Tackling outbreaks is crucial:
Outbreak preparedness must be an absolute priority
Multi-sectoral responses go beyond ministries of health, they need involvement from other ministries
Outbreak management should be incorporated into health systems and health system development
It is important to factor in other healthcare needs in an outbreak response
Importance of community mobilisation; responses may need different approaches depending on the setting
Less than gold standard approach may sometimes be appropriate
7. The One Health agenda needs more focus:
The model is interdisciplinary and cross-sectoral
There are particular challenges in engaging all sectors
We need to think about education, models of careers, establishment of ambassadors
We should challenge the current conventions on One Health
8. There are gaps for research and attention in snakebite, despite current progress:
We must focus on disability, as well as mortality – there is lots to be learnt from the NTD field and disability experts
We need to improve training at the primary care level and better engage with health workers
Working with community and traditional healers could be of great value
The burden of mental health is unknown
Antivenom quality assurance and systems for effective stockpiling and distribution of antivenoms are key to reducing the burden of snakebite
RSTMH will now take these findings forward and engage in discussions with our members, partners and networks to bring together a plan around some or all of these areas.
The Congress provided a great opportunity for us to take stock of what we have achieved in the last 25 years, but also provides a great opportunity for collaborative action to safeguard health for the next 25.
Sign up to our newsletter for more updates