In Memoriam: Professor Adetokunbo Lucas (1931-2020)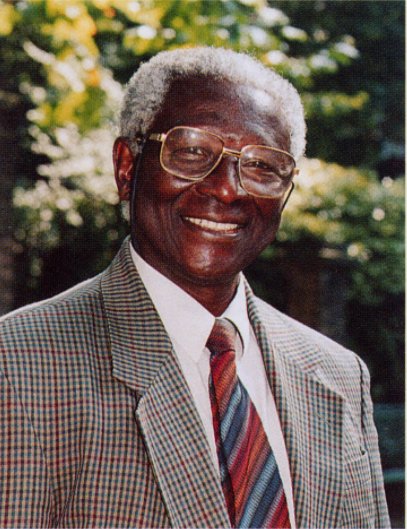 This obituary was written by Professor Geoffrey Targett, London School of Hygiene & Tropical Medicine, with contributions from across the RSTMH network
Adetokunbo Lucas, (born 1931; died 25 December 2020) universally known as Ade, was born in Nigeria, but he stands as a truly international figure through his service to medicine and the needs of the developing world.
If we chart the career of Ade Lucas from when he graduated in medicine and physiology from Durham and Newcastle universities, we see the curriculum vitae of a man who over many years was recognised through the award of prizes, fellowships, medals, degrees, and national honours for his outstanding contribution to public health particularly as it relates to major diseases and affections of tropical countries.
After post-graduate training in Belfast, Harvard and London (including a Diploma in Tropical Medicine and Hygiene at the London School of Hygiene & Tropical Medicine) he returned to Nigeria and for 20 years of his professional career directed internationally recognised research in tropical infectious diseases.
He taught clinical and community medicine, and for 11 years was head of the Department of Preventative and Social Medicine at the University of Ibadan. Yet it was his 10 year period as Director of the UNDP/World Bank/WHO Special Programme for Research and Training in Tropical Diseases (or TDR as it is usually known) based at the World Health Organization in Geneva that brought him deserved international recognition and acclaim.
Professor Lucas energised tropical medicine
His was an inspired appointment and through his vision of how the programme needed to be developed and focused on the major parasitic diseases of the impoverished world, he energised tropical medicine and in particular the leadership required from WHO.
He was a recipient of the prestigious Prince Mahidol Award in recognition of his contribution to the programme. Building on that period he was much in demand and held many important positions.
He was Professor of International Health at the Harvard School of Public Health and Chair of the Carnegie Corporations grant programme concerned with Strengthening Human Resources in Developing Countries.
He served on many important expert committees and advisory boards, among them for the Rockefeller Foundation, McConnell Clark Foundation, Carter Center, Wellcome Trust, WHO, and the Global Forum for Health Research.
He was a member of the Task Force for Child Development, the International Trachoma Initiative and the Strategic Advisory Committee of the Bill and Melinda Gates Children's Vaccine Programme.
Here are some personal reflections about Professor Lucas from our network of friends.
Professor Geoffrey Targett
"Professor Lucas was a great raconteur with an infectious humour. Above all he was truly inspirational and, as I witnessed, could send out a student audience imbued with the enthusiasm that characterised his own professional life, exhorting them to go out and use the new knowledge skills and expertise they had acquired to tackle the huge problems in international public health that awaited them."
Professor Sir Brian Greenwood
"Professor Lucas was very kind and supportive when I first arrived in Ibadan in 1965, encouraging me in my research, continued his support during my time in Zaria and always had time for a chat and an update whenever I visited Geneva during his time at TDR.
"I am sure that there many other people from all over the world who had the same experience and he leaves an amazing legacy of goodwill and respect."
Professor David Mabey
"I only met Ade Lucas once, at the 50th anniversary meeting of the MRC Gambia unit in 1997, when I was a young clinical scientist. I knew that he had set up and run the WHO TDR programme for 10 years and was a world leader in the field of tropical medicine and international health, but had no idea what a delightful, friendly and approachable person he was.
"I had the good fortune to spend several hours with him at Yundum airport waiting for our delayed flight after the meeting where he was happy to chat to me and entertained me with a seemingly endless supply of wonderful stories, so that I was disappointed when our plane finally arrived and we had to board. As we parted he told me I had had the privilege of access to a store of more than 5,000 jokes, with a perfect retrieval system, and I absolutely agreed."
News Members