In Memoriam: Professor Sir Eldryd Parry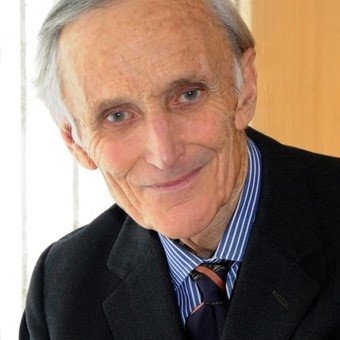 We at RSTMH were saddened to learn of the death of Professor Sir Eldryd Parry, Honorary Fellow of RSTMH.
Professor Parry had been a life fellow of RSTMH since 1970 and was awarded the Donald Mackay Medal in 1998.
Professor Sir Eldryd Parry studied medicine at Cambridge and Cardiff. In 1960, while working as a cardiology registrar at the Hammersmith Hospital, he was sent by the Professor of Medicine to spend three years at University College Hospital, Ibadan, Nigeria. Soon after this he spent three years in the Department of Medicine at the Haile Selassie School of Medicine in Ethiopia before returning to Nigeria as Professor of Medicine at Ahmadu Bello University in Zaria in 1969.
In 1977 he became the Foundation Dean of Medicine at the University of Ilorin, Nigeria, and from 1980 to 1985 was Dean and Professor of Medicine at what is now the Kwame Nkrumah University of Science and Technology in Kumasi, Ghana.
Sir Eldryd was a regular attendee at our meetings and events and such a positive and supportive friend to the Society over the last few years. He became one of the founding Friends of RSTMH in 2021 which we are immensely grateful for. I will miss his immense knowledge and interesting conversations at our events and meetings. Our thoughts and love are with his family and friends."

Tamar Ghosh, RSTMH CEO
In 1988 he founded the Tropical Health Education Trust (THET), which trains and supports health workers through partnerships between hospitals in the UK and those in Africa. Initially set up to serve rural patients through local programmes, THET now has national programmes in Ethiopia, Tanzania, Uganda, Zambia, Somaliland, and Myanmar, with many individual projects even further afield.
Professor Parry continued to teach in medical schools and rural health centres in Ethiopia well into his 80s. Since 1988 he has been an Honorary Professor at the London School of Hygiene and Tropical Medicine, where he taught on the Professional Diploma in Tropical Medicine and Hygiene.
His contribution to medical education in Africa is unsurpassed and he was an inspiration to us all."

Professor David Mabey
Transactions of the Royal Society of Tropical Medicine & Hygiene
In his lifetime, Professor Parry published a number of different articles in the journal Transactions of the Royal Society of Tropical Medicine & Hygiene. We have collated a selection below.
Health and disease in tropical Africa: Geographical and medical viewpoints
E.H.O. Parry
Transactions of The Royal Society of Tropical Medicine and Hygiene, Volume 82, Issue 2, March-April 1988, Page 189, https://doi.org/10.1016/0035-9203(88)90403-8
Published: 01 March 1988
Lobar pneumonia with jaundice in adult Nigerians
Elizabeth W. Hall, M.B., E.H.O. Parry, M.B., M.R.C.P.
Transactions of The Royal Society of Tropical Medicine and Hygiene, Volume 57, Issue 3, May 1963, Pages 206–212, https://doi.org/10.1016/0035-9203(63)90063-4
Published: 01 May 1963
Scabies, pyoderma and nephritis in Zaria, Nigeria. A clinical and epidemiological study
H.C. Whittle, M.T. Abdullahi, F. Fakunle, E.H.O. Parry, A.D. Rajkovic
Transactions of The Royal Society of Tropical Medicine and Hygiene, Volume 67, Issue 3, 1973, Pages 349–363, https://doi.org/10.1016/0035-9203(73)90112-0
Bleeding in louse-borne relapsing fever II. Fibrinolysis following treatment
P. L. Perine, T. Gabre Kidan, D. A. Warrell, A. D. M. Bryceson, E. H. O. Parry
Transactions of The Royal Society of Tropical Medicine and Hygiene, Volume 65, Issue 6, 1971, Pages 782–787, https://doi.org/10.1016/0035-9203(71)90092-7
Bleeding in louse-borne relapsing fever I. Clinical studies in 37 patients
P. L. Perine, E. H. O. Parry, D. Vukotich, D. A. Warrell, A. D. M. Bryceson
Transactions of The Royal Society of Tropical Medicine and Hygiene, Volume 65, Issue 6, 1971, Pages 776–781, https://doi.org/10.1016/0035-9203(71)90091-5
Published: 01 January 1971