International Health supplement on Ascend Programme published as part of Sightsavers dissemination partnership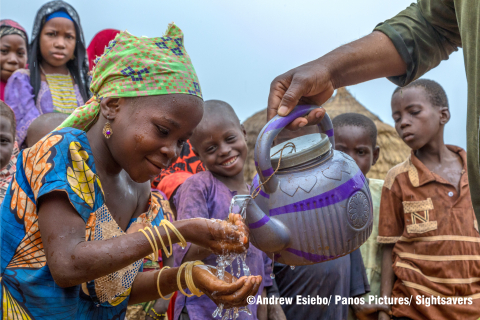 Today we have published a new research supplement in our journal International Health providing updates on the Ascend Programme, in partnership with Sightsavers.
The supplement, Ascend: Lessons from the programme in West and Central Africa, includes articles contributed to by various Ascend consortium partners and looks at the impressive impact of the programme, as well as how to build on its success.
The Ascend neglected tropical disease (NTD) programme unlocked over £653 million worth of additional resources – more than 12 times its initial investment – in the form of drug donations and other in-kind contributions.
The programme delivered some outstanding achievements during its lifespan. It supported the distribution of around 280 million drug treatments, as well as managing more than 5,700 cases of advanced trachoma, and providing hydrocele surgery to nearly 9,000 people. It also made significant progress towards strengthening health systems, and establishing sustainable processes for managing NTDs.
"We are delighted to publish our second supplement as part of our partnership with Sightsavers.

"The Ascend programme has achieved incredible outcomes and important learnings for the sector and we are excited to be able to share this research with our networks."

Tamar Ghosh, RSTMH Chief Executive
The Ascend-focused collection of research papers is part of a three-year partnership, in which RSTMH will be using its scientific journals and other communications channels to help disseminate the key outputs and learnings from Sightsavers' lead programmes. The hope is that this will inspire others to take strides towards, or continue in their efforts in eliminating NTDs, strengthening healthcare systems and ensuring no one is left behind.
"I'm proud of our work with RSTMH on this International Health supplement, which shares key learnings from the Ascend neglected tropical disease programme in west and central Africa. The programme delivered some outstanding achievements during its lifespan, such as supporting the delivery of around 280 million drug treatments, and managing more than 5,700 trachoma surgeries.

"The supplement includes a wide range of articles looking at everything from the programme's 'leave no one behind' approach, to the way in which it supported many countries on their journey towards eliminating NTDs, and showing how the interventions delivered incredible value for money.

"We are looking forward to continuing our partnership with RSTMH in order to raise awareness of the operational research that is carried out by Sightsavers and our partners."

Simon Bush, Head of Sightsavers' NTD work
The supplement looks at the below topics:
Neglected tropical disease elimination is a relay race – let's not drop the baton
Resuming NTD activities in the context of COVID-19: an investigation into the advantages of risk assessment processes to mitigate the transmission of COVID-19 during NTD delivery
Innovate to eliminate: a prerequisite in NTD programmes
Behaviour Insight Shadowing: examining daily life settings for the prevention of neglected tropical disease
How can the neglected tropical disease community be inclusive and equitable in programme delivery? Reaching refugees and internally displaced persons through integrating a 'leave no one behind' approach
Responsive neglected tropical disease programme delivery: listening and responding to the views and perceptions of beneficiaries
The interruption of transmission of onchocerciasis in Kaduna, Kebbi and Zamfara states, Nigeria: another milestone achievement
The development and roll-out of a new hydrocoele surgery facility assessment tool for the elimination of lymphatic filariasis
How has the Ascend programme contributed to strengthening health systems for sustainable country-driven neglected tropical disease programming?
Leveraging resources and the impact of neglected tropical disease elimination programmes: getting (much) more than what you pay for
Recognising the potential of neglected tropical disease programmes as a platform for pandemic preparedness: the Ascend experience
RSTMH and Sightsavers will be hosting an online event on 6 October 2022 to share and discuss learnings from the Ascend programme and articles from the research supplement. Members and Fellows can sign up to the event here.