Lord Trees and Baroness Sugg call to end Neglected Tropical Diseases with UK Coalition at Westminster event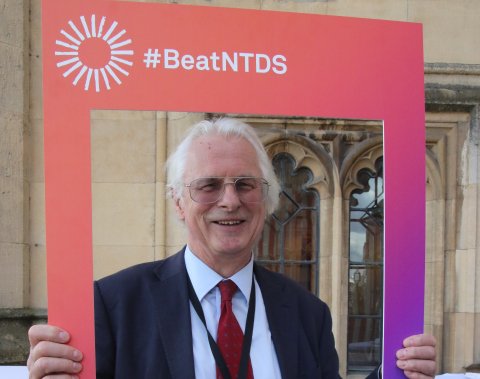 Last week (8 June) the Coalition against Neglected Tropical Diseases, together with the All-Party Parliamentary Group on Malaria and Neglected Tropical Diseases, co-hosted a Parliamentary reception in the House of Lords entitled Ending the Neglect: Celebrating the UK's role in beating NTDs.
As a member of the UK Coalition against Neglected Tropical Diseases, RSTMH supported on and attended the reception.
Attended by Parliamentarians and policymakers including Lord Trees and Baroness Sugg CBE, Vice-Chairs of the APPG, the event celebrated the UK's strong legacy of tackling NTDs, as well as outlining the challenges for the future.
Speakers at the reception, which was held ahead of the Kigali Summit on Malaria and NTDs which will take place on 23 June, included several people who have been directly affected by NTDs.
The reception launched the Female Genital Schistosomiasis (FGS) Integration Group (FIG). A coalition of organisations galvanising joint action across the sexual and reproductive health and rights (SRHR), HIV, HPV/cervical cancer, neglected tropical disease (NTD) and WASH sectors to tackle the neglected issue of FGS.
On the launch of the Female Genital Schistosomiasis (FGS) Integration Group (FIG) at the reception. Baroness Sugg said: "This integration presents a practical opportunity to help break across silos and end the suffering of tens of millions of women from a condition that is easily prevented and easily treatable.
"One of the four pillars of the Government's very recently published International Development Strategy is to provide women and girls with the freedom they need to succeed, to unlock their future potential, to educate girls and to support their empowerment and protect them against violence.
"Female genital schistosomiasis (FGS) can negatively impact women's education and economic empowerment. Along with other sexual and reproductive conditions, FGS can increase the violence that women and girls experience.
"This integration is a quick and effective way that the UK could deliver on our commitment to women and girls. It is a simple and value-for-money way to help deliver the government's aims and to enable women and girls to prosper."
Speaking at the reception, Lord Trees said: "The UK, quite rightly, has a proud history of support in NTDs, both in research and development, in business partnerships and in the support of the delivery of mass drug administration programmes and so on. That investment is undoubtedly the humanitarian and right thing to do, but it is more than that.
Improving the health of people, improving health systems, improving health equality, enables social and economic and educational progress, which means that the endemic populations can enhance and improve their life chances, and so the endemic people would be less inclined to migrate and they will develop economies which will be opportunities for us to export our products and our services.
"So this is also about enlightened self-interest, as well as altruism and humanitarian good ethics. So let us push for a meaningful commitment from the UK government at the Kigali Summit to control NTDs, to maintain our proud history and let's continue that contribution to the control of these terrible diseases. And I'm sure we all agree with that."
The UK Coalition on NTDs recently published 'Future-proofing health systems and improving health equity: An investment case for diseases of poverty' which includes recommendations for the UK government on tackling NTDs.