Neglected Tropical Diseases photo competition winner announced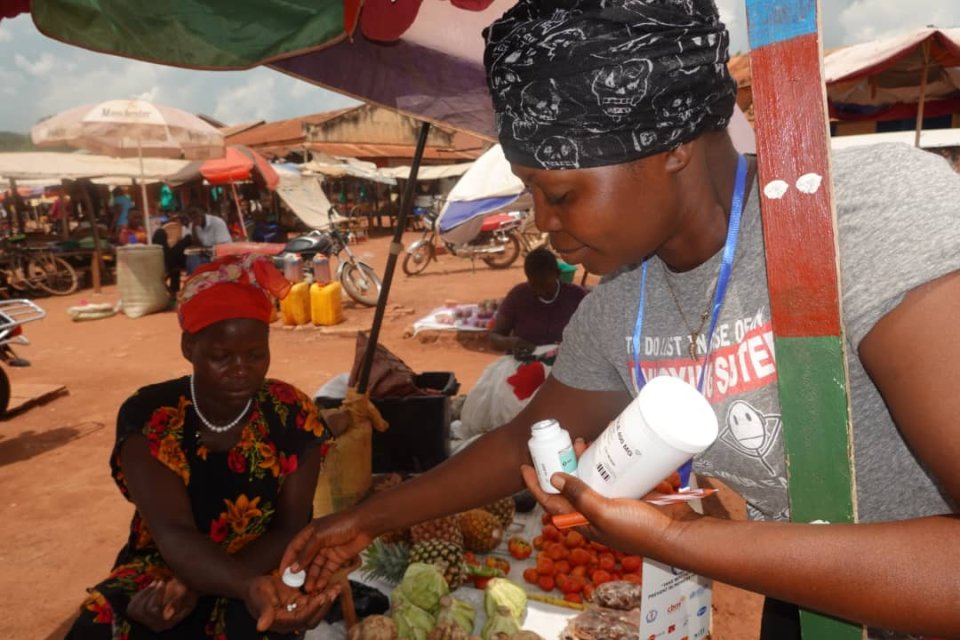 We are excited to announce the winner of the RSTMH Neglected Tropical Disease photo competition, which ran earlier this year.
The winning photo (shown above) was captured by a photographer from the media team of the Governor of Western Equatoria State. The name of the photographer is Victor Elisama Mangu and the photo was entered by Christian Blind Mission who assigned Victor to support and document the advocacy and MDA exercise.
The caption of the photo reads: "Siyama Mary, a community drug distributor was adminitering treatment for Oncho and LF in Yambio market. This is the fifth year that Siyama has served her community as CDD, giving the medicine in the village and in the market. Last year, with support of volunteers like Siyama, CBM delivered 6.4 m treatments for Oncho and 5.6m treatments for LF in South Sudan."
How the photo came about
In June 2022, MoH and CBM had an advocacy visit to the Yambio, the capital of Western Equatoria state to launch MDA. This photograph is one of the many photographs Victor took in the project.
Describing the photo, Benson Ojara NTD Technical Coordinator in South Sudan at CBM, said:
What is special about the photographs is that it recognizes the role women play in elimination of NTDs and reaching to groups that are often left-out because they cannot be found in their households during the normal distribution in urban areas."
Victor Elisama Mangu started working as a photographer in 1998 when he was 18 years in Yambio after finishing his O Level. He joined the Ministry of Information and Communication as their photographer in the Government of Western Equatoria State.
Following this he joined Government radio station Yambio Fm 90:0MHz and later on was employed to the Governor's office to be their official photographer.
On the winning photo, Professor David Molyneux, one of the judges, said: "The judges appreciated the response to the RSTMH NTD photographic competition and the efforts of all participants and submissions representing different geographies, diseases and settings.
"They unanimously considered the photo "Mass Drug Administration of Ivermectin and Albendazole in Yambio, South Sudan" reflected all the required criteria as specified in the invitation.
"The image provides a compelling image which was not only photographically excellent but captured action underlining the essence of the intervention using donated drugs, a dose pole, a typical rural community setting, a volunteer community distributor against a colourful background reflecting the daily life of such communities."
The photo has been featured as the cover image of May's International Health and the prize for the winning photo is a year's membership to RSTMH.