New International Health supplement published as part of first dissemination partnership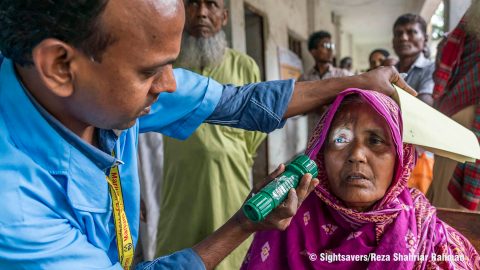 Today, on World Health Day, we are publishing a new International Health supplement on advancing eye health, developed as part of a dissemination partnership with international charity Sightsavers.
The three-year dissemination partnership with Sightsavers was designed to highlight research and progress on tackling Neglected Tropical Diseases (NTDs). It uses RSTMH's scientific journals and other communications channels to help disseminate the key outputs and learnings of Sightsavers' lead programmes, in the hope that it will support others to take strides towards eliminating NTDs, strengthening healthcare building blocks and ensuring no one is left behind.
The Advancing eye health within Universal Health Coverage supplement looks at how International non-governmental organisations (iNGOs) can contribute to generating crucial evidence to answer operational questions they face, and to advance global knowledge on eye health.
"It's been a pleasure to work with RSTMH on the publication of the first of a series of series of three supplements. Our partnership means that the operational research carried out by Sightsavers and our many partners has found a well-regarded and respected home at RSTMH."

Simon Bush, Head of Sightsavers' NTDs work
The supplement presents research findings on a range of eye conditions, including cataract, unaddressed refractive error (URE), glaucoma, trachoma and onchocerciasis.
The papers provide evidence from 12 countries and address a number of topics pertinent to eye health policies and services in LMICS.
"We are delighted to be working in partnership with Sightsavers on this partnership and so pleased the first supplement is launched today on this incredible set of projects to improve eyehealth. It is great to see studies on topics including glaucoma, cataract and trichiasis, involving older people and children, in the community, in hospitals and at schools and within countries that include Liberia, Ethiopia, India, Nigeria and Kenya.

"This supplement highlights the range of interventions at strategic and community level being delivered by Sightsavers to tackle these diseases that discomfort, and even needless blindness. We're proud to be able to bring this supplement to you. We look forward to raising awareness of this programme today and over the coming months to share learnings and raise awareness of these important issues"

Tamar Ghosh, RSTMH Chief Executive
The supplement looks at the below topics:
Evidence on cataract in low and middle-income countries: an updated review of reviews using the evidence gap maps approach.
Understanding patient health seeking behaviour to optimize the uptake of cataract surgery in rural Kenya, Zambia and Uganda – Findings from a multisite qualitative study
Primary eye care: opportunities for health system strengthening and improved access to services
Vision impairment and self-reported anxiety and depression in older adults in Nigeria: evidence from a cross-sectional survey in Kogi State
Piloting targeted glaucoma screening: experiences of eye care services in Ganjam district, Odisha state, India
Characteristics and Perspectives of Patients with Post-Operative Trichiasis in Hadiya Zone, Ethiopia
The future of data management for pediatric cataract
Delivering Universal Eye Health Coverage: a call for more and better eye health funding
Assessing the prevalence of refractive errors and accuracy of vision screening by schoolteachers in Liberia
Universal eye health coverage: from global policy to country action
Productivity, efficiency, and gender equity of community mobilisation approaches in trichiasis campaigns: analysis of programmatic data from seven Sub-Saharan Africa countries
Navigating the way to onchocerciasis elimination: the feasibility and affordability of Onchocerciasis Elimination Mapping
Advancing eye health within Universal Health Coverage: the role of programmatic data and implementation research
Journals International Health